Despite going to bed early we didn't wake until 8am, twelve hours almost, must have needed it. Today we are heading for Hungerford, we have lots of locks to do, so it's going to be a busy day. Geoff's ribs still hurt so it's down to me, well at least I should not be putting on weight with all the exercise I am doing. We decided to stop at the Crofton Pumping station, apparently it houses two 19th century steam engines, one built in 1812 by Boulton and Watt, the oldest original working beam engine in the world, still performing its original duties, the other in 1845 by Harvey's of Hayle, Cornwall. Both have been restored and are steamed on several weekends in the year. Sadly it is Wednesday and they are shut, as well as the cafe next door. Before we arrived at the Crofton Lock we went through the Bruce Tunnel, 502 yards, with the remains of the chains on the walls which was used to pull boats through.
When we emerged, we were greeted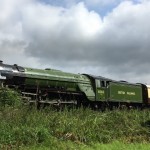 a lovely cheerful man, asking if we wanted help with the locks, well with my dodgy hand and Geoff's ribs, we said yes please. It turned out that the waterways have lots of volunteers, and we had three of them, they worked us through eight locks, we stopped to watch an old steam train go through with its Pullman coaches, doesn't happen very often apparently we just got it right. So at least Geoff got to see a steam engine at work. We donated to the waterways, and waved goodbye, actually I think if I lived here, that would be my kind of thing, you meet loads of nice people as well.
We continued on with a few more locks before arriving in Hungerford.