Jobs all done, we are off again on our travels, the scenery is amazing, and although we have only done 80 miles, the landscape has changed again, the nearer we get to the
Alps the greener everywhere gets. We still have the traditional trees lining the roads, and the fields of sunflowers, but the backdrop of the mountains are lovely.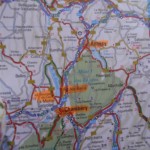 We arrived at about 11am, quickly sorted ourselves out, and then did the boring things, like changed the sheets, washing, and cleaning, whilst Geoff was doing the water and the looe.  We have most facilities here, it is an Aire, but next door to a campsite, so you can use their showers etc., we have no electric, and we do not think you can use the generator, so Geoff cannot have his coffee, but we are back on wifi, and our log is once again up to date.
We went for a walk with the dogs,past a sailing club, but the lake has been turned into a private beach, and dogs are not allowed, which is fair enough, so we headed to some woods, where we found an observation post (hide) with
views over a reservation, with loads of different birds enjoying the wetlands area.
Today has been catch up day, tomorrow we will start exploring again, we both had long awaited showers, and an early night.