Move day, so we left before breakfast, we are heading for Lido di Jesolo, which is a strip of land, with the Adriatic one side, and the Venice Lagoon the other; strangely enough there are no sites in Venice!
We arrived with minutes to spare to get booked in, before the office closed for two hours, so we were pleased about that, we sorted ourselves out, had some lunch, then went to check where the ferries go from, ready for the morning.  Good job we did as it is a 25km journey, to the end of the peninsular, thought we were never going to get there, anyway we timed it, and so we have a rough idea when to leave tomorrow.
Up early, we are both excited, I had this idea to see if we could find a dog sitter, so
tongue in cheek went to the office to ask, and to our amazement they do, so we arranged for them to be collected at 10am, the only problem was she had to drop them back at 6pm, so cheekily I asked if they could just put them in our motor-home, and the site owner said he would do it! So we were really chuffed, we were free for the day.
On to the bikes, straight onto a ferry, and we have finally arrived in Venice, another place well worth the visit, I am pinching myself again, we are so lucky to be doing this.
We walked along the streets towards the Piazza San Marco,(St. Mark's Square) then we heard that Mark, Paula and
the girls were delayed, so we decided to catch the water bus, up the Grand Canal to the station, which is about a forty minute ride away, it was amazing, the sites.  Impossible though it seems, Venice is built on 117 small islands connected by 400 bridges over 150 canals, so plenty to see and enjoy.
We met at the station, and they only have two hours with us, so we were trying to decide what was best to do, so we caught another water bus to Piazza San Marco, this time it continued in a big circle, coming down the Canal Della Giudecca, so we saw yet more places. We had prime position at the bow, enough seats to be comfortable, so luck was on our side.
We walked into the Piazza, where you have the Basilica di San Marco, an amazing
building, we are going back on Saturday, and hopefully we will go inside then, the queues were vast, and we just did not have time. Next door to this is the Palazzo Ducale, we meandered around, down the little side streets, and back into the square, sadly we had to catch the water bus back
to the train station.  This time it was packed, but we found an ideal spot, to enable Tyla to take the photos, and everyone had a good view of the Grand Canal.
Sadly we said our farewells; we have had such a lovely time with them all, hopefully we will catch up again soon.  The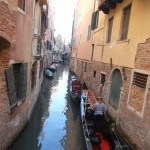 train left and we went to catch the water bus again.  We wondered through the little streets, which was fascinating, we stopped for a drink in one of the squares, and watched everyone going by. We then continued,
trying to find where the water bus left from, we saw the gondoliers winding around the tiny canals, with lots of little shops, mainly selling the Venetian glass, ice creams, and tiny restaurants.
To our surprise, we ended up in Piazza San Marco, so we were pleased that we had
meandered so far, think we have seen most of the things to be seen, but we will still come back on Saturday for the cultural day, and for a ride on the gondoliers, it is such a lovely place, well worth the second visit.  We have arranged for the dogs to go into overnight kennels, so we can have a leisurely day and evening.