During the evening we dropped the bombshell that tomorrow we had two rugby matches to watch at Cloggy's bar in Falmouth Harbour;
Jane has no interest what-so-ever in rugby, or any other sport come to that!!!!, so gave her a number of choices that are available to her.   We also had to get Jane acclimatised to the different time zone so we kept her up as late as possible and hopefully this does the trick, it usually does.
Saturday and up with the lark to get to the first march, Cloggy's is up to an hour's drive away and kickoff is at 10.15   Today it's Ireland V Wales followed by Scotland V England. The final decision after much deliberation is that I drop Christine and Jane at Pigeon Point beach, watch the first match, then collect them before the second.
Phase 1 worked well, the girls were delivered to the beach, and I arrived in time for kickoff. My bonus was, not being such a popular game, I had my favourite seat, bar on my left, and an empty table
strategically placed on my right.  Soon after kickoff a couple asked if they could join our table and I said of course but just one favour in return, they have to save my seat and one other for the England game.  It turned out they were from Exeter and season ticket holders at Sandy Park and as Saints are only 1 point behind in the premiership (at the time of writing) there was a lot of banter between us and no doubt encouraged by the lack-lustre match we were watching.
When I arrived at the beach, the girls were waiting and better still, waiting for us upon our return to Cloggy's were 2 chairs, in perfect positions to enjoy the England game.  I say enjoy, well, it was an appalling display by the England team, looking at today's performance you wouldn't believe they beat the "All Blacks" to get to the RWC final.  I know the weather was dreadful but that was the same for both sides, Farrell missed 9 points with his boot but eventually we carved out a win but how frustrating it was to watch.   I don't think I have witnessed such tension as there was inside Cloggy's, how no one threw a bottle at the TV screen I don't know, it just demonstrated the self control and discipline of Rugby fans!!!
We got on very well with our new "Chiefs" friends, Geoff and Rowena so we all went downstairs for a snack lunch, where we enjoyed their spicy Mexican Pizzas.  Towards the end of lunch the heavens opened so the 5 of us settled down to more rum punches.
Saturday night was a washout, we all went to bed early!
The rugby match, France V Italy kicks off at 1100hrs so not to much rushing this morning.  Our plan was similar to yesterday, the girls are left at the beach whilst I frequent Cloggy's then return and collect
them.  By the end of the first half we were all convinced the French points would resemble a cricket score but no, I don't know what the Italian coach must have said to his players but they certainly came out fighting.  Yes of course France won but nowhere near the margin they were heading for at half time, we'll done Italy.
Tonight is Shirley heights night and our taxi is booked for 1600hrs so we we headed straight back to base for a late lunch and a little time to relax before leaving.
Our taxi arrived on time and off we set.  For me it was an interesting journey to Shirley's as when I'm driving I have to concentrate 100%
due to potholes, Antiguan Driving, which I have to say I've settled into very well, I can now "dice" with the best of 'em, and the narrow roads.    Being a passenger I can look around and take in the sights and sounds.
Arriving at the heights around 1645hrs was actually too late, all the undercover tables were  taken but this didn't deter us.  Whilst I went to the bar, the girls muscled in on a table so we were ok.  Next time we'll book a taxi 1530hrs and hopefully we can get a table of our choice.   Tonight the weather looked as if it would rain all night but actually we only had a couple of light showers.   Sunday is definitely the night to go, big crowds, big on atmosphere in fact big on everything, though tonight wasn't the best night if you only went there for the sunset.  There were too many clouds and fog over the sea, still there's always next Sunday.   
After a thoroughly enjoyable late afternoon and early evening our chauffeur met us at the gatehouse as planned at 2030hrs, the activity actually stops at 2200hrs, but there were too many "lightweights" in our party of three!!!!   Returning in the dark reminded me why I don't want to drive here after dark, even Denise (our driver) was complaining.
Monday morning didn't bode well on the weather front, there were a
few showers about but it was mainly overcast, so we headed out to Jolly Harbour to book a trip to Barbuda for later in the week.  After coffee we headed back to Redcliffe Quay, next to the Heritage Centre down by the cruise liner docks, and enjoyed a very enjoyable lunch at the "C & C Wine
House", a wine restaurant specialising in South African wines; naturally we had to drink some and it was so enjoyable we had a second bottle; not quite Spanish prices though!!!
We had been recommended to a couple of local Caribbean food restaurants, but wanted to check them out to see what they were like.  We had also been told that the best "roti" place was called "Roti King" so as we were close to it we went there and bought one for later.
We watched Jeff cough up US $ 20 each time we visited a beach so decided it would be a better idea if we bought a couple of beach chairs and leave them at the end, far more economic so this afternoon we went round numerous shops and supermarkets looking for said items.   Eventually we found one, the only one in this shop but it had a screw missing.  We said we'd buy it with discount so agreed a price; a very nice quality beach chair.
During the evening, over dinner I suddenly remembered we'd bought this Roti but left it in the car, oops!!!    Into the fridge for tomorrow then.  After a few Brandy's and putting the world to rights we hit the sack.
Today we were woken by a torrential downpour, amplified by our tin
roof and then at breakfast, having suffered in silence, announced I had to visit a dentist.  I had been to mine before leaving and took a calculated risk I'd last 'till my return but no, so I started the search.  In the mean time the sun had come out and after the usual packed lunch headed to Half moon bay, the beach facing the Atlantic, but en-route stopped off at another supermarket and found a second beach chair, though much cheaper it was lower
quality and smaller, probably for a child, anyway Christine can get her bum on it so bought it.
Upon arrival priorities have to taken seriously so Jane and I headed straight to the beach bar whilst Christine "bagged" a table and opened up the lunch box.  Following lunch we went to the actual beach for our swim.    Presumably there had been some very inclement weather in the Atlantic as the rollers coming onto the beach were quite spectacular.  After being rolled over several times Jane retreated from the sea whilst Christine and I gave it our best shot.   After a few minutes Christine was in the "tumble dryer" of the surf and retreated.  I stayed on but even I got to the stage where the energy involved was rather too high so I followed suit.   This was
unbelievable, both Christine and I had never retreated like this in earlier years; I put it down to too big a lunch just before entering!!!!  After several minutes and a small rain shower we left Half Moon and headed back to a beach near us. On our way back we stopped at the viewing point of Potworks dam and reservoir, though there wasn't a lot to see as the trees and bushes obscure much of the view.
Potworks Dam and reservoir can store 4,142,000 cubic meters of water and is situated in the south of the Island.  It is the sole supplier of stored water for both domestic and agricultural purposes. It was built in 1969 and has very shallow sides which, believe it or not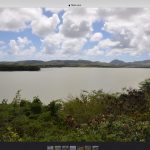 frequently runs dry; strange to believe that with so many tropical showers here.  The Antigens, being  practical and resourceful built this reservoir around an area that was already a flooded space. 
Back on St  James beach we enjoyed a more leisurely and relaxing swim before retiring back.  "Cuppa time" and we decided to attack the "Roti" after a very good zap in the Microwave.   Apparently one of these is a portion, we cut ours into three as it was so big, filled with potatoes, Chicken, and god knows what else, curried in a thickish sauce.  Christine and I enjoyed ours, we will certainly have another but Jane, well, least said the better however, she did try it first!!
Wednesday and today it is Jane's "significant" birthday but unfortunately I have a dental appointment where I was expecting an extraction so apart from cooking Jane an omelet I was away.
After the administration formalities I was led into a state-of-the-art X ray room where The whole of my mouth was scanned.   Following a consultation with the dentist, he suggested a process that may save my tooth, well for the time being and I fell for it, a lot more money than just having it out.  Anyway a couple of hours later armed with a prescription I left and was back in time for lunch after a stop off at the Chemist.
One pain killer and one antibiotic later my mouth was back to normal,
job done, so we headed out for a quick swim. It had to be quick as we had booked a table back at the South African Wine restaurant to celebrate Jane's "coming of age" where we had superb food, superb wine and a great evening.   The only blot on the horizon was a 'phone call I received to tell us that due to poor sea conditions tomorrow, the trip to Barbuda had been cancelled, oh no.  Still, looking on the bright side we don't have a 0600hrs start.
Our first mission today was to take Jane to the hospital as her hands and face were burning up, but not through sun burn, she thinks she has either been infected by a bug or is allergic to one or more of the creams she is using.  Good old internet, we found a hospital that sounded ok so off we went.   Being a private hospital, Jane was seen immediately and after a short consultation and a prescription issued, we headed back.   Fortunately nothing serious though she has been advised to stay out of the sun.
Next it was a trip to Jolly Harbour to collect Jane's deposit for the
aborted Barbuda trip, this was the one thing she really wanted to do.  What a disappointment, she had stipulated before she booked up that this was a "must do" activity.   Anyway her deposit was refunded though we moved ours onto the next available trip, hopefully the following week the ferry will go!   After enjoying a couple of consolation rum punches we headed to
Darkwood beach for our daily exercise before returning for dinner. 
Jane's time in Antigua is coming to an end in a couple of days so we discussed where else she would like to go to and after much deliberation chose the beach in Carlisle
Bay.