The further north we go, the cooler it gets, we did go in the pool today, but there is a cold north wind, so it's warmer in the pool than out, we spent more time in the pool, than sitting around, the wind is biting.
We played shuffleboard with Jan and Mike, it is a very frustrating game, it takes you ages to get points, and when you do the opposition knocks you out. Anyway the boys won, and we moved on to ping pong, we played best of three and this time the girls won! We are all getting better, and actually managing to do rallies!
Today it is Pub lunch again, so we popped in for fish and chips, but we left the chips, time to cut back, we are getting so fat! Plus tonight is formal night. After lunch we played golf, they have a crazy golf course, which was great fun, the boys won again, but it took them twelve holes, before they won, we were very close.
We went back to the room, and changed for dinner, I actually got into my long black dress, felt bloated but at least I made it. Tonight it was farewell dinner, and we had lobster, and beef Wellington, oh boy what a dinner, we had the lobster as a starter, but they gave us the whole thing, it was gorgeous, what a pair of piggies we have been.
Before dinner, they had a choir singing carols, and the Captain said a few words, we were all given champagne, and after dinner they had a party in the Atrium, where they dropped loads of balloons, lots of dancing, lots of fun.
Up early, washing and ironing done by 10am, Geoff had started the packing, in between the washing and ironing, we went to the Provence restaurant for breakfast, it was closer to the laundry, it was nice to be waited on.
When the washing was finished, we went for a talk on 'behind the scenes' which was all about the theatre, we were able to stand on the stage, and experienced what it was like to be a dancer, they don't know if they have an audience or not, only by hearing the applause as they cannot see anyone from on stage.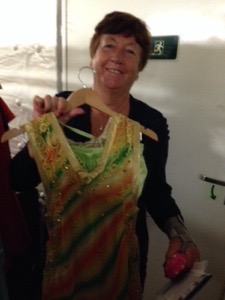 They took us into the changing rooms, and where they have all their dresses, very tiny, not sure how they cope, it was very interesting.
After lunch which we went for an Italian pizza, cooked especially as we wanted it, have to say we are being spoilt here.
After lunch we tried to play shuffleboard, but it was so cold we gave up. Then we played golf, it took us sixteen holes before we came to a winner, and that was me, I was chuffed, as I haven't played for years.
We met Jan and Mike for dinner, which was very good as usual, then played dominoes, the boys actually won, well done.