Our BA flight"s landing last night was rather reminiscent of a Ryanair landing: coming in fast and stamping on the brakes, this was quite something. Anyway, this morning we woke earlier than we had wanted to but looking out of the window and seeing blue skies we were happy to get on with it and make the best use of our one day in San Diego.
After a hearty breakfast we took the hotel's shuttle bus to downtown San Diego where we were told we could walk to the "Seaport Village" and "Old Town", two areas that would give us the best feel of the place. What we weren't told was the shuttle dropped us at the town's main shopping mall, just where we wanted to be, I think not: we don't like shopping. The driver pointed us in the direction of Seaport Village but when asked, he toldus Old Town was approximately 5 miles in the opposite direction; quite different from what the receptionist told us.
We wandered down to the Seaport Village area, passing the tram station as we went. This area is mainly made up of small boutique shops and restaurants but it was right on San Diego bay, in lovely surroundings, so well worth a stroll around, this was followed by a coffee (no Brandy!!), siting in the sun, so warm we had to remove excess clothes.
After coffee we decided to go to Old Town but instead of taking a taxi as the shuttle bus driver suggested, we went back to the train station and got on a tram and 5 stops later, arrived at
Old Town.
En route to Old Town, we passed the San Diego International airport and we then appreciated why the Pilot did what he did landing the plane. There are high rise buildings all around and what appeared to be quite a short runway: Pilot forgiven!!!!!
Walking around Old Town, today a heritage area, you get a good feel and understanding of the place. Created in 1769 it was California's first settlement with only a mission and a fort. In the early 1800's the town grew, mainly as a port for ships travelling up and down the Pacific from San Fransisco round Cape Horn and back up the Eastern Seaboard then later, 1848, gold was discovered and that's when the gold rush began and San Diego took off. Though only a small number of the buildings were original, most have been reconstructed in that period. Many of the buildings were kitted out as they would have been in the middle to late 1800's and the centre of all this is the Wells Fargo office, with an original stage coach, one of a batch of an order for 300 built to their own specification.
Whilst in Old Town we decided this was where we would have a late lunch, unfortunately all the restaurants were Mexican, naturally, and all the meals had something on that one or other of us didn't fancy, so we strolled out and found a sort of "rib joint" where we had one of their large meat dishes, though for one, we shared it. Boy it was too much for us, we left a fair amount. I asked the waitress if anyone ever eat "the lot" to which she replied "yes", good grief, that may account for some of the sites we have seen around!l
San Diego is also a large Naval Base, much of its Pacific fleet operates from here. There is the aircraft carrier USS Midway, commissioned 1 week after the end of WW2, now a museum. We didn't go on her as we had both been on the USS Intrepid, (a WW2 Carrier), last time we were in New York. Also in Town was another Aircraft carrier across the bay, name unknown and no doubt in active service.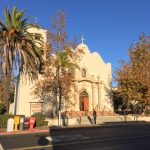 Time to get back to the hotel for tomorrow is the big day when we start our 35 days aboard the Oceania Serena, which we watched arrive earlier today, here early no doubt to load sufficient provisions for us ????
A quiet night in, a game of cards to wile away the time, an early night and then off………