Thursday 3rd November
A quiet day today as Jane has things she has to do including "work"!!! So we are going to "mooch" around St Helier, and as our flat is right bang in the middle of town, we didn't have to walk far to reach King Street, the main shopping street.
Round the corner from us is Charing Cross, the original western gateway to the centre of St Helier and until the early 19th century, literally a gateway as it was a tunnel under the old prison built in 1688. Everything changed in 1806 when Colonel Sir George Don arrived and became the Lieutenant-Governor of Jersey who soon realised war with France was on the cards, again, and as there were no roads, just narrow tracks that prevented his troops being re-deployed, as and when needed. (This probably contributed to the French Invasion of 1781). With this in mind, he set about building a network of roads across and around the island, many of which are the same roads used today. In this re-building programme, the prison was demolished to build an access road of sufficient width which would allow cannons to be deployed in St Helier, and this access road , Broad Street heads straight into "Royal Square".
We meandered up "King Street" until the rain came down at which point we found refuge in "Waterstones", fortunately the rain didn't come down for too long; just as well as it was a small branch!!!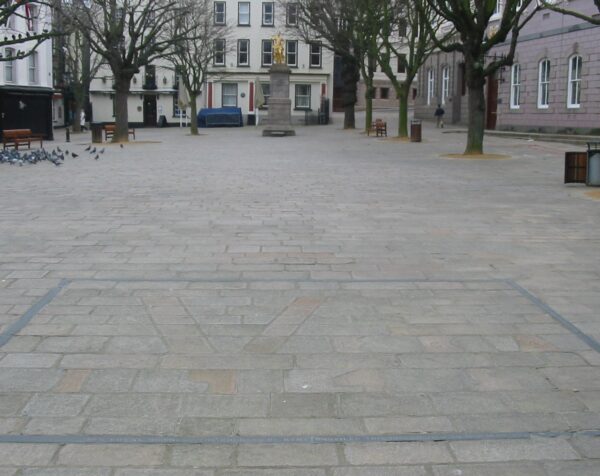 Rain stopped and some blue sky appeared as we walked into Royal Square dominated by a Gilded lead statue of King George ll in Roman dress, sculpted in 1751. There is also a big "V" for victory built into the ground. During the German occupation, (about 1-soldier to every 4-civilians), and despite the threat of severe punishment for acts of subversion, one Joseph Le Guyader found a unique way of expressing his recalcitrance by relaying paving stones in the shape of a "V"; it wasn't until 9th May 1945, "liberation day", that the majority of islanders realised there was the V for victory in the square!! Though this square was the centre for celebrations after liberation, unknown to me, it is more famous for the battle of Jersey in 1781.
In 1779 the French put together an invasion army but fortunately for Jersey their ships couldn't get near enough to land as the weather was so bad and this was Jersey's savour.
In January 1781, they mounted another invasion with a force of about 1,400, but this time they managed to land with zero opposition.  Once disembarked they marched onto St Helier without anyone challenging them and they captured the Lieutenant-Governor Moise Corbet with hardly a shot been fired.   The Governor was "hoodwinked" by the French General, "Philippe de Rullecourt" by being told the island was swarming with French soldiers, so he signed the document of capitulation, but unknown to either of them the British army were like the rescue cavalry coming over the hill.  Their leader, Major Francis Pierson  attacked the French in Royal Square on two fronts and won the day but at the cost of his own life, as well as the French general's.   At the corner of the square is the building where Pierson was killed; today that building is "The Pierson" pub, so naturally it was where we would have a pint!!! This was a small "oldie-worldie"  pub, but it was "heaving", lunchtime trade!!  
After our "refreshment" we carried on walking along King Street, and found the St Helier market, but too late, it was closed so headed back home for a cuppa before heading round to Jane's apartment for dinner. Fortunately "nowhere" is very far from "somewhere" so the walk was reasonable, 12-minutes.
We had a lovely meal, Christine and Jane managed to find much to chat about, in spite of being together all yesterday!!! Time to go so headed back on our 12-minute walk.
Friday 4th November
Today following a lazy breakfast, Jane collected us and we headed out to complete our circumnavigation of Jersey.
Leaving St Helier we headed out to start where we left off on Wednesday and though the winds were still howling, the sun was shining. Our route was basically the same, in and out of beautiful small bays and today we passed the, what shall we say, the posh end of the island with all the big houses; where the money is. Jane pointed out several, one being the last home of Lady Docker, the well documented socialite who started out in life as a dance hostess in a club, married three times with her last husband being a wealthy industrialist with a title; quite a women in her time, she died in 1983.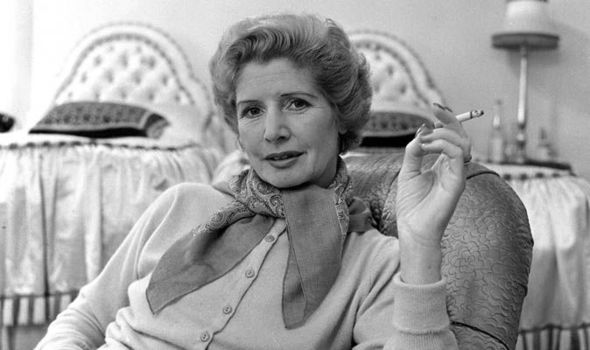 We stopped for coffee at a farm shop Jane recommended but unfortunately they didn't sell cakes, only breakfasts, which we didn't want but wait a minute, they do pancakes with fruit, maple syrup and cream etc., that will do so the three of us shared two, and they were delicious, yum yum.
At one of the bays we got chatting to a couple from Leicestershire who were holidaying for a few days, and they were telling us about their "bargain" break staying at the Longueville Manor Hotel. Apparently the Longueville Manor is the"top notch" 5* hotel here in Jersey and presumably, like most other businesses at this time of the year, they do deals hence this couple could stay there.
We now headed to lunch but today it was going to be different. Jane had told us about this place in Rozel bay who does bacon baps to die for. We arrived at Rozel bay, parked and rocked up at "The Hungry Man", what is commonly known as a "burger van", similar to what you see in lay byes in England. Fear not, she assured us the food here is worth the effort and the discomfort of sitting outside in the wind, at wooden garden table bench. I went and ordered, paid, and was invited to sit as everything would be delivered. A few minutes later everything arrived, freshly cooked and delicious. Our freshly ground coffee was a little on the strong side so we needed extra hot water and I went to the side where the waiter had come from. To my surprise, I was shocked to see five people working in the tiny kitchen pumping out all this food, needless to say this was a very popular spot.
Our tour also included the two major castles built to defend Jersey during medieval times. "Elizabeth Castle", and "Gory Castle" but alas they are both closed for the winter, still a drive-by will be better than nothing.
Mont Orgueil Castle, also known as Gory castle, as the name suggests is built high up the rocks overlooking the harbour of gory. The build started in 1204 after King John lost his Normandy realm to King Philip ll of France. This castle was the primary for the defence of Jersey and for over 400 years it withstood numerous French Assaults. During the 1500s the castle went through intense periods of renovation and extensions due to the use of cannons but alas it was in vain and the decision was to build a purpose-built castle for the times.
Elizabeth Castle; the build to replace Gory was commissioned by Queen Elizabeth l and construction started in 1595 and was named after the queen by Sir Walter Raleigh. The first time this castle was used for military purposes was during the English Civil War. Jersey remained loyal to the Crown whilst Guernsey supported the Parliamentary side. Again this castle has served the population of Jersey throughout the past 400 years.
Unfortunately both these imposing castles were closed but both look worth visiting; oh well we'll have to return in the summer sometime. We did stop and have a stroll along the beach at Green Island, as it was protected from the wind.
Returning to St Helier via Waitrose, Jane did a detour via Longueville Manor Hotel to show us the beautiful gardens the building sits in but with a gentle "nudge" we parked and went in for a drink. The origin of this building is scarce but there was a reference to an original building on site in 1332 and the panelled dining room certainly suggests this building has been around for many years.
In the bar we bumped into the folk from Leicestershire enjoying an afternoon tea, and I must say it looked superb. We on the other hand ordered and enjoyed a bottle of their "House" white wine but certainly got a shock at the price!!!! £58 a bottle!
Driving around all day and wandering about in the wind seemed to "knacker" us, so back to the flat for dinner and a quiet night in