Tuesday 13th September
After a reasonable night with thunder, lightening and heavy rain, we emerged less tired and in the clear "light-of-day" decided to return to our "old haunt" here in Pouilly, the other chap's loss is "Francis Blanchet's" gain; we've been here many times and just thought we'd give another vineyard a try, ha!! Of course this plan was quite flawed as we did our "degustation" at 10.30 in the morning, not a good idea as we had to drive after!!!!!
Francis Blanchet is on the outskirts of Pouilly-sur-Loire and is a traditional vineyard that has been in the family since the 18th century, though their buildings are certainly modern and their equipment looks "state of the art"; this is the first time we've been here during the grape-picking season so they were very busy, not to busy to sell of course!!!
Our objective here was to select a white wine for my 80th bash, so after tasting a selection, we eventually settled for "Kristina", very quaffable and promptly bought 4-cases, should be enough!!!!!
Prior to leaving, a tractor with a fully laden trailer arrived to discharge the grapes and we were invited to observe. The operation was quite interesting as the pressing process actually starts in the trailer whilst the grapes are being loaded and being driven back to the winery. They connect two pipes to the trailer, the lower one sucks all the grape juice that's just been pressed "au natural" and the other pipe sucks out the un-pressed grapes straight into the crusher after which it joins the other juice and heads into the fermentation vessels. At this point they drew off some of the freshly pressed juice and gave us a glass; a bit on the sweet side, but very more-ish.
After stowing the wine away, we headed off. This evening we want to stay at a small family vineyard we found on our last trip in Bully, the Beaujolais region which is a 4- hour drive away.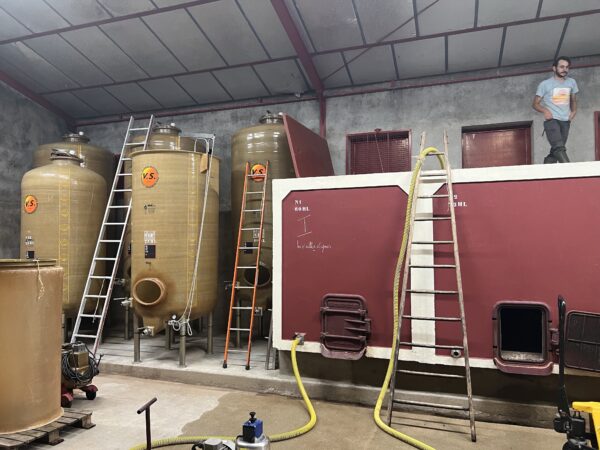 Again we elected to do the N roads, keeping off the Peage and driving through rural France but it was hot, the rain has stopped and the clouds gone so we needed to find places to let the dogs have a run around.
Arriving at the "Domaine de Roche Cattin", the vineyard in Bully we found on our previous trip through France is also a family affair. Again this is their busy time and we were lucky to get a spot in their parking area, as it was full of the "grape-pickers" cars. This small operation isn't quite in the same league as this morning's but hey, they produce very nice Beaujolais. This evening's tasting was better as we were here for the night so could go the "full Hogg"!!!!!! "Eventually" we chose "La Passion de Mon Pere" and promptly bought another 4-cases for my 80th, hopefully we now have sufficient for the "Party".
Once the transaction had taken place we were invited to view their operation and again we sampled their grape juice before it went into their large fermentation vats.
What a day, two totally different wine tastings, a long drive in the heat and a motorhome with rather an excess of weight!!!!