Thursday 6th October 2016
Woke up to blue skies again, how lucky we have been with the weather, and how enjoyable can this journey be, I can't believe how much fun we are having. I love it!
We left Kidlington not very early we had showers, I did some ironing, cleaned the boat, sorted the washing and off we went.

Five very tiny locks, they are so different, a lot easier to work, but the Oxford Canal is so tiny, in places we had to stop so that someone coming the other way could pass. A lot of long term moorings all along the canal , such a pretty area, and everyone is so friendly and helpful. My highlight today, was a kingfisher, who kept flying along with us, darting in the weeds, and out in the open again. Fantastic sight.
We travelled to Lower Heyford, where we stopped to fill up with water, one hour later, we had had our dinner, and still the tank was not full, another boat had been waiting for some time, so we decided to give up. We went up passed the boatyard, and found a mooring for tonight.
Later we walked to The Bell. Pub, in the tiny village, it was obvious that everyone knew everyone else, and the local gossip was to be heard, we were made very welcome though.
Friday 7th October 2016
Not quite so bright today, but still dry, we left quite early as we want to go to Banbury, and it's quite a few miles. Seven locks today, we are taking the locks in turn today, which means I have to master the driving, which I have now done, having been forced to do it, I quite enjoy it really. The locks are very deep, and very narrow,
and very tight to get in, with a bridge just before we enter, a fascinating experience.
We helped other boats, some only having one person on board, and other people helped us through the locks. We stopped at Aynho, we had to double up, as the boatyard was busy, so we could fill up with diesel, it took 120 litres , which is very good as it is only the second time we have filled up.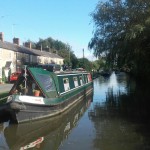 Along the canal there are a lot of lifting bridges, and just to make a change they are held open in our favour, so the farmer if he wants to cross has to close them, so that was good news.
We finally arrived in Banbury and found a space, we did not arrive until 4.30pm so we set up the tv aerial, had dinner, and then a quiet night watching television, it has just started raining, how about that for timing.