Well we are back, we jumped ship at 9am, walked around, found an Atm then headed for the bus station, we were told the buses don't run on Sunday's , but think that was a ploy by the taxi drivers. Anyway we arrived at bus depot, caught a bus and arrived in Falmouth Harbour, it's just like we haven't left, except the harbour is not as busy as I remembered it.
We wondered around, then made our way to English Harbour, such good memories of this place, so lovely to be back, not many boats in though, I guess it's just the beginning of the season, we saw Leander the boat the Queen borrows when in need of one, and saw a couple of other big ones, but nothing like things used to be. I believe Antigua week starts in December, so things will be busy then.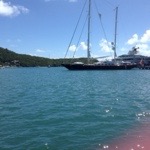 We stopped for lunch, lobster on the menu, plus a couple of rum punches, and Geoff had a pain killer, which consisted of coconut, rum and pineapple juice, very very nice.
This entry was posted in Caribbean. Bookmark the permalink.