Monday 25th September
What a good night's sleep and thanks to everyone for entertaining Tom-Tom and Rosie yesterday; the ball thrown into the pool and them fetching it so many times did the trick, no disturbances until 07.00: wow!!!
Another day of leisure with no driving but first a quick trip down to Xalo for a few bits and pieces and whilst out, Martin and I took the opportunity to enjoy a tostada accompanied by a coffee and a brandy, my first Soberano in Spain since last September 😁😁😁. I took numerous bottles back to the U.K. last year and "eked" them out but it never quite "touched" the right spot!!!
The rest of the day was spent as before, by the pool, and again relentlessly throwing the ball into the water, over and over again to wear the "buggers" out!! Another reason to "sort" them out is that Martin is taking us all out tonight, so we don't want the dogs destroying his house whilst we're out!!! Being a Monday many restaurants are closed but there is a new one that has recently opened in Alcalali, so that's where we are off to later, but first, keep throwing the ball and keep the wine coming!!!
Naturally the time flew by and suddenly it was all rush to get out in time. The restaurant is in walking distance but the journey is down a very steep hill and of course you have to walk back up; fortunately Martin took the car so my knee didn't have to suffer, mind you Christine did walk down!!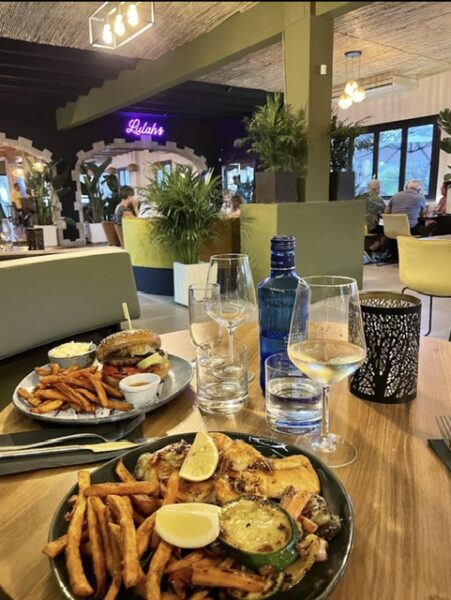 We arrived at Lulah's, surprisingly on time and our table for 7 was all ready. The interior of this restaurant was quite unusual and there was plenty of staff and reasonably busy. We ordered a round of drinks which was fine but we also ordered a a couple of bottles of Cava that seemed to "flummox" our young waiter; he got quite confused!!! Still the evening progressed well, birthday boy was toasted and the food was nice so everything worked out well. The youngsters headed back up the hill on foot and the oldies took to the car!!!!
Back at the house we said our goodbyes as the youngsters were no doubt going to party and we had to be up early to take Martin to the airport.