Today is the tour of the winery but we are not being picked up 'till 1345 so have the morning to ourselves. After breakfast Christine caught up with the ironing after which we went out for coffee. Across the road from our hotel is a café with cups of steaming coffee painted on the window and various good looking cakes inside; just the job, so sat down and waited, and waited and eventually I went in to order only to be told they don't serve coffee, what!!!!!!!! We left and further down the road was another attractive place with cakes so this time, before sitting down ensured they served coffee, which they did. A nice young man who spoke very good English served us so we will probably go back.
After a short wander round we were collected from reception and went through the same process as we did for the Andes trip before heading out of town towards the winery.
Todays visit is to "Vin Undurraga" at Talagante, in the Maipo
Valley, 34 Km outside Santiago and is one of the oldest wineries in Chile, founded in 1885. Before we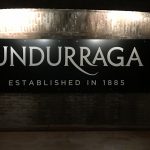 started we were greeted with a glass of their bubbly white wine, and very nice it was too.
The setting for this vineyard is quite breath taking, with the gardens beautifully set out with very mature trees dating back to the beginning of operations in the late 1800's. The winery is of course state of the art though they have retained one original underground vault where they mature the Premium and Grand Reserva wine in oak barrels.
Before we went through to the important part of the tour, "the actual tasting" we passed through the museum displaying artefacts of the "Mapuche" the Indigenous inhabitants of Southern Chile and Southwest Argentina. This was the private collection of the original owners, collected over time. They also had a display of old coaches and a hansom cab.
We tasted 4 wines, a dry white Reserva that was very nice; in fact we bought some, a couple of indifferent reds and a desert wine. In the shop they had some rather better wines than ones we sampled, but naturally at a much higher cost.
Back on the bus and we headed to town and our hotel where we dropped off our purchases, and headed straight out again for the Costanera building.   We enjoyed a quick meal before
heading up to the top of the building, the 61
st
floor to be exact. Our timing couldn't have been better; we arrived about 5 minutes before the sunset over the statute of the Virgin Mary on Cristobal Hill and stayed 'till it was dark. We had been wanting to go up in the evening all week but with one thing and another, didn't quite make it but tonight is our last chance so we made sure we did it, and it was worth it. It may not be as tall or as grand as the Burj khalifa in Dubai but it does show how big Santiago is, with its population of 7 million.
Back to the hotel "in the dark"; a first for us, here in Santiago and to bed.
Today the big pack has to be done, but this time with no thought at all about weight in our cases, what a relief. Yes, its taxi and ship all the way back to Blighty. I have to say after we packed and reduced the number of cases/bags we had to a manageable number, our two big cases though, needed a crane to lift; still there are some very strong men out there.
The organisation of our overall tour has been fantastic, Harry O'Hara, our travel agent has done an excellent job, and nothing has been left to chance. But today we did have a bit of a blip and a slight panic, when I printed off our e tickets for boarding the Queen Victoria, the ticket said the ship would be docked in Valparaiso, to the north west of Santiago but our taxi voucher said we were being taken to San Antonio, some 70-Kms to the south of Valparaiso. When we originally booked Harry said the ship sailed from San Antonio but as Cunard don't issue their e ticket 'till about 1 month before, and when they did, and it said Valparaiso, I assumed they had made a change. It also stated embarkation was 1500hrs but on our taxi voucher it stated the ship left at midday which meant we would have to be picked up at 0530hrs. Anyway after a few e-mails and a couple of 'phone calls it was all sorted out by Harry. He had been right all along it was Cunard that had caused this mild panic. Though the e ticket said Valparaiso it should have said San Antonio and the taxi company was re-scheduled to collect us at 1000hrs instead. Had we been independent travellers we would have most probably gone to Valparaiso and missed the ship. I think a complaint is called for.
After the "big pack" we killed time with coffee break and a wander around, followed by a nap as we are out tonight.
Being our last night in Santiago we had booked to go to the "Bali hai," a dinner and floor show venue. The tour company again arrived on time; the bus picked us up and apart from one other pick-up, dropped us at the door of the restaurant.
The décor of this place was a cross between Polynesia and what might be perceived as ancient Indian.
The food wasn't too bad but the floorshow was well worth watching. It was split into two; the first half of the show was
about local, traditional Chilean dancing and the second was Polynesian dancing. The second part of the show was probably the most entertaining, it was certainly more vibrant, the energy and fitness, especially of the two male dancers was extraordinary, they didn't stop cavorting, shaking, jumping for about ½ an hour; much of their activities, probably descended from ancient war dancers, was very similar to the New Zealand Hakka. Naturally, to add to the entertainment they drew members of the audience up to participate, fortunately they ignored us.
The other pick up we made on our way to the venue was a young lady from Buenos Aries, she spoke a little English and being on her own sat with us at the table. She was a Children's Psychologist and a very confident person, demonstrated by travelling alone. From our point of view, and being poorly equipped to travel South America by not understanding their Spanish, she was very helpful. The Compare and everybody else in the Bali Hai only spoke Spanish; a poor show as not only were we sitting with Americans and Australian's, more than 50% of the audience were English speakers.
After a thoroughly enjoyable and memorable last night in Santiago, we were brought back to our hotel for the last time.