After having lots of chats and answering emails, we decided to go to LA again, but this time to see where The train leaves from on Thursday, don't want to miss it. Plus today it is raining, and very windy, so not a nice day to go to Long Beach.
We caught the free bus, and after getting off the bus at the wrong place, we caught another, we got to the station where we had to work out how to pay for train, you had to get a tap card first, which is like our Oyster Cards, anyway we did it, had a pleasant trip, managed to change trains at the right place, worked out all the lifts, as we will have our luggage with us. We eventually found the Amtrak station, where if you have a sleeper you can use the private lounge, also we found out if we don't want all our luggage in the room they will store for us, and deliver it at the end, the guy took the Mickey out of us, being English, and said he looked forward to seeing us on Thursday.
I fancied going to Denys for lunch, which we found, and we then started making our way back, where we had to change, we decided to have a walk around in Downtown L.A., the shops are huge, and the buildings even taller, we found Macey's but it was closed for renovations. We did find this lovely cake shop, where we walked around looking at them all, but because we had just had lunch we would not have done them justice.
We meandered around then found the train, and headed back, when we arrived,we walked around Long Beach Downtown, then headed for the smaller shops on the waterfront, I grabbed a cuppa, and we caught the bus back to the ship.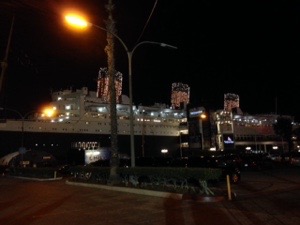 Back to playing crib, which I am pleased to say the girlies are still winning, most unusual, we are both tired, so early to bed.