Saturday 11th December
This particular Travelodge supplied an excellent breakfast which was "slightly" unexpected, still we enjoyed it knowing today was going to be boozy and we wouldn't be eating 'till late. After breakfast we put our "glad rags" on and headed out.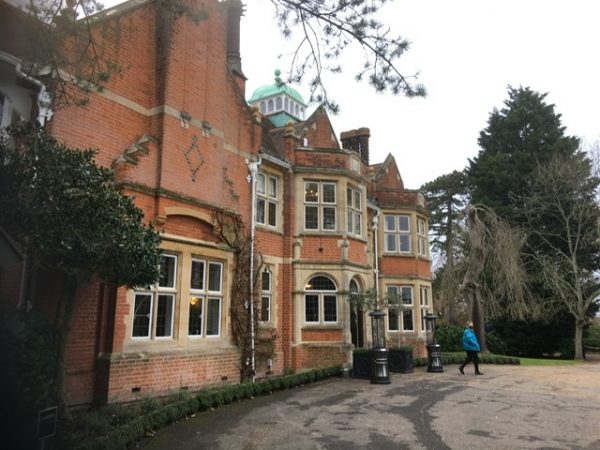 We were booked into this Travelodge for two nights, but yesterday Lee and Sarah dropped us a note offering us a bed Baddow Park House, the venue for the wedding. One of their guests had cried off so rather than waste the room we were offered it, which was extremely kind as the room rates are well above our "pay grade!!".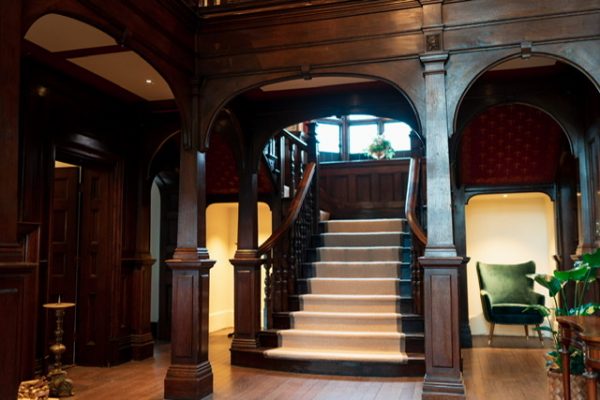 We arrived at Baddow Park House at the prescribed time, unloaded the car and joined the party which though a little early, was in full swing. Whilst waiting for the bride to arrive we enjoyed copious amount of bubbly whilst chatting to their friends. The moment then arrived and we all filed into their wedding room to await the bride.
Because of Covid the actual marriage ceremony took place last year, alone and no guests so today was a re-run when they could eventually have their friends and family around them. With the actual marriage ceremony having been completed, this time the happy couple recited their own "special" vows, composed by themselves, independently of each other. The result was amazing and apart from what one would expect to hear at a wedding, they both brought humour to the proceedings, especially regarding "Jasper", Sarah's best friend, her Labrador: it was particularly re-assuring to hear Lee acknowledged his place in the hierarchy!!!!!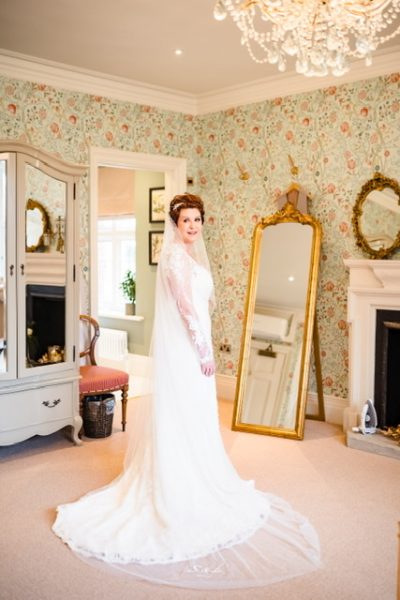 After the ceremony we fell back into the hall with its magnificent staircase rising up from the large hall, then splitting both ways and opening up into a ministerial gallery, where there was a string Quartet playing background music. Off the hall was a beautiful oak panelled drawing-room, also full of guests, but more importantly, in here there was comfortable seating! Whilst sipping further amounts of bubbly, we enjoyed a continual supply of excellent "Canapés", and the particular one everybody seemed to enjoy the most, was the Baddow Park version of a sausage roll, sausage meat infused with herbs etc., then made into sort of "Sausage Wellington", all wrapped in flaky pastry and cut into thick slices, superb!!! We were told there were groups of guests; their family, their university friends, their work friends, and last but not least, their other friends, and as we were very fortunate to be invited, that is where we were. It was very interesting mingling, meeting friends of Lee and Sarah from a previous life and getting to know them better; not too many secrets Lee and Sarah, ha ha!!!!
After enjoying far too many canapés, we were invited to head to the main function room where we sat down to a full wedding breakfast followed by speeches. Lee had several university friends who were collectively his "best men", and all going to say something and obviously he was quite nervous!!!!!
Everything went well and after the clear up from the dinner tables, the band moved in then music and dancing was the order of the evening, accompanied of course by the bar!!!
Later in the evening we couldn't believe our eyes. We had enjoyed numerous canapés all afternoon, we had gorged ourselves with a wonderful three course meal and now, more food was produced. The food was on the table for some time before folk ventured up, and after everyone had had their fill, the amount returned to the kitchen was nearly as much as came out!!!
After a wonderful and memorable day, we headed up to our rooms, tired, full, and "very" happy.
Our room and en-suite could have been out of a "Homes and Gardens" magazine, very elegant, spacious with a classic look, oh yes a very comfortable 2-meter bed, shame it was gone midnight and we had to go to bed and sleep.
Sunday 12th December
Following a very comfortable, but short night in this lovely room, we headed down to breakfast; a little early for a Sunday we thought but hey, a small price to pay for such a great place.
Today we had to head to Pilgrims Hatch (Brentwood) as Jane and family had headed out very early to catch a flight to Finland and we had agreed to dog-sit for the week. Under normal circumstances we wouldn't have rushed but we had been invited to join Sarah and Lee to watch the final F l Grand Prix of season. This Abu Dhabi GP was going to be particularly exciting as Lewis and Max were on equal championship points and there was everything to play for.
Back at Jane's I emptied the car whilst Christine took Oreo for walk. We think he was pleased to see us, perhaps he wondered if he had been abandoned, only a week ago his companion for 15-years, Doogle, had to be put to sleep and he was missed. Once chores completed we headed back to Chelmsford in time to settle in front of the tele ready for the green lights.
We were expecting an unusual race with so much at stake, but "my-my", no one could have predicted the outcome. We were so riveted to the tele the race just seemed to end as soon as it started. Following Latifi's crash 5-laps from the end and the field bunched up cutting Hamilton's lead, at this point Max went in for new tyres, the result let lapped cars between Lewis and Max and with no time to let them through, the final result should have been a fore-gone-conclusion, so everybody thought; but, the race stewards thought differently. They changed the normal "back marker" procedure and just let the cars between Lewis and Max through giving them one lap to race for the title. Though Lewis was in front when the green light came on, Max with his new tyres soon overtook him and won the race and the title but then the controversy started the moment the chequered flag fell. This I have no doubt will run for some time. Thank you again Lee and Sarah for another memorable occasion.
We headed back to see Oreo and have a reasonably early night to catch up with sleep after a really enjoyable weekend.