Our long awaited trip to the U.K. was planned to start at 0800hrs this bright Tuesday morning, 3rd May but strangely we were out of the house and on the road by 0745; must have been excited.
Firstly we had to drop Rosie at the motorhome dealer in Murcia, she had been booked in to have a generator and other useful bits of kit to make her fully "self-sufficient", fitted. So off we went in convoy and heading along the A7 suddenly Christine pulled in front and stopped me. "What's wrong I asked" we have forgotten our COVID certificates: "Don't worry" I replied, "we have them on our 'phones; so off we headed and halfway to Murcia I suddenly wondered if Christine had the passports as she normally looks after them so I stopped and asked the question; "xxx", "xxx", "xxx" was the expletive answer!! Followed by "NO"👹👹👹👹. I "quietly" drove on towards the destination while Christine turned back to Campoverde to collect said items!!!
Our appointment was 0900hrs but I arrived at 0845, the 15-minutes we had gained earlier in the morning, unfortunately to no avail!!!!! But fortunately Christine broke the sound barrier and we eventually headed on our way, passports and hard copies of our Covid certificates, "just in case" in hand. Once out of Murcia we stopped for breakfast, then "bish, bosh, bash" we blasted our way to, then round Madrid before stopping for a Menu del Dia, goodness knows, where but it was very acceptable.
Mile after mile of tedious motorway is boring, but once clear of Madrid and away from duel carriageways we drove through some rather pretty, mountainous countryside, firstly with fields of oilseed rape then mile after mile of vineyards. It would appear it is a rather large "Rioja"producing region, this is also born out by the number of Bodegas we saw. Every village had 3 or 4 and most had magnificent buildings; obviously we all drink too much wine and the proprietors make so much they don't know what to spend it on!!!
Our destination for two nights is the Hospederia de los Parajes in Laguardia, apparently this is a very old building in the heart of the old medieval town and the only access to it is by foot. We have to do a 5-minute walk from where one parks the car🥵🥵, still I have no doubt it will be worth it.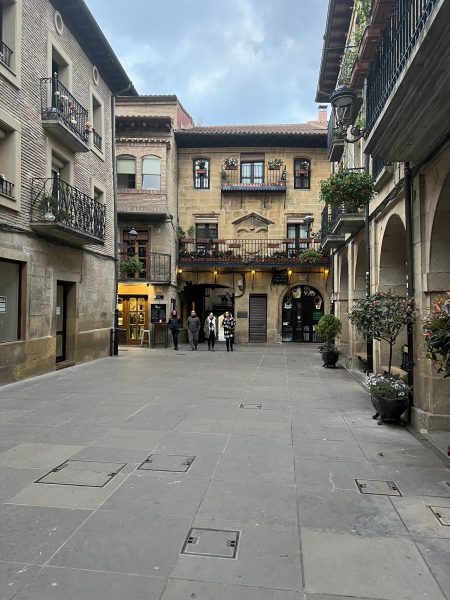 Arriving outside the walls of the old medieval town we understood why we had to walk. The gateways were pretty narrow so managed to find a car parking spot and off we trundled. Our guide was "WAZE", so followed the route but WAZE is only geared up for cars, not pedestrians and soon realised there had to be a shorter route, so asked a local. We immediately arrived at our lodgings, a beautiful building, right in the centre of the town.
Our room, complete with 4-poster bed was unusual; we had cherubs each side of the bed, angled beamed ceiling, and unusual decorations with a partition for the dressing room and shower room; fortunately the toilet was separate!!!!!
Whilst completing the usual formalities we were given two tickets for a complementary wine taster in their caves which were situated 2-floors below ground level. Upon arrival down in the bowls of the building we were quite amazed. We were in caves, literally below our accommodation, there were passageways going deep into the caves, very unusual and the temperature of was a constant cold, just right for storage of wines. It was here we appreciated how important wine producing is to this area and how most of the medieval town is built on top of ancient caves hence no vehicles, as it was told to us, too much weight could demolish the town as it fell into the caves below.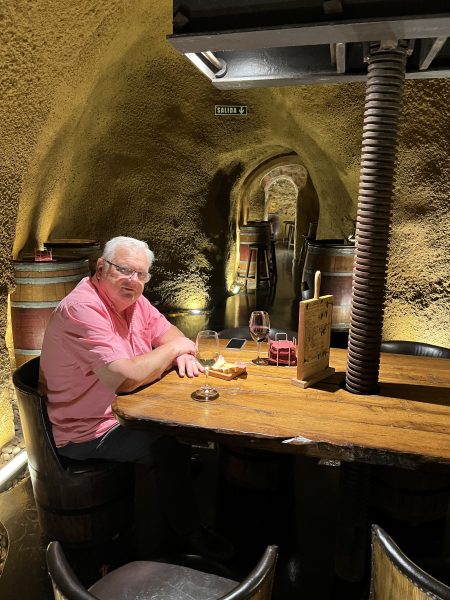 After our "taster" we headed out and blow me, we found another entrance into the town right in front of the hotel and you could see our parked car!!!! Not 5-minutes away, more like 2-minutes away😀😀
A quick drink accompanied with some Tapas followed by an early night was all we could handle tonight, but tomorrow we will have a good poke about