Apart from the dismissal display from the drones, we thoroughly enjoyed our time in Bruges over the new year, it was a very good decision to go there.
Thursday we were up at the crack of dawn as we have an all day drive, just under 1,000Km drive to get to Châteauneuf-du-Pape so we're waiting for the breakfast restaurant to open, that's definitely a first for us!   In the mean time we'd loaded the car and settled our account. 
We hit the road at 0800hrs as planned, and headed south-west on a very damp, miserable and overcast day.  To give us any chance of
getting to Châteauneuf-du-Pape within a reasonable time we had to use "péage"  as often as possible.   Because Christine couldn't drive it was down to me so stopped for a couple of coffees occasionally!
We left in darkness and arrived in darkness and with Châteauneuf-du-Pape being an old small village where the streets are extremely narrow,  it was challenging to say the least, especially as our SatNav took us to a small, narrow cul-de-sac as our destination.   A 'phone call to our lodging for the night was also interesting as the "lady of the house"  didn't speak English and our "school-boy French"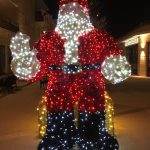 couldn't cope.   I drove to the nearest bar and managed to "persuade" the lady behind the bar to 'phone the hotel proprietor, tell her where we were, and could she come and get us as nobody in the bar had heard of the place we were staying; scary or what?  By the time I had thanked everybody for their help, this very smart woman turned up and the "three" of us got into the two front seats: the back was chock-o-block.  She directed us back to within a few meters from where we were originally,  so SatNav wasn't too bad.  Her "hotel" was in this narrow street with zero room for parking so we were directed to the local municipality car park, but was full!  She then showed us some waste ground where other cars were parked, so this was it, we where we parked: not the most secure bearing in mind we had a car full of stuff, and all on show!  We now
walked back to her establishment, a private house with one "suite": obviously this one "suite" supplemented her income.  I would describe our abode for the next two nights as a "Rustic Boutique Hotel", everything was there including an sitting room, though I use the word "sitting" loosely.   After arrival we ate a couple of rolls we had made at breakfast, in case we got hungry en-route; we then headed back to the bar that had been so helpful earlier as a thank you.
In spite of our surroundings we had a comfortable night and a very nice French breakfast.   Our task today, Friday, was to rest, taste some Châteauneuf-du-Pape wines, buy some and have an excellent lunch.   We accomplished all our tasks, though got carried away with what we bought, special "occasion" bottles that can also be put down.   Whilst at lunch and going through the wine list we noted a label from one of the bottles we purchased several years before and noted the price of
€45, ah we thought, we probably only paid about €15, what an investment and decided to order one.  The waitress queered this order and asked if we were serious, why we asked, and she said it was a 1961 vintage and it wasn't €45, it was €450!  It had been on the list so long, the zero had faded!!!  Wow, what a lucky escape.
We returned to our Rustic Boutique Hotel with every intention of going out again later but just couldn't be bothered, after all we had completed our tasks and also had been to Châteauneuf-du-Pape before on many occasions.  Our evening went quickly playing crib etc.
Saturday morning after a leisurely breakfast we hit the road, today we only have a short hop, 450kms about 5 hours and when we get back into Spain, Christine can drive again?
We arrived at our hotel, 4kms from the AP-7 early afternoon and immediately went food shopping, tomorrow and Monday are red days, so nothing is open.   We then wandered around looking for somewhere we could eat later.
Early evening we ventured out to a restaurant we had "clocked" earlier and ordered a plate of mixed cooked meats and a plate of grilled vegetables.   When the meal arrived, it looked appetising and we both dived straight into the vegetables as we felt we had been deprived of them; everywhere we went, especially in Bruges, it was chips with everything and we were fed up with them.  Our meal plus a starter, desert and a bottle of very drinkable wine came to €39: this was bliss as previously we never seemed to get out of any restaurant with a bill of less than €110, like-for-like.   This is why we live in Spain.
The hotel we're in will be very handy on many occasions in the future when travelling by car and for future reference it's the 
Hotel SB Express:  
Placa de les Corts Catalans, 4
43005 Tarragona"
A modern comfortable hotel on the lines of an Ibis
Being Sunday we had a gentle run home, arriving back to a mountain of post and in time to watch the nail-biting match, Wasps V Saints. Before un-burdening the car, my goodness it needs a valet!!!!!!
p.s.   As we opened the post Christine leapt for joy as her new driving license had arrived???