Thursday 6th January
Our day has arrived!  We had started the packing last night so this morning we only had the last few things, including the fridge etc.    Once complete we started to pack the car but It was very cold and snow was forecasted for around midday, so needed to get a move on.    Unfortunately the snow started earlier than forecasted so the last few things went in rather quicker bthan they should!!!h
We had planned to do a "de-tour" to Wythall (nr. Birmingham) to view another motorhome, one we had seen on the internet so headed out, with heavy snow falling now. Driving to Ashbourne was interesting, no salt, Virgin snow, and a fair amount of traffic made driving very un-pleasant and rather slow. Once in Ashbourne we stopped again at M & S for a coffee whilst watching the snow still falling through the window. At this point I 'phoned the dealer and cancelled our appointment; a good job as it was also snowing there!!! When we were here the other day we noted M&S were selling off their surplus Xmas stocks, including Mince Pies at 18-pence for a box of 6 so today we bought 8-boxes thinking they would go down a treat at Dave and Jane.
Heading out of Ashbourne and arriving at the bottom of a "not-too-steep-a-hill", there was a queue of traffic with a couple of HGV's stuck up ahead and another turning round. As he was coming down the hill we stopped the driver to find out the problem. Apparently a car had skidded and the two lorries stopped, the car then carried on but the two HGV's couldn't get traction so we're stuck!!! Anyway most of the cars turned around but the AWD car in front of us, and the AWD car behind, just headed straight up and away!!!!! Once on the A50 the snow turned to sleet and once heading south on the M1 it was raining.
We arrived at Janes mid afternoon, de-camped the car and set up the two settees as beds; no water bed for us!!!!! As per Boris' plan B, Dave was working from home but soon finished so we had a very jovial evening, firstly playing "Snakes-n-Ladders" with Mia, and after bedtime the four of us played "Marjon" followed by bed for us.
Friday 7th January
After a reasonably comfortable night on the sofas and breakfast we headed out to Romford, Christine has her new iPhone 13 but it's not completely set up so needs to go to an O2 shop to get the e SIM working. I wanted to visit a Curry PC world store, time to update my iPad, but before all that I wanted to find a coffee shop; we only had decaf instant coffee at Jane's. Oh yes, another visit to Tesco as we're cooking tonight and tomorrow.
Unfortunately The stores in Romford are rather spread out, not within walking distance of each other so headed to O2 to sort the 'phone. Sat Nav took us to the shop with no problem, but it was their back door and unloading bay!!!! We eventually found the relevant car park attached to the shopping precinct and walked into the shop. It was immediately apparent the assistant was going to struggle, she knew about the e SIM but that was it! I realised this was going to take some time so left and found a "Costa" shop around the corner.
Minding my own business and enjoying a coffee I saw Christine heading my way and when at the table said the O2 shop couldn't help as the contract she had wasn't straight forward, she needed to go to the original shop where the contract was taken out. Returning to the car we stopped by several other places to "top-up" with a few things before heading to Curry PC World but once in the car with time running out we changed our minds; Tesco here we come.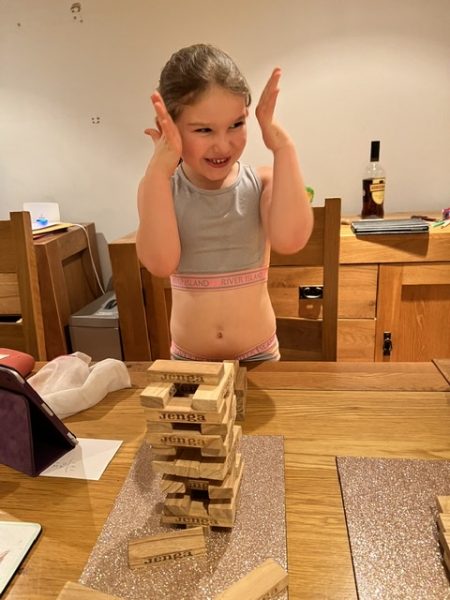 Returning to the house after Tesco we decided "that's it", we're not going out again 'till we leave on Sunday. When Mia returned we played " Jenga and Ludo", we've not played this for "donkey's years". After dinner and Mia had gone to bed the four of us played "Mahjong", again!!!
Saturday 8th January
A day of lounging for us and the other three went out for a bike ride in the cold and damp!!! But during most of the afternoon we were entertained by Mia and Mason, (Mia's friend), with their dancing and singing "performances".
After a "full-on" roast lamb dinner, and clearing up was complete, we played Mahjong for the last time. It is a sad thing, they only play when with us and we're the same. We both need to introduce others to the game!!! The two little ones spent the evening engrossed with their games and we didn't get a peep out of them. Though they are only six, their instinct is to keep the noise down so the adults let them stay up!!! When they eventually went to bed, they were immediately asleep.
Sunday 9th January
Today we head south, but first we have to complete the bureaucratic forms the Spanish government wants to allow us back into the country and Dave has a printer!!
By late morning most of the paperwork was and printed off but the all important QR code wasn't available 'till the Monday, so after saying our good byes we headed towards Portsmouth. Our plan was to enjoy a double bacon baguette at our normal place, "Oakham Bites" but upon arrival, the place was heaving; everyman and his dog was there, parking was a nightmare and the queue to get served stretched a long way so after a visit to the conveniences, we gave up and headed on our way, but very disappointed. We knew it was a dog walkers paradise amongst the woods and common but wrongly assumed most people would have gone home for lunch; how wrong we were 🥵🥵🥵
Arriving back at Bill and Jenny's we unloaded as much of the car as needed, including our well used and trusty duvet and decided in place of our bacon baguettes we would go for a curry. The local Indian restaurant "Mela" in Horndean opened at 1700hrs and having been there before, knew it was good so didn't have to wait too long.
After a pleasant meal it was good to get back into a "real bed" again; though the sofas were reasonably comfortable, they'd were no substitute for the real thing!!!
Monday 10th January
Our last day before the escape but we had a couple of particular jobs to do. I needed to visit the Phillips site in Tangmere for a new face mask, and Christine has to go to her mobile phone contract provider to sort out her new 'phone, their offices are in Fareham. But first, as we were now in the "window", we could complete the Spanish Entry forms and get the QR codes.
Ok, bureaucracy satisfied and printed off we were on our way. We arrived at the Phillips premises only to find them empty and all shut down; Christine had said she though the last time we went, several years ago, it would be the last time as they were moving; oops I should have listened; wasted journey and no new mask!!! We now turned around and headed to Fareham but not wishing to waste our time rang to see if they were working. What a good job we did as her "regular" contact was working from home but the lady who answered the said she could help over the 'phone, so I pulled into the first place I could to park whilst Christine sorted things over the phone; so far so good. The lady advised us the changes could take up to 24-hrs to be implemented.
Midday and both tasks though not completed, has been undertaken so where to now, ah yes how about lunch. We decided to go to the Farmers Inn, just up the road from where we were staying but after arriving and parking the car read the notice on the door; closed, "reserved for a funeral party", oh dear not our day, so decided to go to the "Bat and Ball" in Hambledon; fingers crossed they're open!!!
As we walked in we were warmly greeted by "mine host" and presumably his wife but were spoilt for choice, unexpectedly the place was quite empty but it was late by now. Rather than go into the restaurant we stayed in the bar area, it was warmer!!! After an excellent lunch with several pints of rather enjoyable "London Pride" we headed back home. London Pride is a sponsor of the "British and Irish Lions" and their pint glasses have this on them so after a chat with the Landlord, I came away with one to add to my collection.
Tomorrow is an early start so got everything as ready as we could to save time in the morning.
Tuesday 11th January
The day of escape has arrived; up at 0600hrs, a quick breakfast then headed down to the ferry terminal in the "fog"; why not, we've endured every other sort of weather the U.K. can throw at us!!!
We arrived at the entrance to the terminal along with what seemed half of England, cars, motorhomes and trucks everywhere all escaping!!! We produced all our paperwork with baited breath, you never know as the rules keep changing from day to day, but we're relieved when it was returned with two cabin keys; we're heading home, yeah. This time we were waved past the customs house and as luck would have it we were one of the first cars to be loaded, this was great but the down side we'll be one of the last to be unloaded.
Today we are on one of Brittney Ferries newest ships, the "Galicia" and very comfortable it was. The cabin had a TV, and the public areas were spacious and though the ship was full, it was only when one went to the restaurant did one realise there were so many people aboard. The rest of our day was about playing crib and watching a couple of films. When we booked we were horrified at the cost of this ferry but assumed due to covid and the reduced number of ferries running etc., it is what it is but to our surprise it included a 3-course evening meal and a continental breakfast in the morning; not all bad then!!!!!
Wednesday 12th January
After a very comfortable night, and bearing in mind the "Bay of Biscay" in the winter can be a diabolical place to be, it was like a mill pond, we were very lucky. Yesterday we left Portsmouth in thick fog, this morning we woke up to blue skies, marvellous. After a leisurely breakfast and a browse around the duty-free shop we cleared up our cabin and waited for the call to return to the car deck.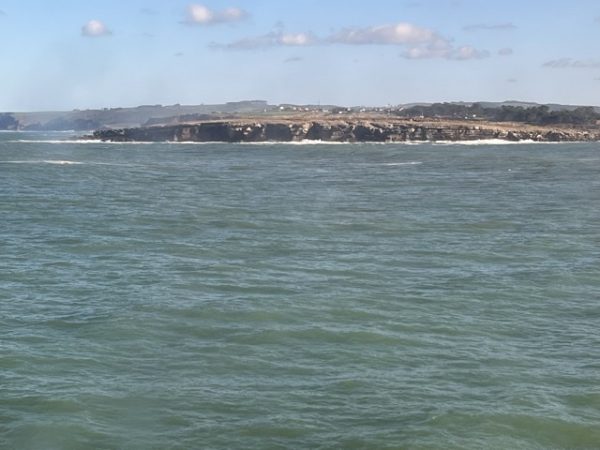 Another requirement which we hadn't know about was that once in our cars and waiting, the crew came around and took all our temperatures, anyway another hurdle cleared, only immigration and customs left now.
When we left in November and caught the ferry, the French border control official reminded us produce our Spanish Residencies upon returning, to ensure we don't get our passports stamped.
We were convinced we would be one of the last cars to leave the ferry but through good fortune, our lane of cars had to go early to unlock all the rest; what luck!! Through border control and no stamps in our passports, and then sailed by customs and we were out of the Port of Santander and headed south.
SatNav told us the journey would take 8-hours and allowing for a couple of stops would get home about 0030hrs, so "pedal-to-the-metal" and off we went.
On long drives we each do a 2-hour stint and with a couple of short breaks the journey flew by and arrived back in Campoverde as planned, half past midnight. It has been 7-weeks since we left and it felt good to be back.
"Now we need to start planning our next trip"