We noted in "Nicholson's" there was Canal Museum here in Shardlow but couldn't see it, so set off straight after breakfast heading towards Nottingham. After passing through the floodgates we were onto the
actual River Trent, the 3rd longest river in England, and it immediately opened out into wide, open countryside; in fact we thought we had gone into a lake it was so wide after the narrow canals. We passed
through Trent Lock; a crossroads where the River Soar comes up from the South, and the Erewash Canal heads north.
Heading down stream passing a number of giant locks, all manned fortunately, we eventually left the river to join the
Beeston and Nottingham canal and moored up outside Sainsbury's. Whilst securing the boat we were pounced upon by an
employee of the Canal and River Trust; oh dear are we going to be moved on we wondered but no, he was a fundraiser.   After quite a long exchange about the lack of funding of the system, we were convinced to become friends of the trust, and signed up there and then.
We spent a couple of nights moored and therefore had time to wander around the town. One of the main attractions of the town was obviously "Nottingham Castle" but again, just our luck, it was closed for refurbishment. The other main reason for stopping here was for Christine to have a hair cut, and she was successful but unfortunately the lady who cut her hair, got carried away and Christine walked out only a couple of steps away from a "number one", still it will grow back!!!!!
We had a mooch around the old "lace market" area where we had
lunch in a pub with a microbrewery as part of the bar; certainly different, but nice beer and the food wasn't bad either.
Next morning we left early, back onto the "Trent" and headed to Newark, 24 miles down stream with 5 monster locks to pass through. Fortunately, again these locks are all manned but being so big and with so few boats going through, Christine had to hold a secure line at the bow's whilst I held one at the stern. These locks being so deep, there were metal wires set back into the lock sides for lines to put through, they then slid up or down these wires as the boats moved up or down.
Travelling downstream through the Trent valley, passing herds of cows and recently harvested cornfields we were amazed at the number of fishermen that were lining the banks, with there lines well into this wide river. Like most rivers, mooring places are limited so we were determined to make Newark by a reasonable time in the afternoon, so we had lunch on the "hoof" and foot hard down; with a slight current going in our direction we made 5-MPH, wow, this is probably the fastest Meg A Star has ever travelled.
We arrived in Newark at a reasonable time and after turning the boat
round moored below "Town Bridge" and right opposite the remains of "Newark Castle".   Martin, who was in Newark this day paid us a visit and, as he is very familiar with this town pointed us in various directions so we could enjoy our stay.
One of the tasks we had to do on Friday was to get our "not-so-shiny" generator's first service completed by the local Honda Dealer, which was in Tuxford, 16-miles away. We considered a taxi, then getting the train or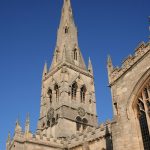 even jumping on a bus, neither one was really acceptable but after chatting to the Honda dealership, it transpired they had an engineer out and about, so we met up on Town Bridge and he took it with him; success.   To further excite us, the manager mentioned he was
travelling through Newark Sunday morning and if we could manage without it 'till then, he would deliver it back to Town Bridge, another success or what?
Friday, and the weather was warm and sunny, and after delivering the generator we went into this historic town and wandered accross the
Market Square, through little alleyways and narrow streets, and visited the Grade 1 listed "St Mary Magdalene Church" with it's spire rising 236-feet, dominating the town. Having got our bearings we wandered around the market then enjoyed a couple of drinks in the sun watching the world go by.
Newark is a very historic town; the origins
are from Roman times due to its position on that all important Roman road, the Fosse Way. It was here, in the castle opposite, that King John died of Dysentery in 1216, and also the town figured heavily during the English civil war. Historically Newark became a centre for the wool and cloth trade though today there are a number of other large companies around the outskirts, but mainly dominated by British Sugar.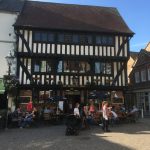 On Saturday, I trotted off to the town's museum for the day and enjoyed getting to know the facts about this historical town. Though the Museum is advertised as the Civil War museum, it covers all aspects of
historical Newark and I only just returned to the boat in time to change before going out. Tonight we were meeting Martin and Marian for an "Indian", at a highly recommended restaurant; and I have to say it was good.
Sunday we received our generator back then said good-bye to Newark and headed back to Nottingham.