A normal Saturday, quiet morning for Christine trying to rest her foot though we still had to go shopping.   What a mistake, we had to visit 2 supermarkets to actually get most of what we needed.   Supermarkets here tend to run out of stock, their logistical supply chain needs some serious attention!!!
Arriving at the airport on time to meet Sarah and Lee, we encountered a small issue we'd not had before.  Unfortunately the  Virgin flight was the 5th long haul plane to arrive during the last 2hours with rather too many passengers for the airport to process quickly so instead of short wait, it was a long one, and nowhere to have a coffee etc.
With big cheesy grins they emerged and their first words were "how nice to be in the warm again".  Saturday was a lovely warm sunny day.   On the drive back they quickly grasped the difficulty of driving here, pot holes etc.
After suitable freshening up time the four of us headed into Redcliffe quay for a meal, and yes we went to C & C, again!!!   And if that wasn't enough we enjoyed the usual fare washed down with four bottles of
their lovely South African Smoked Chardonnay, whoops !!!! We then retreated back to  base and carried on!!! We finally got to bed at midnight, four am, their time!
Not too early and after a slow start headed to Half-moon beach and introduced Sarah and Lee to the delights of the Caribbean, including a Pina Colada.   We couldn't stop here too long as we had to be back at the ranch in time to wash and dress before "Barry" our taxi arrived; tonight is Shirley Heights night and as the weather has been so
glorious the sunset will be spectacular.   En route we stopped at "The Blockhouse", this is the remains of the British base high up on the cliff looking out onto the Atlantic, and it was designed as the place the British would make their last stand should the
island be invaded, fortunately it never was.
Sunday at Shirley Heights, as I've said on many occasions is the place to be.  The steel band, goodness knows how many musicians there are in the band, as it entertains the very large crowd who gathers
up here every Sunday night, non stop from 4-pm till 7-pm, though this week they just kept going and eventually stopped at around 7.30-pm.   Such a beautiful sunset tonight, Lee and Sarah couldn't have
chosen a better night to be in this magic spot.   After dark all the super yachts switched on their mast and anchor lights and being such a clear night, Falmouth and English harbours
sparkled.
Our taxi driver "Barry" was a hive of information about all sorts of things Antiguan, from its history to the current day, as he says, the islands economy is centred around tourism and as a "registered" taxi driver he has to play his part in encouraging tourists to enjoy Antigua and hopefully return.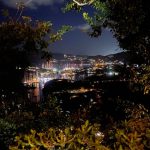 Arriving back home around 9.30-pm we'd all had enough, swimming in Half Moon, rum punches up at Shirley's and a late alcoholic night before we were all ready for bed and besides we had to be up early Monday for our first experience.
Today we are heading to the rain forest part of the island to experience
the "zip Wires", where cables, slung between trees with some crossing the valley with deep undergrowth, are waiting for us.   Arriving earlier than expected we headed down to Carlisle Bay so they could view what we think is in the top echelon of beaches here in Antigua.
Back in the adventure park in the rain forest and after "donning on all the gear" and having had our "safety brief" we
headed up the steps to the first run.   Our party was only 8 in total and very friendly though the two other couples were experienced, they'd done this sort of thing on other holidays, on other Islands, we on the other had were complete novices and, we'll Christine and I, were very apprehensive, still we arrived at the takeoff platform.   The first length was very short, this enabled us to get a feel of everything and put into practice what we had learned in the briefing.   Generally speaking 6-went down very well, Christine on the other hand had a mild panic
attack at take off point, but fair do's she did it with encouragement from "Sam" the girl who clipped us all onto the wires, and me behind saying there is only one way down!   When it was my turn to go, that was fine but I couldn't stop turning and landed bum first nearly flattening "Hawk" the receiver.
Sam and Hawk accompanied us all round the 13-different zip wires, they were very professional and the health and safety standards were extremely high, we all felt totally secure throughout. After the first zip,
we settled down, Christine just did it though several times forgot to lift her feet as she travelled over trees etc., I kept spinning and on all but two occasions landed bum first, couldn't fathom out why, whilst Sarah and Lee looked professional and to that end did all the videoing from a camera mounted on their heads!!!
To leave the final landing platform we had
to cross a number of wire bridges, hung between trees before reaching the steps back out of the valley, so many steps, it nearly killed us!!!!!   Secretly, perhaps, we were disappointed it was over, anyway a good time was had by all so we headed off to Falmouth Harbour for a beer at Cloggys.
Oh no, Cloggys is closed on a Monday, I should have known so it was downstairs to the "Seabreeze" for a beer and another "Mexican" pizza.
Next we headed to Nelson's Dockyard in English Harbour; one cannot visit Antigua and not tour this area, so we did.   Sarah in particular was
fascinated by all the super yachts moored both in Falmouth and English Harbour, so we had a good look.
OK, it's beach time and the nearest was Pigeon Point Beach, our old faithful.   Unfortunately today it was very busy as there was a small French cruise ship moored just outside the harbour, and they were bringing their guests to the beach on their tender, most unacceptable!!!!!
As usual we had a good swim, and whilst enjoying a pina colada, the heavens opened and this was very annoying as we had just got ourselves dry ready for the off, oh well, never mind we'll drive home wet.  Of course once in the car the sun came out again!!!! 
Tonight Lee and Sarah are having a night off from the "oldies" they're heading to "Nomads", a restaurant just up our road that we have had good reports of, we look forward to their feedback.   It is also a very important anniversary for them so it was right they had a nice romantic evening.
The funny thing about all this, Sarah and Lee we're looking to a
relaxing few days in the sun, some swimming etc but it has been all go go go and tomorrow is another early start, watch this space!