Sunday 30th October 2016
Up early with the clocks going back, so instead of tea in bed, we quickly filled with water, had breakfast, and then had a pump out before we started the Hatton Flight with 22 locks.
As we left the marina we saw another boat ahead of us, so hoped we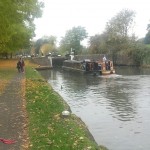 could catch them up, but as we approached the first lock a man called us in, when he opened the lock gates, no boat was in there, I went and thanked him, he then told me he had waited for us, and his boat was moored at the next lock, my wish had come true, help on the flight.
We introduced ourselves, then Richard suggested we tied the boat together, Sharon and I opened the locks, and the
boys steered the boat, Richard left Geoff to steer the boat, and walked on to the next lock, so we were on a roll, we all swopped jobs, and it worked so well, we managed to do all 22 locks in under
three hours, amazing, and made it look so easy.
When we arrived at the top lock, we stopped at the cafe, and had bacon and egg sandwiches, we deserved them, and they were very tasty. Sharon and Richard were waiting for friends to arrive so we left them at cafe. Hopefully we will meet up again one day.
We travelled onto Kingswood, through a tunnel, but no more locks, we then stopped, we enjoyed hot showers, after doing a couple of little repairs, and a clean up, we walked to the local pub, and had a couple of beers, before cooking dinner and settling down to watch F1, strictly and Poldark. A good day was had by all.