We both woke but still felt a little groggy, still, onward and upward, we don't have too long here. The first thing we did was look up at the sky but there was too much low cloud so a trip the Corcovado (The statute of Christ) or Sugar Loaf was a non-starter.
After breakfast we decided to stroll to Ipanema beach, try and
find "that girl", Google maps said it would take about ½ an hour; well Google maps doesn't take the heat into account. Though the sky was a little cloudy the heat was intense and when we eventually arrived at the far end of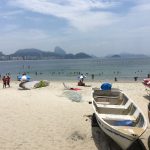 Copacabana beach we were pleased to see an open shopping Mall. Here we found a little refuge with the Air Con and decent toilets. Refreshed we carried on to Ipanema and had a paddle before falling into a couple of chairs for drinks, the non-alcoholic kind!!!!! This ½
hour walk, albeit with a refuge and toilets took nearer 1¼ hrs., still once refreshed we had to make our way back as we had agreed to meet David and Christina for lunch before they started their trek back to the UK. We arrived back at the hotel, knackered, soaking wet (sweat not rain!) and in desperate need of a shower.   Though it was a fair walk in this heat and we did contemplate a cab or maybe even a bus, we stuck at it and arrived at our hotel with sufficient time to clean up before our get together in our lobby at 1400hrs.
The four of us walked to a beach restaurant just over the road from our hotel and had an excellent, inexpensive meal; well go back there. After a few beers and etc., we walked back up our road to another restaurant we know for coffee and Pastel de Belém or Pastel de Nata, (both names are right) those beautiful Portuguese custardy tarts that I love and David fancied them as well.
We bade our farewells and en route to the hotel I popped into a barber for a haircut, a little more expensive than Celcius in Campo Verde, so will wait 'till I get back for the next one!!!
Back to the hotel for another early night trying to shake off our ailments. By the end of today we had done 11,848 steps or walked 7.2Kms, no wonder we are knackered!!!!!!!