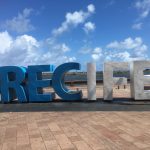 We docked in Recife at some un-godly hour in the morning, and were woken up when the dulcet tones from Dotty came over the airwaves, loud and clear around 0800hrs. Time for room service and early morning tea in bed; now when we speak they just ask if it is green or camomile to go with the English breakfast; they know us and get it right every time.
We were enjoying our breakfast when David came along to see if we were going to join up and see the area together; naturally we said yes so hurried our breakfast and we were off the ship within 30 minutes; wow, indigestion to follow!!!!
Once we were out of the terminal, barged past all the locals
trying to sell us tours for this, that and the other, we opted for a taxi to take us the 7 Km's to the historic centre of the town of "
Olinda
", a UNESCO world heritage site since 1982. This town is on a steep hill so we got the driver to drop us at the top; we can always walk down!!!!
This area was founded in 1535 and was promoted to a town 1537 and in 1614 became the centre of the region. The area economy grew due to the sugar plantations around and it therefore was a centre for the slave trade until the abolishment in 1888. This area was also taken over by the Dutch for about 10 years as mentioned before but once the Portuguese were back in control the town grew on Sugarcane.
Firstly we visited the "obligatory" Cathedral, not too interesting other than it was built at the end of the 1500's and is the oldest Franciscan Monastery in Brazil and bearing that in mind, it was in fairly good shape. It hadn't been renovated to such an extent as to ruin its character.   What was good though, out the back of the church there was an
observation patio with a commanding view of Recife and the bay area, but, and there is always a but, a couple of shanty huts had spoilt the view a little.
It's down hill all the way but as we left the church the heavens opened, a tropical downpour came along without warning
but fortunately we were amongst a number of market stalls so found shelter. 10 minutes later, as the pavements were steaming we were on our way again.
No wonder this is a UNESCO site, the narrow cobbled streets
with the brightly painted houses and nothing modern, makes it a place worth visiting. We popped into a few souvenir shops as we strolled and were quite taken back by some of the images we saw; of course we mustn't mention the golliwogs that were for sale!!!!! But some of the sculptures were, err, shall we say, rather explicit! naturally we all had a good chuckle, not to mention a 'photo opportunity.
Half way down we happened to come across a tourist information "shop'. They were very good, telling us all about their carnival and naturally it is better and lasts longer than the Rio Carnival. Whilst this was going on we had our second tropical burst of rain; shelter courtesy of the tourist information place.
After meandering around we arrived at the bottom and yes, there was another church.   Christine and I elected to sit in the park under the shade of a tree whilst David and Christina went
up a big flight of steps, well they are younger than us, anyway they climbed up and guess what, the church, as so many are, was closed: with age you get wiser!!!!!!!
Back onto the main road and we hailed a Taxi and went into the old town of Recife.
We had told the driver to take us to the cathedral in the old town but when we got into the area, the driver had to ask the locals where to go, at this point we got out!!!!   We walked
across the square to the promenade and decided it was beer time. This area we were sitting in was originally part of the dock complex but with bigger ships and fewer of them the area has been modernised with Cafes, restaurants and a museum.Recife was founded in 1537 during the Portuguese colonisation and of course the harbour was used for the export of sugar. Recife is now the fourth largest urban population in Brazil with circa 4 million inhabitants. Because Recife is built on a number of small islands it is also known as the Venice of Brazil.
Today Recife is an Education hub and a tourist destination with a large, modern "downtown" area.
After being suitably refreshed we wandered amongst the old buildings and avenues of this old part of Recife. It is very
interesting to observe that all these buildings are original; none have been scared and re-built because of the ravages of war etc., such as the European ones have.
Whilst wandering about, our navigator, "David" had noted there was one "must see" particular street of interest listed in our brochure from the ship. We went this way and that, we went up and down several streets, we asked a number of locals and was pointed in different directions but eventually we found it, wow, what a street; total crap, again, miss-information; time to head back to the ship; all aboard for 1530hrs.
A couple of days ago we enjoyed a special brunch and today the ship had a "Gala Afternoon Tea" though our cruise director insisted on calling it a "gay-la Afternoon Tea" well she is American, says it all really!!!!   Still
we have to say the Kitchen excelled themselves; it was a magnificent spread, not too many sandwiches, but boy sweet things. Hot Crepes in something sliming, waffles with syrup, naturally scones with jam and cream, cakes, tarts, cookies, and anything else you can think of; oh yes, pots of tea as well. When it was all over, the spread looked as it had when we entered the lounge, nothing had been taken!!!!!!!!!!! The crew was having an "
official
" party later that evening; no doubt they would enjoy the leftovers.
During this gala tea we were serenaded and thoroughly enjoyed the ship's string quartet .
Showtime tonight was "Five O'clock Somewhere" The Irish duet and couple we had enjoyed a few evenings earlier. Again they were very good, they got the audience participating in the song "What shall we do with a drunken sailor" amongst other, mainly Irish, songs. They tried, and I think semi successfully, to get the atmosphere of an Irish pub, they were only let down by Guinness not being served.
The two Christina's left for bed after Showtime and David and I put the world to right 'till the bar closed!
Another sea day tomorrow before arriving at our penultimate port, Salvador.