Well at long last the day has arrived, we have had so much stress getting here, but now it just feels good, everything is going to be OK.
I had agreed with Geoff that I would have breakfast at 9 am, whilst he was down earlier at 8 am, we had slept in different rooms very strange.  I had ironed the girls dresses before as I could not sleep, and then I went to see the hairdresser Emma, she was already doing Catriona hair, Jersey Jane was next, Jane and I were on at 10.30 am. At 11.30 am Photographer Lee arrived he was too early for us, so we sent him down to the golf course to photo the boys.
We opened the champagne, and several friends came in and out, Tracy, Joe, Jane, Helen,and Paula it was lovely, we were still having our hair done, but it was good fun, Tyla and Ashleigh came in to have their hair done, and I had to go and see the make-up lady, I  have never had all
this fuss, but it was all good fun and a laugh, meanwhile Lee was still taking photos, dread to think what they look like.
Time was ticking on, we started to get dressed, the flowers arrived, I had to have a quick drink as I was getting nervous now,  Andrew kept coming and going, it was lovely, Shaynee came in to see me, everything was going well.
Finally the time came to see the Registrar, to go over the legal bits, then we all went to the wedding room, I was shaking
but very happy. Dave was outside, and said we all looked lovely, which calmed me a bit. At 4.02 pm  Mark (Toastmaster) started the music 'Power of Love' by Jennifer Rush, and I started walking up the aisle, supported by Andrew, Ashleigh, Tyla and Jane followed, it was lovely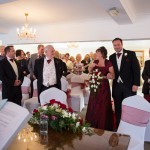 to have the whole of the immediate family there sharing our day. With Mark as Best-man, and Dave being usher and doing a reading, (which he wrote himself) we wanted everyone involved.
Whilst the signing of the Register was being done, we had 'O Sole Mio ' by the Three Tenors, after the legalities were
over, we walked out to Nat King Cole singing 'Too Young'
A lovely service, not too long, and with a bit of humour, at one stage, I
was shaking so much that I had to hold my other hand whilst Geoff put my Mum's wedding ring on, she had asked on lots of occasions when we were getting married, I just replied we could not afford a ring, so she left me hers.
Everyone filed past us, and we managed to have a quick word, we had 73 guests, sadly some could not make it, but thank you everyone for all your good wishes.  Photographs now, and fortunately the weather was
kind to us, so we were all on the lawn in one big group, then the normal formal photos, we went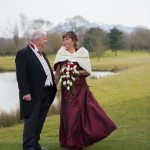 down to the lake and had some down by there, hopefully they will look good when they arrive.
We then went into the Westminster Suite, which had been laid out in 9 tables, plus top table, it looked lovely, we had named the tables after our boats, which intrigued some people. We had Smoked Salmon & Prawn Parcel with lime and coriander dressing, followed by Lamp flavoured with Rosemary & Mint served with red wine jus.  We had Pouilly Fume Calcite 2011 wine and Chateauneuf-Du Pape 2008 wine, both of which we had chosen whilst travelling through France. For sweet we had Glazed Lemon Tart with cream and sweet berry compote, it was all very good.
The cake was cut, we had one made, the shape of a Anam Cara our last boat, Tracy the cake lady had done a very good job on this, we were very pleased with it, tasted lovely too. The speeches were next, Andrew had told me that he didn't know what to say, but when he stood up he produced a piece of paper, and made the funniest speech about several incidents that had happened since he knew Geoff, he made everyone laugh anyway.  Then Geoff did his bit, some serious, some funny, he presented Jane with a bouquet of chocolates, as a thank-you for being so helpful to me, she had been brilliant, then the girls, Mark and Andrew for all their help of making our day complete.  Mark did his bit, making jokes about  when we took the girls to Lapland with Geoff putting his ski-suit on, and also things that happened on the Stag Do!!  Both Mark and Andrew did us proud, a big thank-you.
We cleared the room, so we could get ready for the evening, several people had to leave, as they were travelling back to Cornwall, Farnborough,Reading and Coventry, as they have work tomorrow.
The first dance was 'Sailing' and Mark Pearson our music man for the evening, was brilliant, he kept the floor filled for most of the evening, we had everything from slow, rock n roll, modern, 60s' 70's 80's and 90's we had Dave doing some sort of dance, and Jane and I dancing on one of the tables, and the highlight of the evening was when Ashleigh sang to one of Westlife's songs, she had learnt the words as a wedding present to us, she nearly reduced everyone to tears, she was fantastic.  Later in the evening she did another song.
What a brilliant day, we shall treasure the memories, everything worked out so well, and we hope those who shared it with us enjoyed it as much as we did, I think I smiled from first thing in the morning, until 2 am the following day. BRILLIANT