Thursday 5th May
After another comfortable night in our 4-poster bed we headed out to Santander to catch the overnight ferry to Plymouth. It has been many years since I regularly did this route, but the first time for Christine so a new experience driving up from that part of the world.
Before carrying on, we would just like to say a big thank you to Christine's niece for telling us about Laguardia and recommending a visit; we thoroughly enjoyed our time here. Apparently Marian came here whilst cycling through Spain and we struggle to believe anybody would cycle up and down all these mountains for pleasure; a big "well done" to Marian for this achievement.
The breakfasts at our hotel were very interesting. Upon arrival into the restaurant we were served with a very attractive platter of food which included an assortment of continental meats, cheese, croissants and a variety of fresh fruits. This was accompanied by toast and tomato "Frito", Spanish style. But if this was not enough, freshly cooked eggs were offered, cooked how we fancied them.; a feast indeed!!!
After "waddling" out of the restaurant we cleared our room, checked out and walked out of the town to collect our car, and headed out.
With time on our hands we avoided all toll roads; a good decision. The first part of our journey to Santander followed the "Wine Route", winding our way around the various vineyards passing numerous "bodegas" and driving through small villages along the way all geared-up for growing and maintaining grape vines.
Leaving the wine growing region we headed into the foothills of the Pyrenees, very different topography, winding "old fashioned" roads with numerous "hairpin bends", following a stream of traffic including many HGV's and nowhere to pass anyone; fortunately WAZE took these slow roads into her calculations so no pressure on time.
Once we arrived onto the east-west main road that by-passes Bilbao, the heavy traffic was more like a race track, but progress was rather stifled by speed cameras, they were every kilometre or so causing stop/go driving. Still we arrived at the seafront where the Santander ferry port is but first we had to fill up, especially important after hearing the horror stories of fuel prices in the U.K., mind you, in reality they are heading that way in Spain. Today was the first time "ever" we broke the 100€ milestone; the pump read 112€ something but thanks to the Government's tax re-bate we settled on 98€ something: the "cents" mean little these days!!!!
Checking in was a breeze followed by a cursory inspection of the car and we were queued and waiting. The interesting thing was we had to hand over our passports well as the TIEs, we had been "told" our TIEs were all that was needed to leave or enter Spain: more fake news!!! Apparently the TIEs are only to prevent the U.K. residents passports being stamped.
Boarding took place in the usual orderly manner but being first in the waiting lane made no difference, our lane was the last to drive-on and because of this we were right at the end at the top of the ramp so presumably we will be last off😩😩.
The ship, Brittany Ferries "Pont Aven" looks modern and the cabin appears comfortable and in Christine's eyes, very good as there is a kettle with tea bags supplied, wow!!! The other good news is all the restaurants are now working at pre-covid levels.
Leaving port we sheltered from the wind at the stern and enjoyed the sun before heading in to book a table. The forecast was for a smooth crossing so all was good as we wandered around the ship to get our bearings.
After an excellent French meal in the restaurant we headed to the entertainment area and watched a remarkable act; a man blowing bubbles. He blew big ones, small ones, bubblers within bubbles, bubbles with smoke and he even put a couple of audience participants into bubbles, it was a fascinating act and we enjoyed watching it.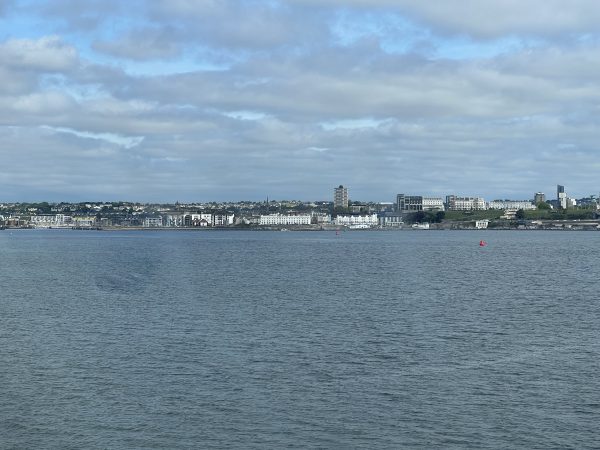 Friday 6th May
By the morning the anticipated position was just north-west of the Brittany coast, but at 0830hrs we were well into the English Channel, helped no doubt by the exceptionally calm waters of the Bay of Biscay, anyway at this point the ship slowed down so as not to arrive too early!!!
Diss-embarking was fairly simple but slow due to Border control checking every passport carefully and though we we were stopped by customs, again😢, they didn't search us.😀. Once out of the dockyard we headed to North Somerset but en-route we stopped off at Geoff and Rowena's in Exeter for a "cuppa", though once we arrived, our "cuppa" turned out to be a light lunch, and very nice it was too.
Next it was "hot-foot" up the M5 to Lympsham arriving at a respectable time around 1600hrs and was immediately taken on the tour of their new home .