Wednesday 2nd November 2022
Following a very comfortable night in a rather unusual apartment and breakfast, Jane collected us and we started our personal tour of the Island of Jersey. Though Christine had visited Jersey on numerous occasions, I had only spent a weekend here in 1974 and a day trip in 2000, so looking forward to the next 8-days.
Driving around the narrow roads at speeds NOT exceeding 30 MPH!!! with many at 20 MPH and several at 15 MPH, it took all day to cover "half" the circumnavigation of the island which has 50-miles of coastline. Apparently there are 12- major beaches around Jersey but there are numerous small bays around every corner, many with "moles" to protect a small bay from the weather, and all with coastal defences of one sort or another but predominantly "Martello" towers. Seeing all these defensive buildings including: Martello towers, canon batteries, forts, sea walls and casements built into the cliffs etc., I became interested, Why so many???? The other question I wanted an answer to was, why are most road names and other signs in French, after all it is part of the English Crown???
After cursory investigation I was surprised at the history of this small island living off the French coast. I had always assumed it was the occupation by Germany in WW2 when the Channel Islands were invaded, but no, there is far more history that I need to explore whilst here; a trip to the museum is called for.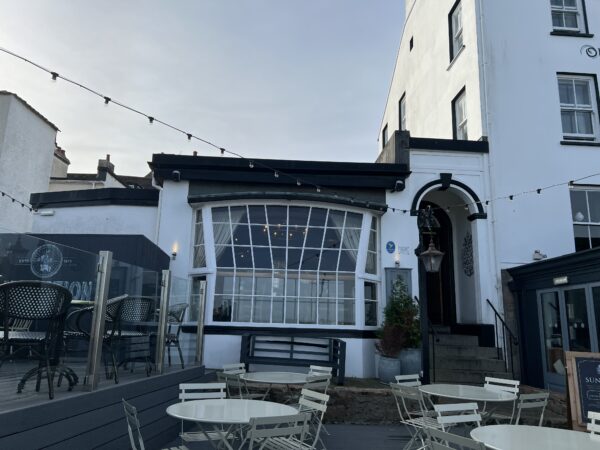 Our "tour's" first stop was for coffee at the "Old Court House" in St Aubin, a building that stretches back to the 15th century and was also the bar used in Bergerac, known as "The Royal Barge": How one forgets, the Bergerac series ran from October 1981 to December 1991, 87-episodes; oh dear, how time passes!!!
After driving in and out of several bays we arrived at Ouaisne Bay where the "Smugglers Inn" can be found, the oldest pub on on the Island, and as the name suggests is steeped in history. Jersey was a very handy base for smugglers to sort out their wares, much of the contraband came from France and was then shipped to England, "an early example of a distribution hub?" Naturally a pint was called for here!!!!
Our tour continued, passing the famous Corbiere Lighthouse, standing proudly at 62 ft tall and built on the stack of rocks just off the shoreline, and is only accessible at very low tide.
The weather today was mixed, rain with sunny periods and what seemed gale-force winds. By now it was getting late for lunch and Jane recommended a particular restaurant called "El Tico" that overlooks the sea. Arriving to an empty car park should have given us a clue; we walked in only to be told they were closed for their "annual" paint job, just our luck! Anyway we moved on and eventually stopped for lunch at Corbiere Phare, again over looking the "wild" sea smashing over the rocks; not a day to be sailing anywhere around the Channel Islands.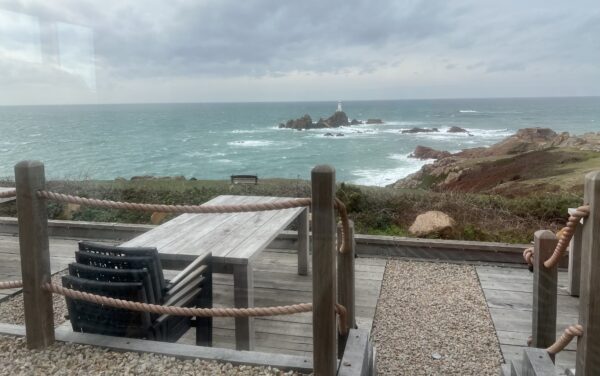 After a prolonged lunch we did a few more bays but before heading back we went to look at the Puffins at Piemonte; not your regular Puffins, no, these were two giant Puffins forged in steel and woven in Willow. They stand 4-meters tall and they are part of Jersey's campaign to highlight the plight of the species, and their role in protecting seabirds. Quite a magnificent sight.
Back to St Hellier for a quiet evening in our flat where we have to plan our excursions to minimise the number of times we climb the steps leading up to our second floor, still a small price to pay for the use of Andrew's apartment.