Tuesday and today we're off to the Magic Kingdom, our aim was to leave the house by 0800hrs, bearing in mind we are all awake very early, still we were out by 0830hrs, under the circumstances not too bad.   By the time we had parked in the attraction car park, taken the tram to the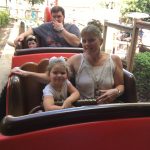 monorail station, and eventually arriving at the park, it was around 10.30 and the park was very busy but, most children were back in School though having said that, the area most appropriate for Mia, Fantasyland, was still heaving.  Jane and Mia queued for one ride for about 75- minutes and
I timed the ride, two and a half minutes.   I take my hat off to Mia for the patience she has demonstrated so far.  Today the Magic Kingdom has a special event on this evening so the park closed at 1800hrs, probably just
as well!!!   The highlight of the day being the grand parade at 1400hrs, we were in the front row as it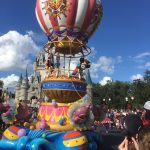 went past.   Again an exhausting day but a salad for lunch and the only junk food were donuts and cinnamon rolls.
Wednesday, up early again, this time for Walt Disney's Animal Kingdom.  We didn't bother with salads as our plan is to leave early, around 1500hrs, and cook a proper roasted dinner tonight.  We
arrived at opening time, fortunately this
park is fairly quick to get into and headed straight across to the opposite side as we wanted to do the Safari trip before the queue got too long.  This is the most popular ride here, a truck takes guests through a game reserve where there are
elephants, rhinoceros, both black and white, giraffes lions, wilder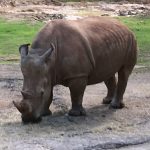 beasts, in fact every animal you would expect to see on safari in Africa.  It was very well laid out, the animals have plenty of space and are managed extremely well, this was worth getting here early for.   By the
time we had completed our Safari ride, the park was filling up but fortunately not to the crowds experienced the previous few days.  There are several children's rides we went on but most of the park is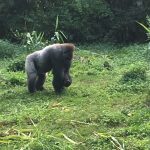 given over to animals.  Having said that, our planned departure time of 1500 hrs didn't happen, it was so good we didn't leave 'till 1800hrs.  Back home, too exhausted to cook and eat, good job we bought a sandwich during the day!! And bed.o
Thursday and a day off, rest at last, we'll that was the plan.  After a leisurely morning enjoying our pool we headed out to one of the many outlet shopping malls.  Again today we were DETERMINED to have a proper roast diner, so with that in mind, minimal food during the day.   Obviously we couldn't get what we wanted in the outlet mall so headed of the "Florida Mall", a very large space where Christine and I managed to find the Sperry Shoe shop we were looking for and stocked up with a couple of pairs each.  We now hot-footed it back home early enough for us to cook and eat a roast dinner at a reasonable hour, hooray, and enjoy a bottle of wine.
Friday and it was off to Epcot, it's all go here you know!!  We arrived early and straight onto our first ride, the big round golf ball at the
entrance, a ride that covers communications from time in memorial to the present day.  I have been to Epcot a number of times and I have never, and I mean never, walked straight
up the ramp and onto the ride; great Scott we were early!!!  Surprisingly the park was reasonably quiet, not too many people so managed to do virtually all the rides with minimal queueing.  Once these rides were done, we headed around the lake, world showcase.  We stopped and had a pint at the
Rose and Crown in England, watched a couple of performers in France who juggled and piled a number of chairs on one other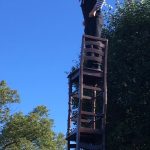 before one of them climbed to the top and did a hand stand, we had lunch in Italy and finished with a charming water ride in Mexico.   We couldn't stay for the firework display at 2100hrs, poor Mia wouldn't have been able to make it so left around 1800hrs but on the way out re-visited the big golf ball ride, again, virtually straight on.
Saturday, and again a quiet day of rest and reflection, enjoyed a swim in the pool and after lunch headed out to Disney Springs, a Disney shopping mall set alongside Lake Buena Vista.  Today we were very very strict with our diets, in the last few days we've all added weight eating far too many naughties.  Of course this was a silly place to visit as between every store there's a coffee kiosk etc., all selling fast food, cakes, buns, chocolate, ice cream, and then there's numerous restaurants doing anything from Steaks to Oysters, pasta dishes to Japanese food, all very tempting but I can report, we were very disciplined, we walked by everything.
Tomorrow we are returning to the Magic Kingdom before heading to the airport to collect Dave.