Friday 6th October
Market day in Pilar de La Horadada so after breakfast that's were we headed for. Parking here is ok as there is a lot of waste ground though one has to bump over the kerbs to get there!!
Two main reasons for visiting and the most important was to get our kitchen knives sharpened; there is a stall that sells all sorts of kitchen wares but for us, he sharpens knives. To date he is the best "knife sharpener" in the business that we have found. The least important reason, well for Christine anyway, was to get "Churros con Chocolate"; can't come to Spain and not indulge.
We only have three things on the agenda today, market in the morning, haircuts at midday and dinner with Roger and Helena this evening, and in between we headed to visit Mary, always good to see her and give her a "hard time", she loves it really😂😂😂, and whilst there we will take the opportunity to top our water tank up. .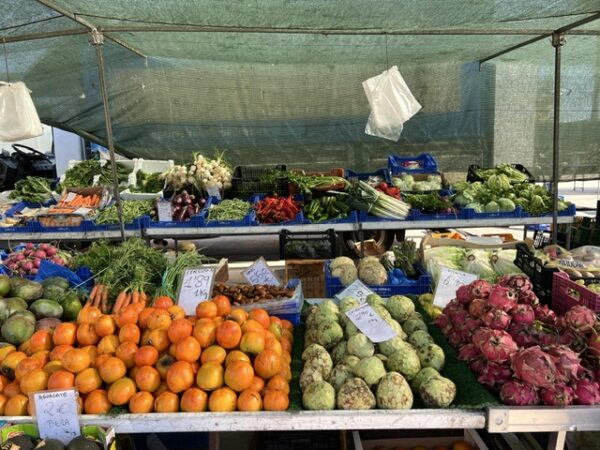 We got our knives sharpened as planned and enjoyed our churros before heading to "Paula's" salon. Paula has cut our hair for a number of years at several salons and used to manage the hairdressers by Spar, but late last year went on her own so decided to support her in her new posh salon just up from Iceland and as usual did a good job.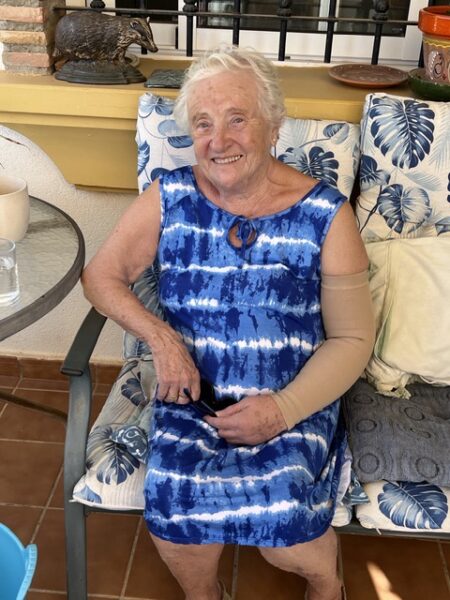 Mary was our next port of call, this would be our last chance to catch up as we leave Monday morning so had a good "chin-wag" before saying our goodbyes 'till our next visit to Campoverde. Leaving Mary's also we went back to the Spar shop to add more bottles to our "Tio Pepi" stock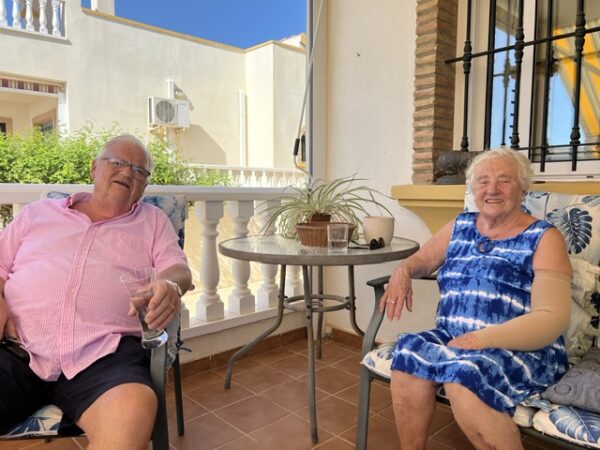 It was now time to return to the doggy park, time to "knacker" the dogs out before dinner. This doesn't take very long as we have the "technology"; 3-tennis balls and a ball thrower, we keep throwing the balls and not giving them time to sit and relax until they've had enough. We always know when that happens, they take the ball off to another part of the area and sit on it!!! We will be staying here again tonight but as we're dining at "San Marino's", the other end of the village we will drive down there first.
Parked near the restaurant and enjoying a pre-dinner G & T we waited for the arrival of Helena and Roger. Though it was a Friday evening the restaurant was surprisingly empty, there was one other table apart from ours; historically unheard of, still we had a good evening and as usual the food was excellent. It was very good to catch-up with them but poor Roger was struggling as he had only just left hospital following serious surgery, but hopefully getting out tonight and having a laugh will do him the world of good; we hope you get over the nasty experience very soon and thank you for making the effort to "come out to play", very much appreciated.
Back outside the dog park we settled down for the night, this will be our last one here.