Friday 16/10/2020
We started the day with a cooked breakfast, as we didn't know when our next meal was going to come, in fact we didn't really know what to expect at all.  Hazel had seen an advert for crew, so Geoff wrote off, with Jim and Vince saying they would come as well.  When we had a reply the boat was in Denia, so nowhere we could reach in a hurry. We arranged the day when we were at Marian's, so off we went.
We arrived at the Marina, which was incredibly posh, with expensive
restaurants and shops, very sad to see it almost empty of people, but packed with boats, so much money tied up, unbelievable!  We met Rob who was an ex policeman and ex pilot from Scotland we had a coffee and a chat then we were off.
"Vegabond" Is a 27' boat built in Sweden 1971, which has been updated several times, with new engine, and instruments but no lazy jacks or bag, furling Jib etc., it was like going back to sailing in the 70's.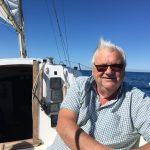 I was nervous as still not got my confidence back, but it was like going back to the 90's where I had my own boat as it was identical to my westerly called
"drifter", after engine checks etc., we were off.
Out of the marina into the channel and I took over the tiller, well having been used to a wheel for years, it was very strange, we put the
sails up and headed for Javea, with no wind we kept the engine on, by this time "George" (automatic pilot) was on the helm, and we sat back and enjoyed the ride.
Sadly not enough wind for a sail, but we enjoyed the day, when we returned we packed the sails away, and headed for restaurant, where we had tapas and wine, we parted saying see you soon.
Back home we had a relaxing night.