Early start, we set the alarm but I was awake before it 5.30 am, decided to get up, looked out of the window, to see this beautiful view of Lake Titicaca, lovely and
tranquil, with what I thought originally was rabbits but in fact were guinea pigs running around on the grass.
We packed our bags and went down for breakfast, we are heading out on the lake this morning, and being picked up at 7.15 am.  We
left our cases at reception, as we are flying to Quito tonight.  Think we will both feel a bit better at a lower altitude. Arrived at boat, boarded, when Lou and Nigel arrived, so we had another good old chin wag, whilst the speed boat was heading for one of the Reed Islands called Uros. After a short time we had to slow down, and go to a tax office on
the water, there the guys had to barter for entrance to the Reed Islands,  there are 60 Islands all together, and the Uros Indians live here, it is a fascinating place, there home and most of the things they use are all made out of the reeds.  We disembarked on to the
platform of reeds, and had a short talk on the Islands and also met the President of the community, we were then give an opportunity to go
on the reed boats, we clambered on, the one we went on was a double decker, but they had others that were just single, this one had two men at the back paddling.  Before we left to of the ladies sang a couple of songs to us,
we then made our way around another Island, and they demonstrated how to cut the reeds, and what you could make with them.  Also they had some lovely embroidery, but they wanted £25 for them, which seemed a bit expensive to me.
When we arrived back all the stalls were made up, and obviously they wanted to sell their wares, we bought a wind chime and a bracelet, just to remind us of the time we
spent there. We were shown where they live and sleep, and also cook their meals
We moved onto another Island which they called the Commercial Island, Isla Santa
Maria they had more stalls there, and a coffee bar, so we tried the local bread and had a drink.  We moved back to the boat, and headed for
another Island, Geoff had to rub cream on his nose as it was getting burnt, he looked really daft!!
It took us over an hour to get to the next Island which was called Taquile, members of
the self supporting Aymara community met us, in their colourful island costumes and showed us around the Island. Before we came we asked if the Island was hilly, and the guide said NO, it might take you 20 – 30 minutes to walk around, well the hill was almost straight up,
and remembering that we are at a very high altitude 3800-3950 meters, we were all struggling, Geoff was determined to do it, so we were not last, but oh boy it was hard work.
We nearly got to the top where we stopped for lunch, typical of
the Island, we had some soup, and then trout, it wasn't bad, we then had the drink of the Island which was a mixture of herbs, which Geoff drank, I do miss my drop of Typhoo!! The Islanders showed us how the knitted their hats, and wove some belts etc., just as we were leaving they performed a couple of dances for us.
We then had an option, whether we continued or went back to
the boat, Geoff declined with two others, and I went on, quite  frankly I think I would have enjoyed the boat more, we struggled to the top, then Lou Nigel and myself meandered down, not much to see, and a lot of effort getting up to it, we called it a padding to make the day longer, we would have preferred to spend more time in the Reed Island.
We had another hour on the boat which was lovely, before we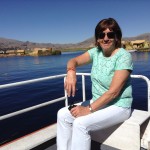 disembarked and went back to the Hotel to collect our cases, we relaxed for an hour, before they collected us to go to the airport. The ride there was very hairy with over-taking when traffic was coming towards us, we also had to go through Juliaca again where the market was so near the train, we meandered around the little streets, the roads were terrible and very narrow, lots of tut tuts getting in the way, we also went on a peaje which was novel.
We are travelling with LAN, and they are very good, very professional, we arrived in Lima about 10.30 pm, walked across the road and got into our Hotel, we both had showers, and managed to flood the bathroom, somehow the water is escaping, we fell into bed and fast asleep.