Wednesday, our day to explore began after a remarkably comfortable night in this weird room with the four poster bed, but it was very quiet, not too many guests me-thinks, so after a leisurely morning we ventured out into an overcast sky and wandered around the town.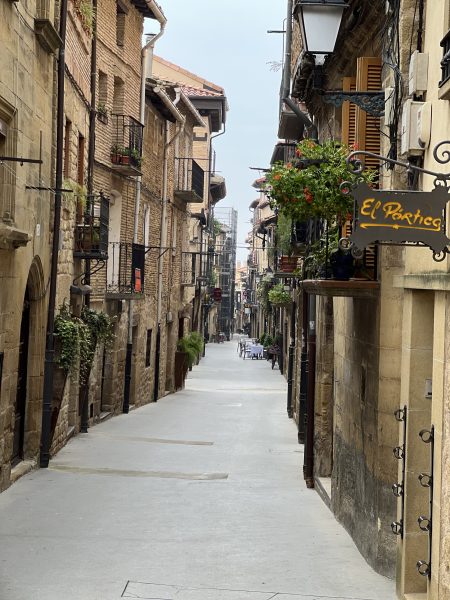 Unfortunately with the overcast sky and low-level clouds, our vantage point wasn't as expected and the Pyrenees were shrouded in cloud. Still not perturbed we strolled through every street, nook and cranny and checked out each entrance gate into the walled town.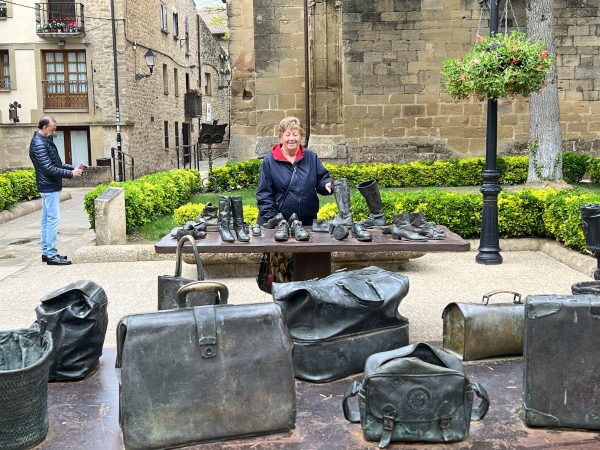 The thing that surprised us was the number of Bodegas here. Around every corner was a Bodega and they all had their caves underneath, no wonder there are no vehicles allowed into the town: in fact we came across the commercial parking spaces for delivery vehicles and we saw delivery drivers with their barrows making deliveries! I wonder how they manage with a load of building materials. Still, whilst on our explorations we enjoyed coffee and cakes in one place (no Soberano👹👹), and a couple of local wines in another before venturing into a bodega for a first-class Menu del Dia.
Laguardia ( Guardia in Basque ) is a Spanish municipality in the province of Álava , in the Basque Country, and is part of the Rioja Alavesa region .
It is located on a hill with commanding views and is surrounded by a wall built by a King Sancho el Fuerte de Navarra . Five access gates called Mercadal, Carnicerías, Páganos, San Juan and Santa Engracia are still preserved and Its streets and corners retain a great medieval flavour. The Laguardia economy and the area around is based on the wine industry, with its own production and numerous wineries. Its extensive heritage has allowed it to belong to the association The most beautiful villages in Spain, and is the only town in the Basque Country to be in that association.
This town is worth a visit but we were disappointed that it was so quiet, probably due to lack of parking facilities but hey, we thoroughly enjoyed our day here and tomorrow we head to Santander to catch the afternoon ferry, arriving in Plymouth in the morning.