Up early, had time for a quick tea, and croissant, the bus arrived early, only one other couple so we were not squashed in.
We headed out of Long Beach, and towards Hollywood, the traffic was amazing, fortunately our driver has a pass that he can go in the express lane, so we missed most of the queues.
First stop was the Coliseum , where they had the Olympics in 1984 and in the 1930's, it was massive,
the stadium could hold two football pitches back to back, and it can hold over 100,000 people. We also went to the science Museum where they have one of the Space Shuttles, and several jet fighters, we didn't go in, as we had already been to Cape Kennedy some years ago.
Next came the Hollywood Walk of Fame, we walked all around here, that was great seeing all the famous names, Tarantino apparently was getting his later today, so some of the area was closed.
my favourite one was Bob Hope, cos he was brilliant

We walked all along Hollywood Boulevard, lots going on, it was great fun. We were told to go up an escalator if we wanted the best view over Hollywood, and to picture the sign so we did that as well, we actually found a service lift, so we used that, it was huge, but I got the picture.

As well as the stars on the pavement, apparently the stars put there handprint and feet in some cases! In cement, they have an area for that too

We then moved onto Sunset Strip, where if you were lucky you might see some stars, we stopped at Mel's Diner on Sunset Plaza, where apparently Paul McCartney goes quite often sadly he was not there today
. We were there quite early, but the food was very good, I had a rare beef burger!
We left there and passed some of the stars homes, and where they like to play. We went to Rodeo Drive, one of the most glamorous streets in the U.S. Apparently it can cost over 1million dollars a week to rent a shop there, all the names were there

The pictures do not do it justice, but some of the shops had had a 5 million dollar make overs , so that should give you an idea!
Next we went to Santa Monica, a very old scenic town, with 26 miles of beach, never overcrowded even on July 4th.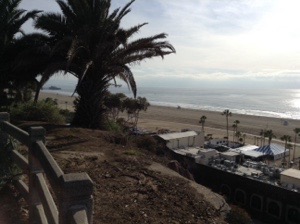 Later we travelled onto Venice Beach, apparently they tried to do what we have, a town on the water, but it did not work, some of the inlets still exist, but for the main, it has been reverted back to roads again. We walked along the boardwalk, where we found the famous Muscle Beach
not quite how I imagined it, and so very small, we didn't see anyone pumping iron today. They had street entertainers and craft markets, they also sold tubs of fruit which I couldn't resist. they were lovely, missing the fruit bar on board the ship!
Time to head home, but I have to say we had a wonderful full day.