Saturday 31st December 2022
Following a good night's sleep in the extra large double bed, we headed down to breakfast where David and Christine decided to have Loch Fyne Kippers; ha ha, no chance, they hadn't got any left!!!!!! The jinx continues, it is now the standing joke, don't choose anything Christine wants.
The nearest place to Stonefield Castle is Tarbert, a small fishing village just over 2-miles away, so headed that way, parked and had a wander around. Upon arrival this morning, as is the norm for Christine, the tide was out!! Tarbert Loch Fyne is a picturesque conservation village that lies at the north end of the Kintyre peninsula. The village is built around a well-sheltered natural harbour. The harbour is home to an inshore fishing fleet and has a popular marina for leisure crafts. On a hillside, overlooking the centre of the village, stand the ruins of the medieval Tarbert Castle. The castle's royal connections date back to the 11th century AD. In 1325, the castle was completely rebuilt and extended by King Robert I (Robert the Bruce) who is depicted in this distinctive and imposing equestrian statue which stands at the battlefield of Bannockburn, Stirling. Much of the Castle stones have been removed to build the harbour and mole.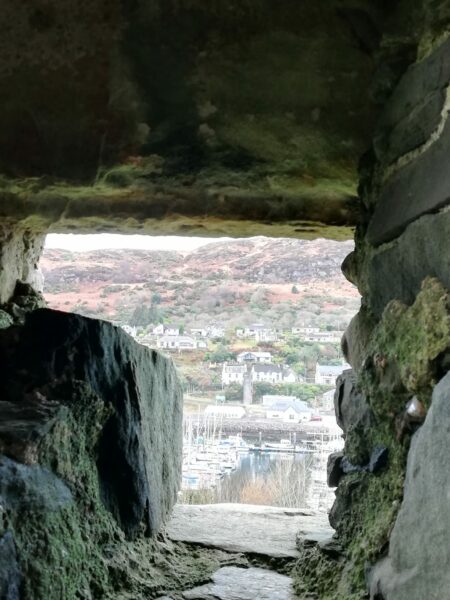 Monica and David climbed to the top but with my knee and Christine's hip needing to be preserved for tonight, we took "a rain check" and wandered back along the harbour, though not very far before we spotted a "Whisky Shop", so naturally we headed in. I was very good, I restricted myself to just one single malt!!!! OK, coffee time so headed into a place called a "Coffee Bistro" but turned out to be a "Tandoori Cafe"!!! We sat for best part of ten minutes waiting for service but to no avail so just got up and left; we didn't really relish the smell with our cuppa either so wandered over the road to see Tarbert's big Christmas tree, wow it was constructed entirely out of lobster pots, very unique and certainly different. The pots were stacked into the tree shape then covered with green fishing nets with fairy lights hanging on the sides, very spectacular.
By now Monica and David had caught up with us and after explaining about our Indian adventure we would look elsewhere for our "elevenses" so drove further up the road and found a place called "Lulabelles of Tarbert". Being away from the main part of the harbour I asked why they hadn't got a large sign pointing out to folk where they are; council won't give them planning permission for one; what a shame as they do excellent looking dishes, a great looking cheese counter and craft beers just to mention a few things. Because we were staying at Stonefield who had fed us so well we could only manage to share one slice of home-made cake; oh well next time.
Leaving Tarbert, we headed towards Campbeltown to take in more of the beautiful views of the Loch and Mountains, eventually stopping at a "viewpoint" and great excitement, seals were spotted.
Back at the castle for hot soup and sandwiches just to "keep-us-going", as if we needed anything!!! We then headed in different directions to start the process of "dressing" into our kilt regalia.
The anticipation is over, the moment has come, I break the seals on the box and remove my New Year's Eve apparel out and check the items off the list; all present and correct, a good start. I had already prepared myself on "how to dress" by looking at a YouTube Video; must do it in the right order!!!! So after the shower we started the process. First it's the "hose" (long woollen socks) followed by the "garters and flashes" which had to be at 45-degrees then the "Gillie Brogues" (shoes) tied in a special way above the ankle with the tassels hanging down equally!!! All this was accomplished successfully so on went my dress shirt accompanied by a pair of cuff links depicting the Scottish "Saltire", loaned to me by David, (son-in-Law). Now the time had arrived anticipation is over here goes, we wound the kilt as detailed on YouTube around, did-up the first set of buckles, let go and it fell to the ground!! We decided it would be ok when did up the rest of the buckles; wrong, it fell to the ground again. There was no chance this was going to sit on my hips. After much discussion we telephoned reception, related our experience and they said they would send someone up with some pins etc., A few minutes later Grady, the Restaurant manager, stood at our door resplendent in his kilt with a handful of "hotel-type" mending kits with silly, very small safety pins inside, they were so small that the kilt material was thicker!!!

So after much cursing I had to quickly remove the shoes, socks and tabs and go conventional with standard shoes and a normal pair of black trouser's; fortunately at the last minute I had packed a pair, sixth sense perhaps??? I did however wear the special waistcoat and jacket so not a complete disaster!!!! Monica and David arrived in our room around 1800hrs for photos and pre-dinner drinks before the festivities begin with a Champagne reception at 1900hrs, naturally we were all there on the dot.
Dinner tonight was preordered at the time of booking so was a nice surprise when it came; memories eh!! Copious amounts of wine was consumed as we ate then danced the night away to a Ceilidh Band doing highland flings, Gay Gordon's etc., very badly!!!! Still a jolly good time was had by all. At midnight the resident piper marched in and played a number of tunes whilst we all saw the new year in drinking some rather nice Malt Whisky.
The party wound up around 0100hrs so the 4-of us retired to our room for night caps, we hit the malt I had bought earlier in the day!!