Up early and down for breakfast, we have to be at the Spa for 9.30 am,
we all met in reception, then off we went, seven of us all told, ready for a good old laugh!
We arrived on time, and were given instructions on what and where everything was, we were all told what time are treatments were, and to go and enjoy, which we certainly did.
They had an inside – outside pool, and it was a glorious day, so we swam in and out, but most of the spa treatments were out, so with a lovely blue sky, we sat in the various areas in a pool that was heated to at least 30 degrees, it was lovely.
One of the attendants gave us teas, coffees, fruit juices, whilst we lounged around, very civilised.
They also had steam rooms, ice room, saunas, which we all used, I was pushed into a shower, which had a large bucket of ice cold water, which
Jane, then dropped on me, we then had an ice fight, until someone came in saying 'children children behave' some people have no sense of humour!!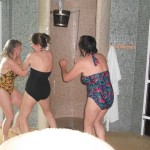 At 11.00 am some of the girls went and had treatments, massages and manicures, were the order of the day, I had a pedicure just to be different. Just as they were finishing, Jane came and put ear muffs on me, and a sash advertising the fact that I was the bride to be, very embarrassing, I then had to walk into lunch wearing it, only to find
they had decorated the table with balloons, and confetti, and several presents were handed to me.
I had various naughty gifts, including straws with a willy on the end, which Jane insisted that we all used, a bottle top, which was rude, and a willy whistle,plus a glass which lit up and had a willy at the bottom, I had to drink out of that as well,  all good fun, and the video was on all the time courtesy of Catriona.
Lunch was taken, which was lovely, I had crayfish and prawns with salad and advocada, very good, we then left and asked where we could go, for a drive, to see some more of the arear, they suggested Great Malvern, saying we could have a nice cream tea, which we did.
What a lovely day, thank you everyone who joined in the fun.