Arriving back in England we booked ourselves into Jane's where we caught up with the washing, and Jane took the dogs out on lots of walks. Sadly Sooty hurt himself, and we ended up at the Vet's, he has torn his pad, and is a terrible whimp when having his bandage replaced.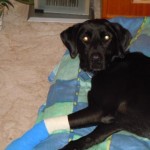 We have been to Amsterdam twice now, have looked at many different boats in England and France, we have come to the conclusion, that unless we spend an absolute fortune we will not be buying a boat. We have looked at Wide beam Narrow boats, barges, power boats, Dutch steel cruisers, we have exhausted many brokers, and ourselves.
After long discussions we have gone back to our original idea of a Motor Home, we had spent a long time looking at these in the past, so when I spotted the ideal one, we said it was fate.
So off to Southdowns's, we went and by 10.00am we had purchased 'Hector' a lovely Hymer, with all the gizmos., which we will be collecting in March.  

Then off to Derbyshire, where we are at present, Martin has set this new site up, and we are hoping everyone will enjoy our experiences, and hopefully make comments.
Martin has spent a lot of time mending the computer which had a virus in, when it was back up and running, I was able to get my Xmas present working, a pink Ipod, I downloaded all our songs on to it, and it works a treat, thank you Jeffers xx
We all went out for lunch at the Ashford Arms Hotel, where we had a lovely meal, we all had starters, followed by steaks, and then would you believe puds, the food was excellent, washed down with three bottles of wine, thank you Marian for driving us.
We are now going to have a lovely roast dinner, so much for the diets.
Thank you Marian and Martin for a lovely four days, we have thoroughly enjoyed our stay.