Monday 24th October 2016
Up early as we want to have a good days travelling, we wanted to get to the start of the tunnel, and face that tomorrow.
We met a lovely couple in Dave and Diane, and we went into the locks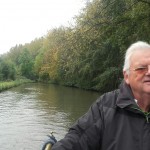 with them, makes life so much easier, when there are two boats travelling. Diane was funny saying we had team jerseys on, as we matched in colours, we had a good system going, one would walk ahead, whilst the other would close the locks, think we did today's locks in record time. We covered eleven miles and eight locks, so not bad, and we managed to get to the pub by 4.30pm.
Later Dave and Diane joined us, and we had such a laugh, he is a Rugby League man and of course Geoff is Rugby Union, it's a shame they are going in a different direction as we enjoyed their company. We stopped in pub for steak and kidney pudding, whilst they went back to boat. We were invited back when we had finished, so we had a few more drinks with them, Diane had made some Tiffin, which we tried, it was different. A nice evening was had by all.