Friday 13th October 2023
Always a worry to wake up on this day/date, still best foot forward and all that😂😂.
We head off towards the ferry but have until Monday evening to get to Bilbao; ferry departs around lunchtime on Tuesday, but didn't want to have to rush.
After breakfast Martin did his last checks on "all" our devices, ensuring everything was downloading according to plan; he informed us that it will take many more hours of being connected to the cloud via WiFi before everything is in the right place. The moral of the story is "not" to leave well alone!!!!! At this point we must thank Martin for all his hard work helping sort out two dinosaurs attempting to get into the 21st century.
We hit the road around mid morning heading towards Teruel 270Kms, just under 3-hrs driving. The first part past on the AP7 to Valencia was boring and fairly heavy with traffic but after turning off onto the A23, the traffic was minimal and a pleasant drive through some low lying mountains, though at the top we were 1275 meters above sea level.
We arrived in Teruel, found the overnight parking and as Vince had described on Monday, there was the bus stop. Prior to heading into the centre we popped into the bar next to the parking lot for a late "Menu del Dia" only to be told they didn't serve them on a Friday!!! So a quick drink which fortunately came with a small "Tapas" we were ready to head into the centre about a mile and a half away. We headed to the bus stop and waited a few minutes 'till the bus arrived only to be told, "No Dogs": Oh dear, so let's walk.
As we headed out we soon realised we had to head down a rather long steep hill, now steep hills and my knee do not go together but there was no alternative other than turn round; not an option. Of course like all hills, if you go down you have to come back up and today is no different.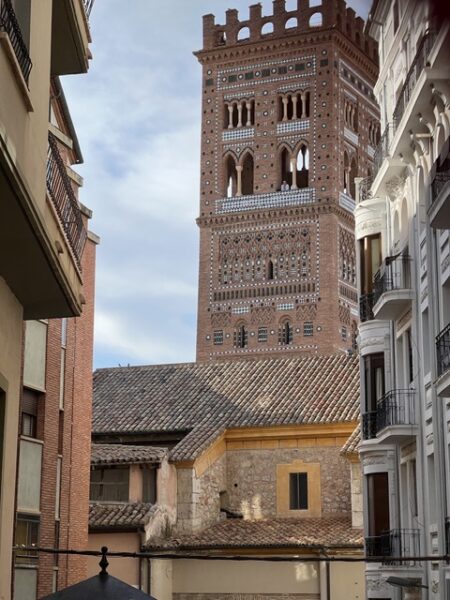 After numerous stops to rest we eventually hit the historic centre, and it was heaving. Firstly we went into the tourist information to get a map of the area and as we headed out noticed there was a train that went around the town, so joined the queue for the next tour, in about 5-minutes time. Soon after joining the train arrived and as soon as it had let all its passengers off our queue started to board. When we hit the front of the queue we heard those immortal words again, "No Dogs"; so, deflated we walked off.
The walk here did take it out of us so we parked ourselves at a bar/restaurant in the main "El Torino" square and ordered a bottle of wine with a plate of its renowned "Jamon Serrano" and settled down to watch the world go by. This is a busy place with lots of Spanish tourists.
Teruel is a high altitude town in the mountains of the Aragon region, perhaps this also affected our walk in, or are we grasping at straws? One of the main feature is the "Santa Maria de Madiavilla" Cathedral" dating to the 12th century and another is the "Torre de El Salvador" 14th century Mudejar tower. Whilst enjoying the ambiance of the square we planed our "day-out" for tomorrow so didn't rush to get going and we had also decided to get a taxi back.
Food eaten, wine bottle empty and bill paid we headed off through the quaint narrow streets passing the entrance to the Mudejar tower, still open, and out of the old town where we were hoping to pickup a taxi; there were lots of cars but none of them were taxis so continued walking down the big hill hoping to "hail" one as we walked, but to no avail, none came our way. At the bottom of the hill was a petrol station so went in to buy a bottle of water and at the same time ask the girl behind the counter where we could get a taxi; she went one better than that, she rang the taxi company; "service beyond the call of duty and with a nice smile" but to no avail, she made several attempts and let it ring and ring a long time, but alas no one answered. We thanked her and headed back up the big hill we'd come down earlier n the day. My we both struggled but I was the one to keep stopping to give my hip a breather, yes my hip as walking with a bandy leg on a hill affects my hip. It took for ages to reach the top but we preserved and eventually came to the flat part of the walk; that's better.
Back in Rosie we collapsed, and the dogs were also tired but one decision was immediately taken; we will leave Teruel for another time and head towards Soria tomorrow, after all this was Friday 13th!!