Friday 10th June
This morning we are heading to Exeter to stay with our friends, Geoff and Rowena, and to avoid the Friday Exeter traffic and before children get out of school, it was suggested we should arrive no later than 1500hrs.
Exeter being just over an hour and a half away meant we could have a leisurely morning though we did have to clear our room and clean the bathroom as Jane had weekend guests staying in our room, most inconvenient; though from her prospective we are the perfect "flexible guests"!!!!
The morning started with the school run before the clean up began; fortunately it wasn't too bad as we had only been in the room for a week or so, and with Dave away the house seemed strangely quiet.
Following a light lunch we hit the road around 1330hrs, perfect timing as long as there are no holdups on the M5 and we don't get snarled up in the Exeter traffic. Being June, we half expected the traffic to be fairly busy, with the M5 being the fastest and most direct route into Devon and Cornwall but to our surprise, what traffic there was, was fast moving. Arriving on the outskirts of Exeter 15-minutes before our 1500hrs time, we "clocked" the traffic building, as did the Sat Nav and we were routed along vary curious route. We went through industrial estates, housing estates, back roads etc., completely causing us to lose all sense of direction and by now Schools we're discharging their pupils and the clock was ticking. Eventually we arrived at the Exeter University Campus, ah yes, familiar territory, and just around the corner was our destination. How on earth Sat Navs work routes out so quickly, never ceases to amaze me, but ours did and we arrived a little after the targeted time.
Meeting up with Geoff and Rowena is always a pleasure and though we had popped in en route from Plymouth early May, this time we will have long enough for a jolly good catch-up, and it started the minute we arrived over a cuppa.
The rest of the afternoon flew by and suddenly we relished we had a table booked at a local restaurant, so quickly sorted ourselves out and headed off on foot.
We were told it wasn't very far, but; Google Maps said it was is a seventeen minute walk though It was up and down hills which suggested 17-minutes was rather "over optimistic" and particularly as my knee was giving me real "gip". Geoff was the advance party as he strides ahead to the restaurant we had booked; apparently it gets extremely busy and if late for a booking, the table may well have gone to someone else. I was in the rearguard, as I said my knee was playing me up.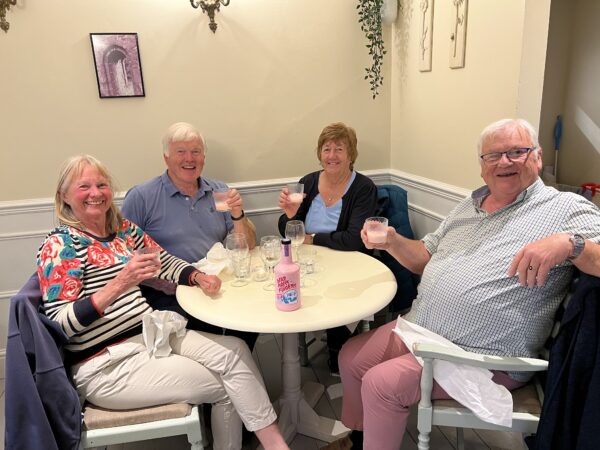 The restaurant was called the "Conservatory", (https://www.squaremeal.co.uk/restaurants/the-conservatory-restaurant_3454) and it prizes itself on Seasonal produce, used for creative dishes. Inside there is a bright "cosy" dining room featuring a restored Tudor wall, protected behind clear panels. The food was both interesting and good and service was with a smile. To follow our three courses they had a drink on the menu that intrigued us called "Dead Mans Finger"; it turned out to be a spiced rum liqueur and though sweet, rather "moreish".
The prospect of the return "route-March" was far from appealing and taxi's were talked about, well by me!!!, but having spoken to the restaurant about getting us one, we're told it would be highly unlikely, and if they could get one, it would be over an hour's wait 😢😢. Following further discussion, Geoff suggested a "pit stop" at a pub en-route; well that changed everything and off we went. A break with the "obligatory" pint was just the ticket at "The Imperial" an old hotel converted into a Weatherspoon's pub and heaving with students from the university.
Back at home and by now time for bed.
Saturday 11th June
A leisurely morning including a stroll through their "enormous", well cultivated garden followed by a short walk through their access lane at the rear, and across the road onto the university campus. Here we sat in the sunshine admiring a beautiful pond complete with a large ornamental fountain, just passing the time of day and putting the world to rights, as one does!!!
Today was a big day in the Premiership rugby season; after 26-weeks of premiership action it is semifinals day and after a hard fought season the top four playing in the "knockout" round include Northampton Saints; "probably unexpected". Also today the second test against New Zealand is taking place and if that wasn't enough, there is qualifying for the Azerbaijan (Baku) Grand Prix to "squeeze" in; my-my, what a busy afternoon!
Lunch was soon cleared away and we settled down for the "important" sport; first up was Saracens V Harlequins. Geoff being an ardent Exeter Chiefs supporter, though neutral, made his choices who to root for and fortuitously they were the same as mine!!!, Harlequins in the first game and Northampton in the second. These games being "knockout" and the winners make up the final at Twickenham next week, everything is to play for, "winner take all", so two hard games.
Sarries V Quins: this was a tough game but unfortunately Quins couldn't match Sarries on the day with the final score was 34 : 17, but a good game and unfortunately the right result.
Tigers V Saints: this was an interesting game on a couple of levels. Firstly Leicester Tigers had led the championship table all season only losing 4-matches. On the other hand my team, Northampton Saints, had struggled during the mid season so had to win every match and extract every single bonus point they could towards the end to claw their way into the last four. They lost 10-matches along the way making the end of season matches, knife-edge games.
The final result was a travesty of justice, Saints came out of the blocks but unfortunately one of our wingers had three very easy chances to score but on each one he knocked the ball forward which let Tigers off the hook. The result was a clear win for Tigers 27 : 14😢 still two exciting games to watch setting up an interesting final at Twickenham nest week, Tigers V Sarries.
Whilst the rugby was going on we kept a weather eye on the cricket scores.
Next up, qualifying for the Grand Prix, fortunately being on Sky Geoff could record it so nothing was lost.
After a long afternoon of sport and a hearty meal, we all headed off to bed.
.
Sunday 12th June
We knew before we arrived that Geoff and Rowena had a prior engagement Sunday and we had to make ourselves scarce soon after breakfast, so no "Sunday lie-in" for us today!!! We were up and packed at a reasonable time followed by a breakfast to set us on our way. We left, as planned mid morning after another wonderful weekend in Exeter, thank you both for making us so welcome and we hope we see you next time in Spain, as we said, September is a good time to come out, but you are welcome anytime that fits with your busy horticultural year!!!
Today our plan is to navigate the lanes and villages between Exeter and South Petherton.
We arrived in South Petherton at lunchtime so after parking, headed to for a "pint" at the Brewers Arms. After the very friendly barman served us and we sat down, a couple of Sunday roast dinners wafted past us and after a quick glance between us, we ordered two Roast Beef Lunches. We also got chatting to a few locals, quizzing them about the village etc. Our luck was also in as the Azerbaijan Grand Prix was on the TV above the door, win-win for us. Though we were strangers, everybody made us feel welcome, none of those "what-are-you" doing here!, Our first impressions on the previous visit were confirmed, this could be the place to live.
Back at Hope Farm we met Jane and Dave's weekend House guests before they left then settled down to a couple of games of Mahjong before hitting the sack.