Sunday 14th August, continued
…………….. Arriving as planned around lunchtime, we manoeuvred Rosie onto a patch of wasteland opposite Andrew's house on the outskirts of Frejus, took out the essentials and was greeted by a very cheeky, smiling Elton which made all the hassle worthwhile.
We spent the afternoon chilling out whilst Andrew found time to clean the pool as Nana was here to take on babysitting duties. For dinner the four of us had a bbq in Andrew's specially created new bbq area, but cooking duties spread between Christine and I!!! Though this part of France didn't suffer the rain we "enjoyed" last night, the "storm-clouds" looked very much like they were gathering to deliver a very welcome downpour, so naturally tonight we decided to visit the permanent funfair!!!

It's been many years since Christine and I have visited a fairground as opposed to Disney theme parks, so was looking forward to it. Regarding the rain that started to tumble on us as we entered the fairground, we decided we can dry the clothes at home, so "just-get-on-with-it", after all "it-is-what-it-is" , so we did and along with many French folk, had a great time. There were a number of unsuitable rides for Elton but Daddy managed to get him onto some; probably the Log-Flume being the dodgiest for holding on. Elton certainly liked the dodgems, in fact we all went back for more.

Being a permanent funfair they had some very scary rides but to pick out one, the sky fall; one-two-or-three people attached to a bungee, laying on their tummies, hauled to the top of this big high tower, then dropped; not straight down, "no", at an angle so they drop fast "and" swing over the spectators, of which there are many gazing up in wonderment of the stupidity of the folk on this contraption. From "end-to-end" the swing must be the best part of 100-meters. As I said, more spectators than participants!!!! Fortunately the rain didn't pour down much and soon stopped, to the locals annoyance I expect!!!, just enough to wet us, but not as much as the log flume wetted us!!!!!
We enjoyed our visit so much that going home turned out to be rather later than planned, still all four of us had smiles on our faces; a very good choice Andrew, well done. Elton by now was really tired and we had to keep him awake for the five minute car journey; mission accomplished and he went off the moment he was put into his cot.
Monday15th August
Christine and I had a bad night, nothing to do with the bed, the heat, the room or the house, no I had left a vital part of my breathing machine in Rosie; oh not to worry, I can manage for one night without it says I; "wrong!!!!" I've had this machine for so long I hadn't realised how much I depended on it. Obviously I kept waking up, but whilst asleep my snoring was so bad poor Christine couldn't sleep either, and on this occasion she didn't need to tell me as my throat was as dry as the "Sahara Desert" and very sore, even though I kept sipping water. I shouldn't have been so lazy and gone out in the middle of the night for the missing part😩😩😩😩. Oh well I'll know for next time!!! Breakfast with a "cheerful chappie" put the bad night behind us.
This morning the plan is to head down to the Marina, jump on the tender and spend the day on Andrew's boat, "Elton". Following breakfast and gathering our things together, brimming with excitement we headed off but alas halfway to the marina Elton "kicked-off", and nothing would pacify him, not even Nana in the back giving him her undivided attention. It soon became clear why, he was still tired after his "night out" at the funfair and with the excitement that went with it, he needed more time to recuperate; we turned around.
Following a rather longer "nap" than usual we re-loaded the car and headed back down to the Marina, this time Elton was his normal "chirpy" self.
We arrived at the marina to pick up Andrew's little "speed boat", really an "inland waterway" boat but hey, this is Andrew and it's a boat and it "floats", so it should go anywhere. Being so low to the water, neither Christine or myself are as subtle as we used to be, (it's been 10-years or so since we jumped onto and off boats!!!); still we got on and headed down the Marina canal towards the sea, but our first stop is for fuel.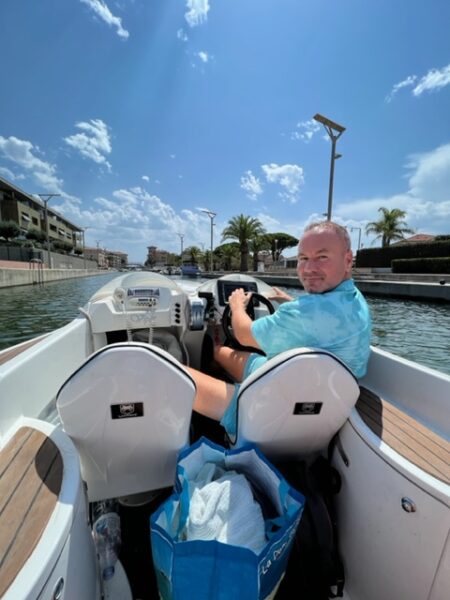 OK, all fuelled and ready to go to our next stop Andrew's sailing boat, "Elton", but oh dear, the little speed boat with its big brute of an engine won't start, flat battery😩😩 so out comes the booster pack and "pow" the engine fires up, so we cast off and away we went, well until we left the harbour mole where the sea becomes rather choppy. The engine now decided to go into "safety mode" and just idles. We can see Elton lying at anchor about 150-meters away and we were now bobbing up and down in the swell making about 1-knot, painful with just the one life jacket on board for Elton; in the back of this low-lying speed boat made for calm lake etc., we're two worried people!!!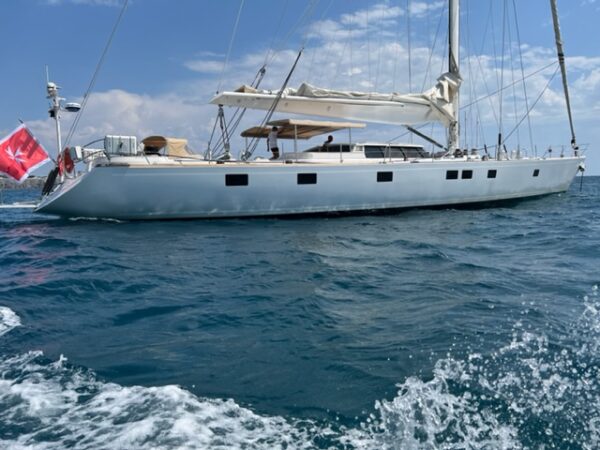 Eventually we got within earshot to Elton and got their attention so a line was thrown and we moored up. As the swell was coming around the stern, Elton's vertical movement was about 70% "less" than the little boat we were trying to get off so timing was critical to get right if we didn't want to go via the sea!!! They say many hands make like work, well it certainly helped here, first and importantly Elton was manhandled off, followed by Andrew and bags then Christine who was sort of dragged off!!, then my turn.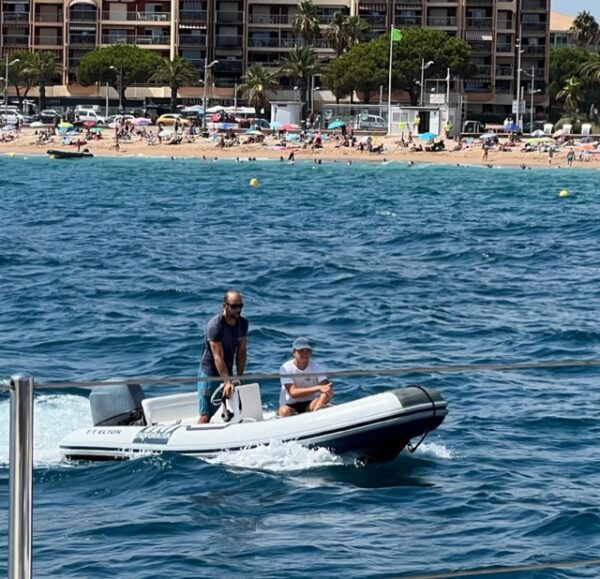 There was insufficient space on the swim platform to get the necessary manpower onto, to hoist me off the same way as Christine so timing for me was even more critical, still with some help, selecting the right wave, getting the timing spot-on and with fingers crossed, I took a "leap-of-faith"; fortunately it was well executed and I didn't go via the sea!!!, I think secretly there were a lot of relived people on board!
We spent a very pleasant afternoon on board whilst the "skipper" and his "mate" used Elton's tender to tow the offending vessel back to harbour.
OK time to return so all piled into the tender, a substantial RIB made for choppy waters, and a safe passage back into the Marina where Andrew moored it right opposite a restaurant which we made a bee-line to.
A little late in the day for lunch but too early for dinner, still after some difficulty getting the waitress "on-side" to get a food order in; Christine and I settled into a bottle of very quaffable white wine whilst waiting for food. We all agreed our food was excellent, just spoilt by the waitress, she was miserable, arrogant, stand-offish, Charisma by-pass, probably thought she was having an early finish this lunchtime; "wrong", we just hung everything out. That'll teach her to mess about with Brits🤭🤭🤭.
Back to the house and a dip in the pool before an early night for all of us