Following an excellent night's sleep in this first class hotel, one of those
hotels one can only allord out of season, we enjoyed a good breakfast in their dining room at the top of the building with commanding views of their gardens and Naples Bay.
Today was to be our day visiting the ancient
city of Pompie, so immediately after breakfast ewe were on our way, about 7 Km's to travel though we did need fuel as we were driving on fumes.  Wow isn't fuel expensive in Italy even after the fall of the crude oil prices.  Anyway, we found a car park, parked and entered into the old city, but when we asked for the
self guide audio sets, we were told we were at the wrong entrance but never mind you can walk over to the other entrance and collect them there.  About 25 minutes later we were queueing for 2 sets on the opposite    side of the ancient city.  Armed with the guides we set off.
At this point I must add, when we got into the car we noticed something hanging down under the engine, after inspection it turned out to be the floor pan under the engine compartment, nothing very serious but none the less needs putting back otherwise it would probably get caught and ripped off damaging something else, so we must attend to it later.
The guide started by giving us the background and history of Pompei both before the Romans arrived, and after they had conquered the area up until the last major eruption of Mount Vesuvius in 79 AD when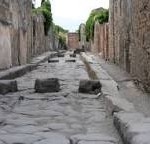 Pompei was destroyed, though interestingly, Pompei did suffer from a previous eruption in 62 AD.  The city was still being rebuilt when the total destruction took place in 79 AD.
The total site is estimated to cover around 170 acres and though much has been excavated,
there is more to do.  In its its heyday Pompei was home to around 15,000 people though how many actually died seems to be unsure but in one 24 hour period the whole place was completely covered, up to 20ft deep in lava and ash and this remained so for around 1,500 though in 1599 there was an initial discovery but it was not until 1748 when a Spanish Engineer, Rocque Joaquín de Alcubierre re discovered the city and it has been under exacerbation ever since.
Christine had been to Pompei many years ago, but this was my first time.  Pompei has been on my list of "things I must do" for ever and now I have
done it but I must say I was a little disappointed, it was not how I expected it though I can't actually quantify what I was expecting and to make things a little difficult, the audio guide numbering system left a lot to be required.  The map supplied and where the actual numbers were shown on it didn't always match up so we crisis crossed further wearing ourselves out.  At one stage I thought it
was just me but we also spoke to others suffering the same fate.  It was as if the audio was written some time ago when various buildings used to be fully open.
Having spent around 4 gruelling hours walking around we were knackered but we did have a very good idea of what Pompei has to offer.  Perhaps we will find time to visit the "other" unfortunate city, Herculaneum, (or as it is called in Italy, Ercolano) also destroyed by Vesuvius.
After returning the audio sets we walked back to collect the car, stopping for a well deserved glass of "Vino". Whilst enjoying this glass I got onto the web to find where the nearest Mercedes garage was as I needed to get
the bit hanging down fixed back up again.
the nearest dealer was 1/2 an hour away, so off we went.  We arrived where the Mercedes dealer should have been only to find it was now a Toyota Dealer, so in I went to ask where the Merc dealer had moved to in my non existent Italian but with my broken Spanish, the
fellow's broken English and a few French words thrown in for good measure, he told me where i would be looked after. The place he sent me was the same building but at the back and gave me a the name of the person who would help me.   We found this chap, no broken English this time, but I showed him the problem.  He took the car and 5 minutes later the car was back and fixed but the best bit of news was, he didn't charge us; too much paperwork probably for a one off small job.
Back to the Hotel for shower etc, then down to dinner, well the bar!!!!  We   checked where we were eating (on the way to the bar) and the restaurant was empty oops, another drink.
The meal was excellent, in fact Christine said, probably under influence, it was the best steak she had ever had!!!
Back to the room as we have to get up early, we are going to catch the ferry to the Isle of Capri.