Sunday 5th December
Today is actually Christine's birthday and though last night was the celebration, it doesn't end here. Today we have arranged to meet up with Holly and most importantly Elton and have an afternoon tea with all the trimmings. To enhance Christine's day, Jersey Jane was also joining us.
Following last night, the arrangements for breakfast were quite simple, just get there and surprisingly most did, and even more surprisingly, everybody was chirpy, obviously I hadn't done my hosting bit as well as I should 👹👹 ; That's everybody except my late night drinking partner, half a bottle of Soberano and 0300hrs was too much. Practice makes perfect Lee!!!!!
It was rather nice as most people weren't in any hurry and though the breakfast restaurant had closed, we were left alone to continue socialising, and this gave us the opportunity to share out the huge pile of cheese we still had, left over from last night. Some guests probably left with a fortnights cheese in their bags!!!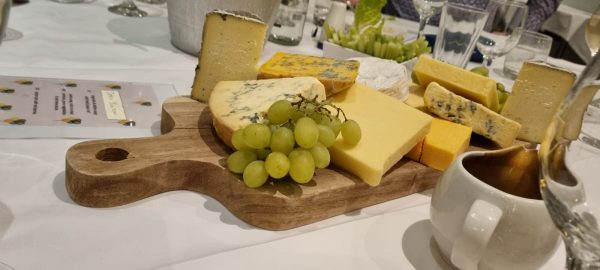 Having had a late full English, lunch was by-passed as we looked forward to our afternoon tea at the Talbot Hotel in Oundle. The Talbot hotel is a grade 1 listed building from the 1500's and known then as either the "Talbret or Tabard", no one can be sure which. Much of the timber-framed building has been incorporated into the current building when the façade was built in 1626. This was a fitting place for Christine to meet up with her Grandson again.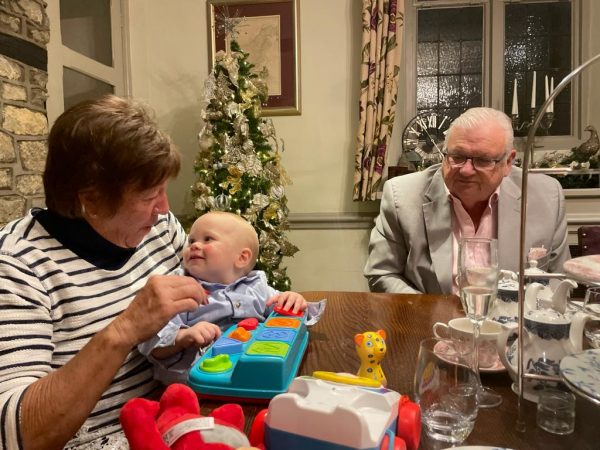 With excitement bubbling the three of us left in plenty of time to get to Oundle, and as things turned out with the weather and traffic etc., it was a good decision.   We were gobsmacked by the amount of Sunday traffic; oh dear, all these issues are certainly helping us make our decision on whether to stay in Spain or not!!!!!
The high point of today so far was, not only arriving with a couple of minutes to spare "but" finding a car parking spot directly opposite the hotel entrance.
On entering this oldie-worldly building we were certainly impressed, and after trying a couple of tables in the restaurant we finished in a lounge area, with a huge dining table where we could spread out and Elton would be able crawl about safely; he is not quite walking yet.
Once Holly with Elton had arrived the five of us settled down to a superb traditional afternoon tea accompanied with Champagne whilst Christine was enjoying her grandson. Though we were fortunate to meet up with Elton when he was 6-months old earlier in the summer on Andrew's boat, it was a long time in a baby's life, and there were some very big changes. He had gone from being a baby, to a crawling, bubbly, inquisitive, chattering, smiley little boy, a big moment for us all.
The afternoon soon passed by and we had to go our separate ways, but we did make arrangements to meet up before we left U.K. At this point we must thank Jane, as she kindly treated us all to the splendid afternoon tea.
Back at the Holiday Inn and very satisfied with the afternoon tea and food was the last thing on our mind, so the 3-of us headed up to our room where Jane and I enjoyed a Soberano or two, Christine went on to the hard stuff, "a cup of tea"; this was followed by an early night, it had been an enjoyable but hectic weekend