We arrived in Chester early afternoon on Wednesday 11th July, mooring near the Indian Restaurant we were booked to visit with
Leisha and Dave Burns that evening. They had returned home for a few days and the four of us took the opportunity to meet up for a jocular afternoon and evening; we caught up with all the news whilst enjoying a few beers and a couple of bottles of excellent New
Zealand wine before venturing into Leisha's favourite Indian restaurant where our laughter continued over an excellent "curry".
The following morning we headed towards the "Chester Basin" where the 2-original canals meet the river Dee.   The route passed along the base of a section of the old Roman wall before entering Northgate
Locks, built in 1770's, a grade 2 listed staircase raising/lowering canal boats 33 feet. Fortunately there was a CRT
Volunteer in attendance as we met two boats coming up as we were going down, so again we had to do a "shuffle" halfway
down the locks. I have to say we are now very proficient at carrying out this manoeuver.
We arrived at Taylors boatyard where we had booked in for a secure mooring and more importantly to have the engine serviced as well as a few extra repairs to be carried out whilst Christine was back in Spain.
Taylors boatyard is the only original building left on this canal basin and fortunately it is grade 2 listed otherwise I have no doubt it would have gone the way of all the others; it would have been pulled down and modern apartments built in its place. It's a great shame so much heritage is being lost, much of it sold off by the CRT themselves to fund the rest of the canal network. The current leaseholders, "Pete and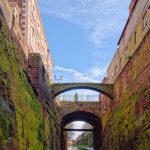 Yvette", apart from looking after boats, are also renovating their facility.
In its heyday this basin was an extremely active inland port, known as "Tower Wharf", once a busy junction of the Chester Canal with the River Dee and the Ellesmere Canal (Wirral Line) and in 1846 they all became known as the Shropshire Union Canal which was in turn connected to the rest of the network thus enabling all sorts of Manufactured goods to pass through this city.
We met up with Leisha and Dave again, when Dave collected us and took us to their lovely home where we had a good time. During the afternoon, Dave and I popped out to visit the "Gladstone Library".
William Gladstone, British prime minister four times between 1868 and 1894, left his collection of 32,000 books and a substantial financial sum to have this wonderful building created to house his collection of books. This philanthropic gesture was to share his books with people with financial constraints and was open to everybody. Today the library has in excess
of 250,000 books and also has accommodation for people who wish to stay and enjoy a literary break, though I was reliably informed one could stay there and treat it just as a hotel.  I don't think one could talk about Gladstone without mentioning his habit of walking the streets of London at night, hoping to rescue prostitutes from their lives of vice. In 1848 he co-founded the "Church Penitentiary Society Association" for the Reclamation of Fallen Women; he would, it is said, offer streetwalkers a place to sleep, protection from their
procurers, and a chance to give up their way of life.  If that wasn't enough, for relaxation he chopped down trees and two of his axes are on display as part of his memorabilia.   Of course he also had some spectacular political successes as well!!!!!
During the time here in Chester we have enjoyed walking around the streets and walls of this historically important city especially the
beautiful Grade 1 listed cathedral. Originally started in 1093 as an abbey and developed and altered many times during the course of History.     As with many ecclesiastical buildings, everything changed during the dissolution of the monasteries and in 1541 it became an Anglican
Cathedral and the seat of the Bishop of Chester.
We have had a mixed bag of weather during our stay, sun of course but many cloudy days with a number of rain showers, unlike the south that has had wall-to-wall sunshine.
On the Friday I drove down to Gatwick to collect Christine, returning the same evening but being Friday stopped off for a meal to let the traffic clear before heading back to Chester. We avoided the M25, Tom Tom sorted us a good route driving through "rat runs" slow, but kept going and picked up the M40 at Beaconsfield; good decision. As the traffic was clear and to speed things up we went up the M6 Toll, so far so good but when we joined the old M6, the traffic was at a complete stop!!!!!!
Before leaving Chester we did the customary "Hop-on, Hop-off bus", it
was very enlightening especially the history, starting when the Romans
arrived in 79 AD who built the first fort. Interestingly, when the Romans built the stonewalls surrounding the city, they dug a defensive ditch outside, and when the Chester canal was built, these defensive ditches became part of the Canal; my forward thinking by the Romans or what!!!
All the jobs and service completed by Taylors Boatyard; a visit to the cinema on the Monday night to see "Mama Mia, here we go again" very good and the cinema was one of the most comfortable we had been to. Tomorrow we are off and heading for Llangollen.