Saturday 7th May
What a stunning house, or more precisely an old farm house built by zzzzzzzz in aaaa just outside the village of Lympsham, North Somerset. Fair do's to Jane and Dave working their way up the housing ladder to get here, mind Covid helped allowing Dave to change his office from London to the West Country.
Today there was great celebrations here. Firstly all three holiday cottages were booked and secondly to a couple getting married and leaving here in an "iconic" classic old Land Rover and for good measure the skies were blue, in fact shorts were the order of the day. Apart from some food shopping and a tour around the "farm", Saturday was a quiet day.
During the house move from Essex, somewhere along the way the "Littlejohn's managed to acquire a new house pet, a very black Bunny Rabbit named "Truffles". He has a cage but has the freedom to roam the downstairs of the house at will, fortunately she knows where to do her "doings" so no mess!!!!! The funny thing is, Truffles wants to be friends with Oreo (the dog) but every time Truffle enters the room, Oreo leaves it, quite funny😂😂😂.
Today we had arranged to view a couple of houses, 1-in the village of Mark and the second was in Burnham-on-Sea. At the pre-arranged time we met up with "Rob" outside the "jungle" which surrounded the Mark bungalow and when we "scythed" our way to the front door, we weren't disappointed, the place was a "bit-of-a-tip", right up our street!!! Apart from a big cleanup, to really improve the layout a few walls need to be removed and an extension to the side would be good. It was a rather large corner plot with endless possibilities😂😂. Our second visit in Burnham wasn't so inspiring, a smaller bungalow and plot. The only thing going for it was a 4-car garage!!!
Having stopped our sale to the Germans, we have had to postpone our house hunting for the time 'till we get new buyers; there's no rush, we can wait.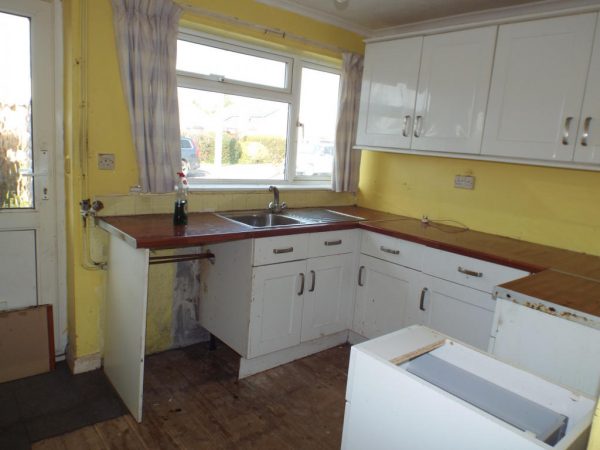 Our evening was taken up playing Marjon.
Sunday 8th May
A busy morning, today was the day earmarked for clearing out the store room behind the kitchen. We were aware of the previous owners clientele demographics, but clearing out the storeroom were surprised to find numerous pieces of disability equipment; they had sufficient of "everything", and I mean "everything", that would be needed for all three cottages!!!! Anyway Jane has found a home for the majority of the equipment so nothing wasted. By our reckoning this room was constantly "topped up", over many years, but never emptied! It took the four of us to empty, sort, do numerous tip runs, re-organise and put back the essentials. We not only stored the essentials but also added Dave's climbing equipment and their camping equipment and there is still room to move about and get something without having to move stuff. We were so engrossed in this activity we all forgot breakfast🤭🤭🤭🤭
Prior to leaving Spain we had a bad-b-q, Bill and Jenny had brought a boneless leg of lamb that Bill cooked and it was delicious. Whilst out yesterday, we acquired a boneless leg of lamb so marinated over night and this was going to be our Sunday Lunch but because of other "things" lunch didn't happen until around 1800hrs, also part of the delay was the Bar-b-q, it was charcoal and as I'm used to gas, well you know the rest!!!!! Yesterday Dave was on his new "toy" a tractor mower so with the newly mown lawn, and whilst I was cooking, Dave got out his Croquet and set the hoops around the garden.
As with the bar-b-q in Spain, we also thoroughly enjoyed the one here, so thank you Bill and Jenny for introducing us to boneless lamb done this way. Being rather a large "slab" of meat, we assumed there would be enough for "cold" another day; "Wrong", we devoured the whole joint it was so good, in spite of my poor cooking skills using charcoal.
After dinner we played Croquet, and the spirit of this game was certainly exemplified by all players, balls were knocked all around the "park"; still we were all friends afterwards😄😄. The front lawn here is so big probably anything can be played on it!!! The nice thing about this evening is we could all stay outside, the weather was kind to us.
Monday 9th May.
Monday morning we headed straight to Bristol. I used to work in Bristol for a year before leaving Somerset; coming back after 55-years, I thought I was on another planet; everything has changed, roads, buildings, countryside and so on but thankfully Waze knew the way into the Broadmead car park, if it called that these days!!!!
Our mission was to sort Christine's i Phone 13 out once and for all. She bought it last December but couldn't "fire" it up whilst in Spain, anyway a trip to the Apple Store followed by a visit to the O2 shop sorted it. With most of the day taken up we eventually headed back toHope Farm.
Tuesday 10th May
Another nice sunny, warm day pottering around Hope Farm and doing various shopping trips etc. Our time had been set aside to search for houses but with that now on hold we have a few spare days before we set off around the country, but tomorrow we will drive around the area to get an appreciation of the various villages etc,
This early evening we went with Jane and Mia, plus their horses to a local ménage for some practice. Mia confidently cantered round and round on "Shone" whilst Christine and I set up a jump for her, meanwhile Jane was schooling her new 17-HH horse "Jet", preparing him for future competitions. Once we had the jump up Mia kept jumping and we kept raising the bar: today was all about getting Mia's confidence up following a fall sometime ago.
Wednesday 11th May
Of all the days to rain, this was the one and also the one when we are driving around the county😩😩, so after breakfast and the school run, we dug out our anoraks and headed out, it was rather like being back in Spain, it was a "Gotta Fria", most unexpected though believe it or not, they need the rain; the ground is so hard.
We headed into the Mendips driving through various villages before stopping at a pub for lunch including a decent pint of ale🥰🥰🥰, then on around the Blagdon and Chew Valley lakes before heading back to base. Naturally as we were heading back, the rain stopped and the sun came out🤔🤔🤔🤔🤔. Just as we arrived back it was back into the car to follow the horse trailer once again, this time to watch Mia enter a competition arena and ride a competition course in preparation for Sunday's event; hopefully the last couple of practice sessions will pay dividends.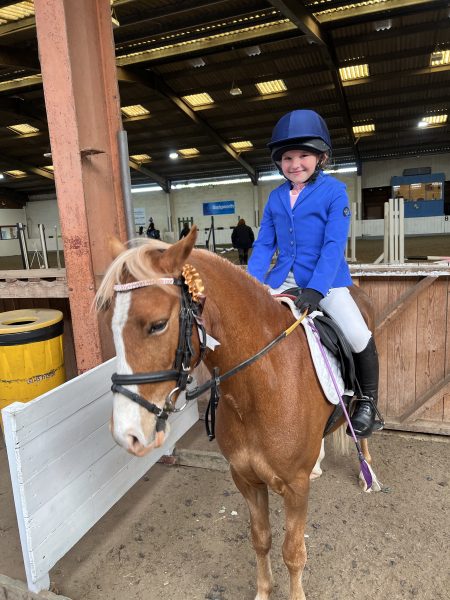 Thursday 12th May
After the school run we went to look at apartments on the sea front in Weston-s-Mare, very nice and spacious but no garden, so a big no no, Christine does like her garden, after we had a couple of errands to run after which we drove to Cheddar and up the Gorge onto the top of the mendips before returning through Burlington Combe, a smaller version of Cheddar Gorge. Fortunately today is much brighter with the sun shining.