Monday morning, 30th December and our escape from the U.K. started, albeit not quite as early as we intended!  We were very concerned, firstly it's Monday,  then going on the M25 and followed by the Dartford crossing, three potentially regular hold-ups that we may encounter.  Fortunately traffic was fairly light for a Monday Morning, the M25 was running well, the Dartford crossing was clear so we made excellent time allowing us to stop for a coffee on the M2 services.
Arriving at a very empty Dover, checked in and waited to board a
DFDS truckers ferry to Dunkirk.  Two hours later and after a very smooth crossing we were in France heading to Bruges a about an hour up the road.
Our hotel is right in the centre and driving through the extremely narrow cobbled streets, full of Pedestrians and being attacked by
hoards of bicycles turned out to be quite a challenge though unknown to us, our biggest challenge was yet to come.  We arrived at the hotel entrance and Christine went to do a recce whilst I stopped the traffic.  Very quickly she came out with instructions as to where the parking area was: behind a brown door back down the road.  Off we went again to circumnavigate the one way system again  arriving back to the hotel and the "brown door".  Turning in we soon realised that we had no chance of getting through at an angle due to it being so narrow.  So I reversed back out, stopping more traffic, again, and manoeuvred the car so I was facing the entrance at ninety degrees, I then had to bring the wing mirrors in as we squeezed through with a "coat of paint" clearance on both sides; still we were in, and more importantly don't have a long trek to a public car park; thank the lord Christine booked a space as there are only 6 available.
That evening after wandering around the old Market square that had a large "Christmas market" before we returned to a restaurant close to our hotel that looked very busy and had exactly what we both fancied, copious amounts of mussels.   After a thoroughly enjoyable meal we waddled  back to the hotel for the night.   It's time we got back onto our diets, this eating nonsense has to stop PDQ!
After a hearty breakfast we headed out to see Bruges in daylight, last night the place was heaving and this morning it's no different.   Our first task was to do a recce for tonight so headed out to t Zand, a very large modern square just outside the old town where everything is going to kick off around 2230hrs.  Whilst there we had a coffee where we discovered the waitress had lived in Alicanté for 14-years, but had
come back to Belgium to earn sufficient money to buy a property back in Spain: Northern European Wages V Southern Spanish Property prices, good luck to her.   Whilst enjoying our refreshments and as we looked through the window into t Zand we decided we should book a table for the evening to be "on-the-spot".
After our morning's excitement we headed back to the Christmas market and take a horse-drawn carriage ride around the old town, this way we get a feel of the place without wearing out one's shoe leather!   Fortunately we didn't have to wait too long for our carriage driven by a very pleasant lady and pulled by a
horse named "Vic".  Listening to her commentary about Bruges one starts to realise just how much history there is in this city and that it was originally established in the Bronze and Iron Age, though it became established by Julius Caesar in the first century BC.  It has had a very chequered history since then, but today it is a beautiful place to visit with its narrow cobbled streets, 21 churches and numerous hotels.
After a brief "nap" back at the hotel we headed off to the restaurant in t Zand where we had a very pleasant evening though the food wasn't the best; the menu looked good but let's be generous, we'll put it down to the extra burden of New Years Eve.  
We were in the square with perhaps another 15/20-thousand other revellers all singing along to the band up-front on the big stage waiting for the clock to countdown.

 

We had also been told that this year because of global warming etc., etc., etc., instead of fireworks they were introducing a display of laser drones as an experiment that if effectual would be the way forward.

   

Just before midnight 42-blue drones arrived; firstly they formed a square in the sky before they did the countdown to 1200 o'clock, they then changed colours a few times before they

repositioned themselves to light up "2020" in the sky, they then left! 
The atmosphere was great, the singing was "interesting" as they had to have songs in Flemish, Dutch, French, English and German but the drone show was a total damp squid, something drastic needs to change if it is to take off.   
Leaving the square we headed back to the room in time to watch the London fireworks from the Thames embankment, far better, perhaps this is where we need to be next year!
New Year's Day, and after breakfast we felt a good long walk was called for so headed out to circumnavigate Bruges along 12-km of the canals.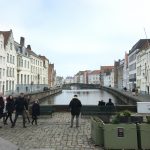 Bruges has most of its medieval architecture intact, making it one of the best preserved medieval towns in Europe.  The historic centre has been a UNESCO World Heritage Site since 2000.  Amongst the notable sites is the Church of Our Lady whose brick spire reaches a staggering 115-meters making it the world's second highest brick tower.  There are also 360-steps one can
use to reach the top and have an amazing view of Bruges, we declined to climb up!  And when up there one can get deafened by the 47-bells ringing out.    This church also claims to hold Michelangelo's only sculpture of "Madonna and Child" outside Italy
We enjoyed our much needed walk after which a very late (1300hrs) mid-morning coffee was needed!  An hour or so later we fell into an Italian restaurant for a lighter "than recently experienced" lunch
followed by a walk back to our hotel.
Out of all the places we've eaten, our first restaurant was the best and we only stumbled upon that by chance though I must say we are surprised by how expensive everything is here; a tourist place
though!