Not too early this morning as we aren't due to anchor 'till 0900hrs so took breakfast in the Grand Dining room; nothing particularly special about that other than we were sitting by a window when we saw a pod of pink dolphins, unfortunately we couldn't count them but there were great many, swimming up and down alongside the ship.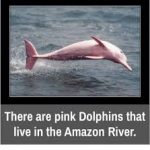 Eventually we tore ourselves away as we decided to go ashore to a village that was supposed to be so poor we had to take small trinkets, such as pencils, writing pads etc., and oh yes $1 bills.
It was nearly mid morning by now and we went to the lounge expecting to just get straight onto a tender to take us only to find there were still numerous people waiting to get ashore, so we had to get a ticket and wait.
At last we were called and the reason there was a delay was due to there being another cruise ship anchored here as well.
Boca da Valeria is a small colourful village at the mouth of
the Valeria River with a number of houses built up on stilts to avoid flooding when the river rises during the rainy season. It has a 1-room school and a small church and it is very poor where the children await the cruise ships and are on standby to take you around, and amongst other things show you their homes and animals: we were told!!!!!
We eventually boarded our cruise tender, headed to the 1 small pier up a creek and waited, and waited, and waited; there were two tenders in front of us, one of ours and one from the other cruise ship.
When it was our turn to dock some 50 minutes later, we were cheesed off and along with nearly half the people on the tender we elected to go back to the ship. Whilst we were wallowing, "upsy towndsy" we had an opportunity to see what was on offer there was nothing; Christine called it "phony City".   Later in the day we heard from other guests who had visited, the place was a tourist trap to con "dollars" from anyone who wanted to part with them. All the so-called inhabitants lived somewhere else and many of the children had cell 'phones and apparently one guest went to give the children a $1 bill was told they wanted $5: we were glad we didn't go.
Back on board we had a game of crib, had a meal then an early night as we were both tired and I wasn't quite feeling rickety boo; nothing a good nights sleep wouldn't cure.