Wednesday 2nd November 2016
We didn't get up very early, but oh boy it's turning cold. We wrapped
up warm, and decided to go out for cooked breakfast, we wondered around the Basin, and finally decided on a pub The Brasshouse,
and what a good choice, good service and excellent food.
Totally satisfied, we then decided to look at computers, I want something, I can keep my photos on, plus doing this website on, trying to get all my photos on one computer, instead of three different ones, and Geoff said he would buy me something for my birthday.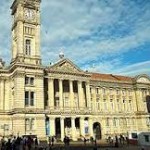 We wandered around Birmingham, passing Museum, St.Martins in the Bull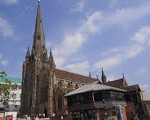 Ring, The Bull Ring, and the amazing New street Train station, the frontage was like mirrors, where the reflections of everything that was going on, was on the screen, not sure how it worked, but we could see ourselves, and the trains etc., etc.,fascinating.
We found PC world, and spent sometime looking at what I should get, then we went for a coffee, to think what I wanted, having made the decision, we went back and bought everything, now we have to go and see Martin for him to sort me out. I want to somehow put all my old photos from years back on, we have boxes and boxes in store, especially of Andrew as a baby, then throw the boxes away, have to be ruthless at some stage.
Later we needed Halfords, which was about forty minutes walk, passed Birmingham University and the bus depot, hen into back streets thank goodness for gps on our phones. We can now polish the boat, and hopefully give it a bit of a shine, I started on the brass, and that looks great, but will do it again, before we leave.
Back to the boat, a quick cuppa, then off again to buy some groceries, ready for the off tomorrow. On way back we stopped at a little pub on the canal where Geoff sampled the beer again, it was lovely and warm in there.
Back on board, I prepared dinner, and we had just started eating, when Sharon and Richard turned up, after some persuading they came in and had a glass of red wine, they are off to a show tonight. They did the Hatton locks again today, they met someone else, just as they entered first lock so went down with them, that's the best way to do them. Nice couple shame we are going in different directions.
After they left, we tidied up, and I had an early night, I am shattered.