Thursday 2nd June
The start of the Platinum Jubilee weekend and we're all heading off to the "Bath and West Show"; neither of us have been there for years so looking forward to it. First things first though, Jane had to ride her horses before leaving so was up with Teaguin at the crack of dawn. Fortunately we'd bought our tickets on line so though we won't get there for opening, we won't have to queue to get in.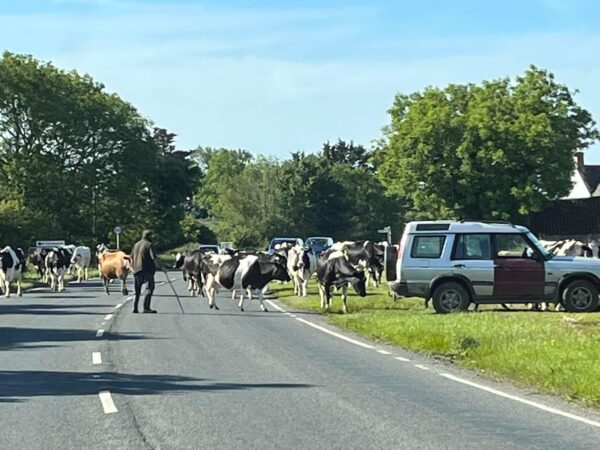 The weather forecast for today was "wall-to-wall" sun, so a good day to attend. The show-ground is about 40-minutes away so after the horses were exercised and watered, we were away, It wasn't too long before we got stuck in a traffic holdup on the "main road", but not due to the heavy bank holiday traffic, or due to an accident, no, just a herd of cows!!!! Yes this morning the farmer decided to move his rather large herd from one field to another along the main Weston-Super-Mare to M5 road, still it did cause amusement to us and other road users; it must have been the spirit of the jubilee weekend that stopped any "ranting and raving" happening.
Arriving at the show-ground and parking was a doddle, it was like a well oiled machine, well rehearsed and efficient; I wonder how it will be when everyone exits!!!!
We had our paper tickets but I also had them on my 'phone because the entry rules are very clear. One adult can be accompanied by two children aged between six and fifteen; no issue with Mia but Teaguin is knocking on seventeen and still at school so we decided she would be fifteen for the day and primed her about her "new" date of birth and that she is doing "O" levels, not"A"levels!!! At the entrance gate the guy collecting paper tickets was diligent and scrutinising everyone so I went with my "phone tickets". The guy checking and me being "rather slow" with technology!!, he was distracted whilst Jane + two slipped by thereby saving £25.00😂😂😂😂
As we walked into the show-ground I was immediately "mesmerised" by a stall selling just 1-item, a concertina stool; pull it out and twist and hey presto you have a stool. Twist it and push the ends together and it collapses into a thin round, easy to carry piece of kit. Struggling with my knee as I am at present, this looked just the job for today, so bought one.
With my stool slung over my shoulder we headed towards the food tent; Jane, Teaguin and Mia wanted brownies for their late breakfast whilst Christine and I were "seduced" at a local "Gin Distillery stand" offering a selection of their various gins which naturally we had to sample!!!
Having scoured the food tent satisfying our stomachs we headed to the "vintage" fair with a helter-skelter, a carrousel with beautifully painted horses etc., which Mia thoroughly enjoyed. By now the show-ground was filling up as we wandered around the stalls before heading to the main arena. All through the day there was something going on in the main arena so we had to choose what we wanted to see and form a "plan". Mia also wanted to see the pigs in their own arena whilst Christine and I watched the cows being judged.
Unlike the past, the "beer tent" wasn't a tent, no it was a jolly big brick "Thatchers cider" building that was also a restaurant; not the same😖😖😖 still they sold a reasonable pint of Butcombe.
We all re-gathered at the main arena to watch the dog competitions, you name it, they played it and of course it got the crowd going.
This was followed by a couple of lads carrying out various stunts on quad bikes including forward rolls and jumping over a number of vehicles; very exciting to watch. At this point the girls left Christine and I to visit something else whilst we stayed and watched the heavy horse parade and judging. What magnificent beasts, in my early youth they were a common site working on farms, now unfortunately there are not that many, and can only be seen at an agricultural show; shame but can't stand in the way of progress.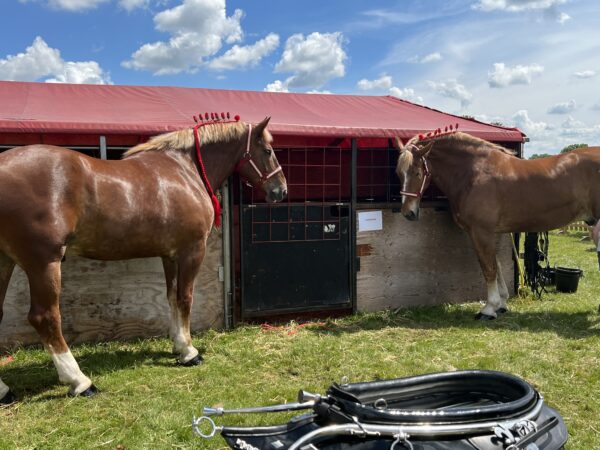 Next and probably the most exciting part of the day for Mia was the pony club mounted games. These Games are for all ages within the pony club and are an excellent introduction for younger members to gain confidence and control of their ponies while having fun. As the members acquire skills and confidence, they progress and receive specialised training to improve their skills, The six teams we watched had qualified at earlier events and this was their final, and what an exciting final it was. Congratulations to the winners but also to the rest of the participating children for entertaining the crowd so well. Now Mia knows her challenges with her pony, Shone.
Next we enjoyed a spectacular parade of vintage scurries and assorted carts, most of which were pulled by the heavy horses we had seen earlier, a wonderful site and the detailed work that had gone into everything; no doubt far better than originally new!!!
My turn now, a parade of tractors starting with a 1946 grey Ferguson. The first Ferguson, the TE20, known as the " Little Grey Fergie" rolled of the line on 6th July 1946 though there were earlier pre-war Fergusons used by the airforce to tow trailers, loaded with bombs to the waiting aeroplanes. This particular tractor, the brainchild of "Harry Ferguson" had a unique 3-point linkage and this was the key to the global success of the tractor. The three-point linkage allowed a range of implements to be attached and controlled by the tractor's hydraulics. This system is now universally used on all tractors. This display of beautifully preserved tractors went through the ages finishing with a big modern tractor.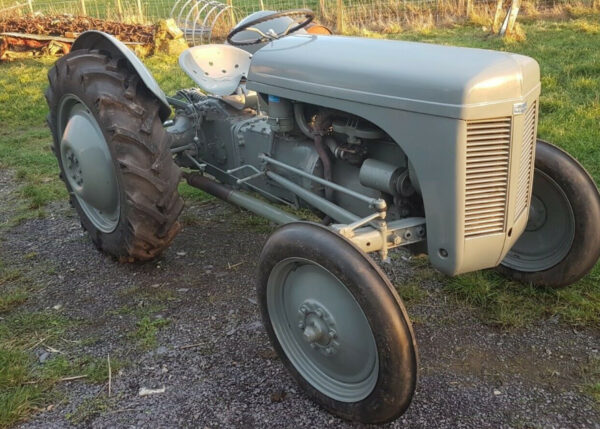 The end of the day was taken up with showjumping, two classes, 1.3m and 1.4m high and each competition was just one round but against the clock. We were well placed, we had the water jump just to our left and a parallel planks jump to our right so we were very close to the action which was exciting. There were riders taking their time to go clear and others knocking a few down to get a quick time. The excitement was palpable and the winners certainly deserved their prize money.
Naturally with the best will in the world, the time table in the main arena slipped and as we trudged back to the car all the stalls bar one was closed or closing. The one still open was a children's clothes stand and naturally it was visited by Jane and Mia and the upshot was a rather nice dress was acquired.
Eventually we left the show-ground, not the last car in the field but there were not many left behind us! Tom Tom took us back a different way, no doubt to miss the traffic so no holdups which was good.
Arriving back at Hope Farm, we were all exhausted but thoroughly enjoyed our day out at the Bath and West show, but it being so big, perhaps a two day visit next time!!