Carpet tiles all fitted, but before we could leave we were back to B & Q for a refund, yes we had a number of tiles over.
Heading up the Oxford is a very pleasant experience as it weaves
around the contours of the land. Being June, hay making was in progress but in todays mechanised world it is done in a flash; gone are all the people with pitch forks turning and drying the hay, today it is partially dried cut grass formed into cylindrical bales in the field, then sealed in polywrap.
By late afternoon we arrived at the "Folly Arms", (Napton-on-the-hill) where we moored up and immediately,
and went inside. This pub has fond memories for us, we met Dave and Leisha Burns for a meal a year or so ago, and as usual when we are with them, couldn't stop laughing. As before we enjoyed a good country pub meal with some fine local ale. When we came to pay, that was an event in itself. The pub had been experiencing
Internet problems, so when we presented them with our card, they couldn't get a connection. Naturally, like the Queen we didn't have sufficient cash, so the Landlord took me outside. At first I wondered if he was going demand his pound of flesh from me but no; after walking around the pub's grounds and onto the canal bridge, he eventually managed to process our card. I can say he wasn't looking forward to the rest of the evening bearing in mind most people pay on a card!
The pub was only one reason for stopping here; we also had an opportunity to do our regular domestics!!! We were away by mid morning and soon joined the Grand Union Canal. We don't find this so interesting, probably because it is straighter and it has double locks, and 'many' of them.
By Friday, we had managed to join another couple, Simon and
Margaret Bebbingon, so we did several locks together until they peeled off to fill their water tank. We on the other hand carried on through Royal Leamington Spa heading to TESCO at Warwick.   En route we passed numerous narrow boats moored up for a local "festival weekend" thus making the canal very narrow. We met one narrow boat coming towards us, and with careful driving on both of our parts, passed without touching but as they passed us they warned us about the "wide beam hire boat" following. They casually mentioned that the occupants had no idea how to handle the boat. Ouch, we had nowhere to hide as it approached us, weaving from side to side; fortunately a lady on one of the moored boats suggested we lay-up next to hers and hope for the best. This we did and watched and waited, but as luck would have it they managed to miss us, but as they passed us they ended up in the bank!!!!!
We didn't stop at Warwick this time as we had stayed there a couple of years ago, so apart from TESCO, carried on to the "Cape of Good Hope" pub where we met up with Simon and Margaret again for a drink and an early night. Tomorrow we attack the 21 "Hatton Locks" Flight.
We left our moorings at 0700hrs, arriving at the bottom lock at
0720hrs; we started early, before most boaters were up so that we got a head start before the flight got busy.
The Hatton flight was opened 1799 on the Warwick to Birmingham
canal and was known as the "stairway to heaven" due to its difficulty. In 1929 the canal was renamed, along with a number of other canals, as the "Grand Union Canal", a decision was also taken to widen the Hatton stretch of this
canal together with all the locks to allow for industrial size boats to pass through. The widening was completed by the mid 1930's and the new locks system was officially opened by Prince George, the Duke of Kent. These new double locks were built alongside the old narrow
locks, remains of which can be seen today.
To speed our journey we lashed our two boats together and Simon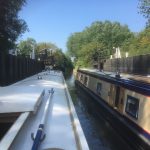 drove which allowed me to help the girls with the locks. 3 people doing the locks speeds the process considerably, as one always walks ahead and prepares the lock in advance. Today was very hot and by the time we reached the top, just over 3 hours later, the Hatton Lock Café was a welcome sight, and we all enjoyed a full English; we deserved it!
We covered another few miles before we came to the junction with the Stratford-upon-Avon canal, where we turned and headed south. After the broad Grand Union with its wide locks, it felt a little strange to be
back into narrow locks, in fact we struggled to get out of the first lock; through age the walls of the lock have bulged a smidgen, just enough to cause a problem if the fenders are left out. Naturally ours were, so we got jammed in. We lifted the fenders; applied full power and we were out. This canal was built between 1793 and 1816 and is set in some very pretty countryside; certainly out of the way with minimal Internet connectivity but we were certainly pleased we had taken this route even though we had to go through 32 locks.
Mooring along here was a doddle, space everywhere so when we had had enough, we just stopped. The only issue we had was the lack of  water; the level was about 10 inches below its norm and this created
many shallows where extreme care was needed. One feature of this 25.5-mile canal is that it has the longest a queduct in England, the Edstone Aqueduct and it is 475-ft long.
The evening before we arrived at Stratford, Simon and Margaret caught us up so we enjoyed a couple of drinks at the pub we moored opposite.
The run down into Stratford was un-eventful but when we came
through the final bridge into the Canal basin we were amazed how
busy everywhere was, still lady luck was on our side and we got onto the only vacant finger pontoon. Our luck continued, just as our friends turned into the basin, another canal boat was leaving so they could also moor up on a finger pontoon. Apart from a little provisioning we had to buy permits before we could join the Avon, as it is not part of the CRT.