The Trip So Far……………………………………………………
After chasing around for an extra life raft on the Sunday before we left I arrived at Trevor's for the night before going to Heathrow to catch our Air Canada flight to Bathurst, via Montreal.
Arrived at Airport early to get rental car back on time, checked in our 2 bags plus the life raft and had to pay an additional £130 on top as the bags were overweight and this was extra to the £40 I had already spent for the third bag (life raft)!!  We then wiled away our time waiting until the flight was called.  The plane was comfortable, the flight was smooth but we had the misfortune to have a grumpy steward, never mind he kept the wine coming.
Arrived at Montreal on time but then the fun began; firstly we were singled out at immigration whilst they had a meeting as to whether we needed work permits or not.  They had decided as we were sailing a Canadian registered boat to the Caribbean,  It should be crewed by Canadians but we explained we were all related family and that sent them off again as they didn't have a box to tick for us.  Eventually they admitted us but by now our leisurely change of flight became an urgent change.  Firstly we had to collect our 3 bags from Customs then get across the airport to domestic and deposit them at check-in for the next flight. We managed this but in our haste didn't collect our boarding passes so had to go back to Air Canada's check-in to get these; any spare time we had was running out of by now.  Anyway we arrived at our gate just as the last passengers were boarding, phew!!!!!!!!!
Comfortable 1 hr flight, arrived in Bathurst where Andrew was waiting for us with his Canadian friend, "Able" who supplied the transport back to the boat, about 1 hour away.  Firstly Trevor and my bags arrived OK but when the loading doors to the carousal were closed and no life raft, we started to worry. We went to report this and were told they couldn't load the life raft as it contained flairs and compressed air bottles.  We explained we had checked with Air Canada before we left London and that it would be OK and after all it had been loaded onto their flight from Heathrow.  That did not impress them as it should not have been loaded in the first place at Heathrow and that there would have to be an internal investigation as to why it was let through!   Fine, but as they had taken our money and brought it from London it was their responsibility to deliver this life raft to us.  They eventually said they would deliver it by road a couple of days later; huh, we were sailing next day!  Finally we arranged for them to deliver it to the Cape Breton lock office in the Canso Causeway (known to us as the canal!) between the mainland of Nova Scotia and Cape Breton Island.  By cutting through this causeway we saved about 250 miles of travel circumnavigating the Cape Breton Island.
As for Carinae IX, that is the name of this monster 125 foot boat, firstly she is VERY BIG, quite daunting to us who have only sailed "normal" boats.  There is a crew of 3 plus Andrew, Trevor and myself, not exactly over the top but sufficient, so I am told!
Jeff  the Skipper, is a very experienced and has spent the last
month on the boat getting to know her and the two crew, Adam and Jamie are both very fit, strong and have done a lot of sailing.
In fact Adam was on Whitbread back in India with Andrew when they had to shelter there. Trevor and I make up the numbers!  There is quite a lot of work to be done but most of it can wait
until the Caribbean.  Andrew certainly has a "wow" of a boat, downstairs has 6 + master cabins, all with en-suites in addition it  has the crew quarters all very nice, comfortable and well appointed.  There is a lot of deck space as you would expect and when the top iscompleted it will look very good cruising around the Caribbean; I am sure they will be queuing up to charter her.
At last we were on our way, reasonable seas, fair wind but very cold and 200+ miles later arrived into the canal (mentioned above), sailed through and moored up
below a slag heap on a commercial dock.  By now we knew there was this hurricane called Sandy heading into our path so we had to "hole" up.  Andrew also had to change his plans and return to UK so Trevor and I went with him in the hire car and stayed two nights in Halifax.  This was just as well as "Skipper" needed some spare parts so we were able to get these when the Chandlery opened Monday morning.
We liked Halifax and after driving around and spending a very interesting few hours in the Halifax citadel National Historic Site above the town, we began
to understood its history and more importantly its significance during times of war for the British Empire; fascinating stuff.  Halifax is also a very big university town and when we went out for a drink and meal on Saturday night we were surrounded by students and being Halloween as well, the town was a buzzing.
After shopping we were back to the boat Monday afternoon to find she has been moved to the other side of the channel due to the change in the wind direction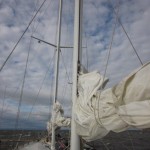 and therefore to make her more comfortable as the wind increases, additionally, as we had all been watching the progress of Hurricane Sandy, we have postponed out trip to Thursday, possibly Friday, still this gives the Skipper time to get a number of the various jobs completed and the crew to find the laundrette etc.
The weather, apart from wind is bitterly cold and whilst in Halifax had to stock up on some arctic wear, what a waste as it will probably be the last time I will be wearing such items, roll on the warmer climes of Bermuda and the Caribbean.
Port Hawkesbury, the town we are holed up in is a strange place.  It seems to
have everything one needs, bars, restaurants supermarkets, banks etc., etc., but has a population of only 3500, it is very spread out and way out in the back of beyond; just don't know why people stay here, still it suits our purpose and probably theirs!!! I do have to say they are very friendly though and I suppose we are a new novelty for them, Englishmen don't normally come here.
We are watching the path of Sandy virtually hourly and though not so good for the Americans living on the Eastern Seaboard, the fact Sandy is tracking inland first before heading north, makes things good for us.  From here we will sail due south and pass behind Sandy; every cloud has a silver lining!!!
When I update again, I hope we will be sunning ourselves in Bermuda.
Bye for now