Wednesday 5th October
Following a strange night; being in a pitch black field with no noise seemed eerie, still we woke up to dry albeit to field covered in dew; haven't seen that in many years!!!
Today we had two missions, both pre-booked. Firstly we had arranged a viewing in a place called Woolvington this morning and secondly an appointment at the BMW dealer in Cribbs Causeway (Bristol) to test drive a Mini Cooper S, John Cooper Works Countryman.
We arrived in our field fairly late last night and here we were, 1030am and just about to head out for our first appointment and we hadn't seen the farmer whose site we were on. We were a little concerned he may have thought we had done a runner, especially as when we booked, he said he would come and meet us, so a quick email was sent to allay any fears he may have!!!
We arrived at the property, in the rain, and the lady to show us around was just opening up. We knew this was a "project" prior to visiting, and had examined the pictures carefully on the Estate Agent's site so when we got inside we were prepared for what we saw. Christine, having spent numerous hours trawling through "Rightmove", "Zoopla" and "on The Market" had a very good understanding of prices etc., so armed with this knowledge we made a fair offer a few days prior to our visit. The only response we got was message saying the vendor won't accept an offer until we'd seen the property, well here we are. There was a lot of work to be done and it hadn't helped being empty and locked up for a year or so. There was a lot of damp etc., but everything was "doable" but we certainly will re-consider our offer; down!!!
Having had a good "poke-about" we left and said good bye to the agent but just "hung around" until she had gone. Once she had gone, we knocked on next door to make some "local enquiries" and more importantly if there was a history of damp in these properties. This small estate of 7 bungalows was built in the '60's and one never knows!!! Any way a very nice, friendly lady answered the door but unfortunately couldn't tell us too much as she didn't live there, it was her daughter we should speak to and informed us she would be back in about 5-minutes.
We were parked directly in front of this bungalow so got inside to make coffee & tea, and waited. Just as the drinks were made, the daughter arrived so we dropped everything and walked across the road and introduced ourselves. She was very helpful and allayed any fears we may have had about the construction, damp etc., so with that, turned to get into Rosie. Oh dear the door wouldn't open and worse, the two cab doors were also locked!!!! All the windows were closed and still Rosie wouldn't let us in👹👹👹. Looking through the window we saw the keys in the middle of the table winking at us, naturally there were a few words, "why did you leave the keys inside ?"; I wonder who said that!!!! Anyway after examining every possibility to get in, we decided to smash the quarter light window on the passenger door; "Christine's side", but being a left hooker, the door in the middle of the road.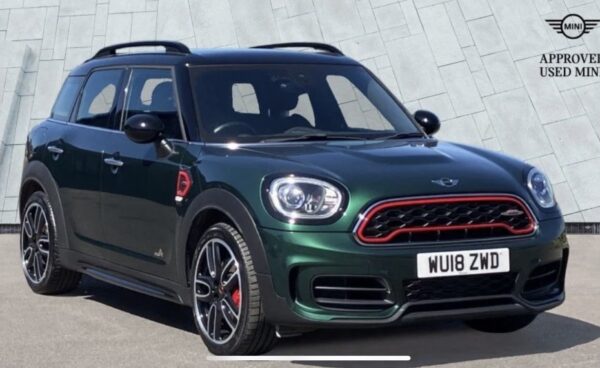 So back in Rosie and noticed the catch on the motorhome door had dropped and hence it was locked; note to self, always take keys!!! Now it was time to head to Cribbs Causeway to test drive the car. By now time was getting short so had to head straight there to meet our "time slot"; back in the day potential buyers called the tune, but today, it appears that the dealership calls the tune!!! We had 14.30 slot, we did try to alter it but couldn't, the salesman didn't have any other slots, unbelievable and still we were kept waiting!! To add salt on everything, when I presented my licence, they couldn't put me on their insurance, what? They suggested I just test drove it in their car park; no chance. Eventually they decided I could drive it on the road and what a good job I did. This vehicle has a power output of 260 BHP but when I put my foot on the throttle I had want I can only describe as "turbo-lag" and it sounded like a "bag-of-spanners", the salesman suggested I put it in sport mode, no change and I was not happy as this is not how a performance car should perform, in fact Jane's diesel Mini went much better. Eventually and after numerous derogatory comments by me, the salesman decided to look into the cars computer only to find, "surprise-surprise" the engine had shut down into safety mode as there was something wrong; I was vindicated🤭🤭. Returning to the office and his assurances the car would be alright, we agreed I would return the next day, after it has been repaired to try it out,
Next we had to find an "Auto-screens" to sort out Rosie's window and fortunately there was one around the corner, so headed straight there. It turned out it was only a fitting service and therefore by appointment only as they don't carry stock. The guy was very apologetic but recommended I headed into Bristol and visit "National Windscreens" as they are a distribution centre as well as a fitting service, but they close at1700hrs, it was now 1615hrs and the SatNav said it would take 30mins in a car to get there!!! Rosie "rose" to the challenge and we arrived with 10minutes to spare, phew!
They were extremely apologetic, but they didn't have one of ours in stock and had to order it🥵🥵. They made the Point that for us it would be more convenient to go to Weston S Mare, so that was where it as going to be delivered to and that "Pete" would 'phone me when he could do it. Oh well time to head back to our field for the evening.
Soon after our arrival the "Farmer" turned up, he had seen our email but wasn't worried, and the reason we hadn't seen him was due to him being at a show, showing his prize Welsh "black" sheep. Anyway we got chatting and it transpired he had a milk round so we got some fresh milk and eggs. He gave us his bank account details so we transferred 3-nights plus, milk and egg money. He also told us to use the electric hook-up point as this was included in the price😁😁
Thursday 6th October
We were up at a reasonable time and had a quick breakfast as we had arranged to be at Jane's this morning to lighten Rosie's load. We had brought "quite" a lot of "extras" in her, not least numerous bottles so it was good to take some weight out. This morning I also telephoned "Pete" at National Windscreens to see what is happening. To our surprise he had sourced a new window and he would fit it around 1500hrs this afternoon. We also booked a hire car and we were collecting it for the weekend as we were due to spend the weekend with Andrew and Elton at Centre Parks, in Woburn woods, Bedford. The good news the sun was shining!!!
We arrived at Hope Farm and we set about our chores. I started the "emptying out" into the "smoke room", and Christine headed to the two washing machines. We broke the back of it before the "residents" returned!!!
After a quick lunch we headed to National Windscreens for our new window, fortunately they weren't busy and they started immediately. I have to take my hat off to National Windscreens, the replacement was done in no-time and we paid and left. If anyone wants replacement glass, I can't recommend them highly enough.
Our next stop was Enterprise car hire, just round the corner and arriving in Rosie, we compromised their parking slots!! Being about half an hour earlier than planned they booked us in and when I went to sign the agreement the cost was circa £100 more than originally quoted. Naturally I queried this and the guy said "ah!!! Yes, you are booked out at 1600hrs on the Monday but as you've are collecting it early, you have triggered another day's hire". As you can imagine I was not a happy Chappy and we agreed to bring the return date back to equal the collection time. What a cheek, for 35minutes they wanted a days hire and if I hadn't of queried the cost, they would have got away with it👹👹👹. This of course was on top of the scandalous charges around these days. Anyway they gave us a Fiesta and off we went, back to our field.
Friday 7th October
Our intention was to take Rosie to Hope farm early, as we are leaving her there for the weekend whilst we head off to Centre Parks in Woburn Woods, Bedfordshire to meet up with Andrew and Elton for the weekend.
We skipped breakfast and left our "cosy" campsite field for the last time as we had decided to look closer to Hope Farm. We dropped Rosie off, jumped into our "gold plated" hire car and headed off to Bedfordshire.
We eventually stopped at Tesco in Bicester for "brekky" but more importantly supplies for the four of us over the weekend.
Arriving at Center Parks around midday was fine but we weren't allowed into the chalet 'till 1500hrs so parked up and walked to one of their "social centres" to meet up with Andrew and Elton. Though Friday is one of their changeover days, the place was heaving. We were in the sports bar but this building also sported umpteen badminton courts, several squash courts, a roller skating section, kiddies play area, pool tables and upstairs' several restaurants and above the, a hotel, no wonder the place was heaving!!!! Of course this isn't all, there is the aqua centre which is home to every imaginable water slide, rapids, wave machine and other scary water devices etc., to entertain everybody. There is also a boating lake with a zip wire overhead and naturally a mini-golf putting course.
Soon after 1500hrs we got into our chalet and very nice it was. There were 3-double bedrooms all, with en-suite and TV's. The open area living was quite spacious and the kitchen part was well stocked with appliances. Our chalet also had a "private sauna" outside!
Once we were settled in time was marching on so it wasn't long before Christine started dinner, after all we were all here for Elton and he eats early, so we did as well.
Whilst dinner was being prepared I was amused watching Andrew trying to build a wooden train set he had bought, and Elton helping!!!! It didn't get too far when dinner arrived at which point it was abandoned.
We had a quiet evening once Elton went to bed and looked forward to the next day.
Saturday 8th October
Christine was up at some ungodly hour amusing Elton whilst Andrew went for a run and a session in the gym. I on the other hand took the prudent route, I stayed in bed and watched the news!!!
After a leisurely breakfast Christine, Andrew and Elton set off to the aqua centre, I on the other hand stayed back at the ranch, firstly and most importantly there was the qualifying highlights for the Japanese Grand Prix and secondly I had been "charged" by Andrew to build his train set!!!
Firstly I decided to build it on the table as there was sufficient room for the train set and space for the three of us to eat. I thought it would be straightforward, after all it was for 3-year olds but I soon realised why Andrew had given up; it took a lot of fathoming out. I don't know any 3-year old who could assemble this correctly so that it worked. Eventually I not only had to read the instructions several times, I had to rely on the picture on the box to get an idea as to what the finished article looked like!!! Anyway I completed the task set in time to watch the Qualifying,
Once they returned from swimming, Elton and Andrew made a bee-line for the train set and yes it was a success; a good buy Andrew. Once it was being used we soon discovered it's short-comings and then set about "engineering" them out, which we did with the help of a cut up breakfast cereal box, worked a treat.
After lunch and "nap" for little one we headed back to the centre, tonight we were dining out in one of the restaurants.
Back in the chalet we chilled out, but Elton was fixated by his train set, he couldn't leave it alone, it was a great success which of course had its draw backs; he didn't want to go to bed!!!!!
Sunday 9th October
Today was a repeat of yesterday in so far as Christine, Andrew and Elton headed to the pool whilst I stayed back. The aquatic centre was a "route march" away from our chalet, then there was the up and down hills and my knee is bad, it is giving me so much "gip" I wasn't interested in going, besides I have the Japanese Grand Prix highlights to watch!!!
After lunch we all headed down to the lake, we were going to take a boat out. Today the sun was shining and in the sun it was rather warm so a trip on the water sounded good. Christine booked and paid for the boat and we waited for our allotted time with a glass of wine. I should mention at this time; apart from the aquatic centre everything else one has to pay for which rather surprised us and theses charges weren't nominal, no, they were somewhat higher than normal. An example was 3-days bike hire was £60!!!!!
Anyway before we could set foot into the boat we had to don life jackets which was rather strange as the depth was only about 3ft; children I understand, but grownups? we hit the water in this odd boat, a cross between a large pedalo and a boat driven, it was driven by an electric outboard motor, still Elton enjoyed it especially when Andrew was driving and tried to run over the swans and ducks, hooligan!!!! The other end of the lake was the "Zip-wire", a somewhat pathetic one but it entertained Elton when folk went wizzing overhead.
Another exhilarating evening chilling in the chalet watching tv followed by an early night, we leave tomorrow.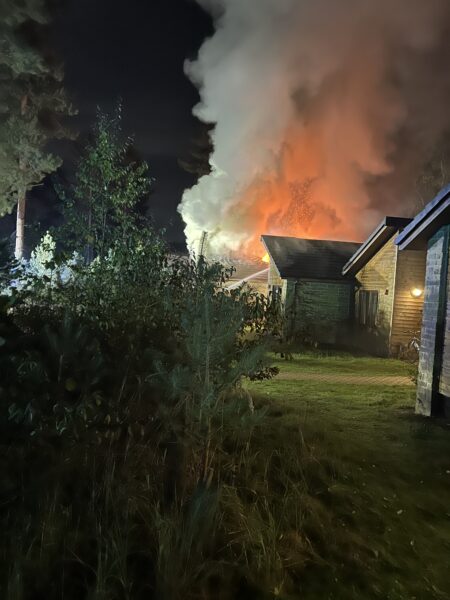 Minding our own business, fast asleep, when our door burst open and there was Andrew in the all-together telling us to wake-up, dress and get out as there was a fire in a neighbouring chalet. Well you can imagine how quickly we were up and out!!! Centre parks is set in a 300-acre woodland, with 625-wooden chalets nestling in amongst all the trees; a potential tinderbox, especially following the dry, hot summer. Outside were 5-fire engines with blue lights flashing, load of fire fighters with several hoses pumping water into a burning inferno, two chalets away!!!!! They were also dousing the local neighbouring chalets, naturally. The three of us were dumbfounded we hadn't heard any of this commotion and Andrew told us later the fireman had just entered our chalet, opened the door into Andrew's room and said the immortal words, "get out of here", hence his waking us as he was!!!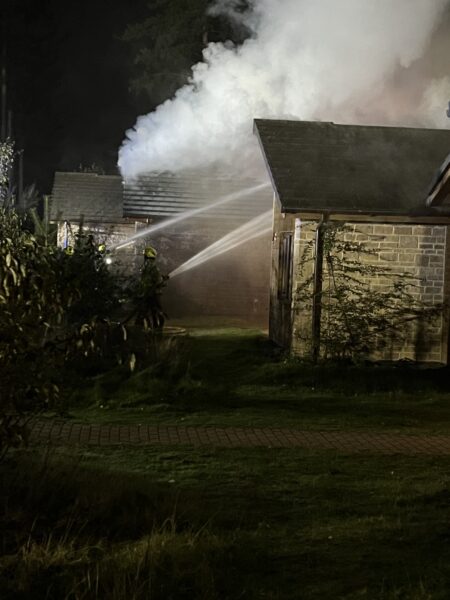 The fire was soon extinguished though damping down continued, but we were allowed to return, fortunately Elton slept right through this noise!!! The fire engines left somewhere around 0400hrs. This was a "free extra"!!!!
Monday10th October
Naturally the first thing on the agenda this morning was to view the fire damage from last night and to see how close it came to us.
The first thing to note was the speed Centre Parks people had cordoned off the area with large panels covered with camouflage and a member of staff telling people not to take pictures, I wonder why, but Christine managed!!!!
The fire brigade certainly did a good job. One chalet was a total "write off" but the ones either side were only superficially damaged and the trees around were fine.
After breakfast we cleared up and the train set returned to its box; I wonder if it will see the light-of-day again! Once Andrew and Elton had left, the whirlwind stopped and the two of us sorted ourselves out and vacated the chalet at "our" leisure.
We headed down to the car park but passing the burnt out wreck, there was a guard (Hitler) stopping traffic and turning "rubberneckers" back; they did let us through as our chalet was virtually next door. Our only appointment today was getting the hire car back by the 1536hr deadline!!!
The return journey was uneventful and we arrived back at Weston a couple of hours early so went around a few garages to look at cars before returning the car back to "Enterprise".
Car returned with no issues and we were picked up by Jane who returned us to Hope Farm. We jumped into Rosie and headed to a new, and a nearer certified caravan club site to Hope Farm.
Arriving down a narrow, dead end lane, we wondered where we were heading, fortunately it was still daylight. Driving through the farmyard we passed peacocks, ducks and other "unknown" species before approaching the farmhouse. We spoke to "Mrs Farmer", and once we had settled up we were pointed in the direction of the "site".
Being a certified site, they are limited to 5-vehicles max., but today we are the only one here so had the pick of where to position Rosie. We are in a long paddock secluded by trees and there is a "rhine" running alongside; we only booked for one night, I suspect we will stay here for the week.