Tuesday 7th December
OK, Exeter here we come. We are staying with Geoff and Rowena, a couple we met watching rugby, England V Scotland at Cloggy's bar in Falmouth Harbour, (Antigua). We shared a table right in front of the TV, and after the game had lunch together. Jane was with us at the time and the 5-of us hit it off so well that we met up a couple of times during our stays. Unfortunately due to covid we haven't seen them but kept corresponding during the past couple of years, so we are really looking forward to catching up.
Satalite Navigation says it will take a little under 3-hrs, traffic permitting, but we have to stop en-route to visit a retirement village, Grove Place near Romsey, Hampshire; we are un-decided as to where our future lies so have started to investigate all options.
As we approached Grove Place we couldn't help but be impressed by the long entrance drive and security gate system, and then by the magnificent old building straight in front of us.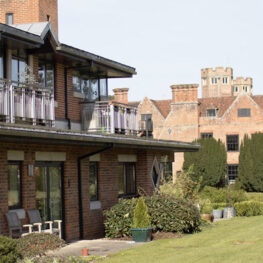 This beautiful Grade 1 listed building, built in the 16th century is the "social centre" and the "administrative block" for Grove Place. The amenities include a full size snooker table in a beautiful oak panelled room, a restaurant in similar surroundings, a bar, numerous lounges and reading rooms and in another building, there is a swimming pool, gym and a small general store; everything is open to all the village residents and their guests. All the residences, ie apartments or bungalows, are away from the main building; and though the buildings are of a different era, they blend in sympathetically. Inside they are modern and designed for folk in later life. All this is within 27-acres of formal gardens and fields, and I have to say we were mightily impressed though mentally, we don't feel we're not ready yet.
We now headed to Exeter, fortunately it wasn't raining for a change and there were times, albeit short, when the sun popped out. Our run down was un-eventful, traffic was reasonable and we made good time, then bang, we hit Exeter. Prior to getting to the outskirts we sent a message saying we had 20-miles to go so should be there in about 25-minutes, "wrong!!", the traffic in Exeter was as bad as it has been everywhere, fortunately Geoff realised I hadn't a clue as to how long it would take and made his own calculation; he was right!!!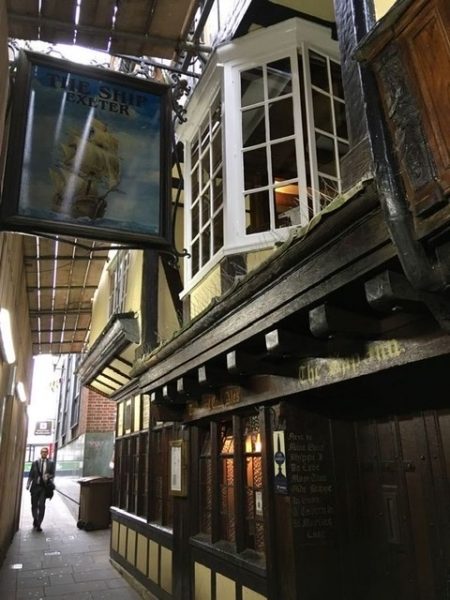 Arriving at their home, it was as if we hadn't been apart for the past two years or more, we hit it off just as it was when we were in Antigua. We chatted, laughed, had a meal, put the world to rights and suddenly realised it was nearing midnight, oops, past everyones bedtime.
Wednesday 8th December
Next day after a late breakfast, we had a tour of their one and a half acre garden; cultivated with numerous fruit trees of every variety known to man, a vegetable plot that would probably produce sufficient produce to feed the entire royal family for the year, and several formal flower beds for good measure, not to mention the lawns; ouch, it takes Geoff 4-hours to mow them all!!!
Following our tour of the "market garden!!!!!", we walked down into the town and en-route strolled through several old alleyways and narrow streets passing the 15th century pub, "The Ship Inn", one of Exeter's oldest, and "where Sir Francis Drake" apparently partook of a few ales or more!!! eventually arriving at Cathedral square where we enjoyed our own' couple of pints of local Devonian beer in a marquee set up as part of the Christmas market. The square was bustling with students from the university as well as locals and there was a good atmosphere all around. Next was a visit to Exeter Cathedral.
Exeter Cathedral doesn't necessarily "pop" up as one most well known, but it is certainly impressive. It was originally started in 1050 but due to wars and some checkered history, it was finally opened in 1400. There are many points of interest regarding this building but notably, because it doesn't have a centre tower, it is mostly known for having the longest, uninterrupted medieval vaulted ceiling in the world, about 96-meters long (315ft). It was magnificent, and how they constructed such a high vaulted ceiling when technology as we know it hadn't been invented, unbelievable, what an achievement. It was well worth a visit.
The best of the day was coming to an end so headed back up the hill to Geoff and Rowena's home for a late lunch. This "light" lunch was a spread for the "5,000" and again we ate far too much. Time just passed and soon it was dinner, I know when we looked at the clocks several hours had passed, but it only seemed like 10-minutes ago we'd finished lunch!!!! This was how engrossed we were in conversation.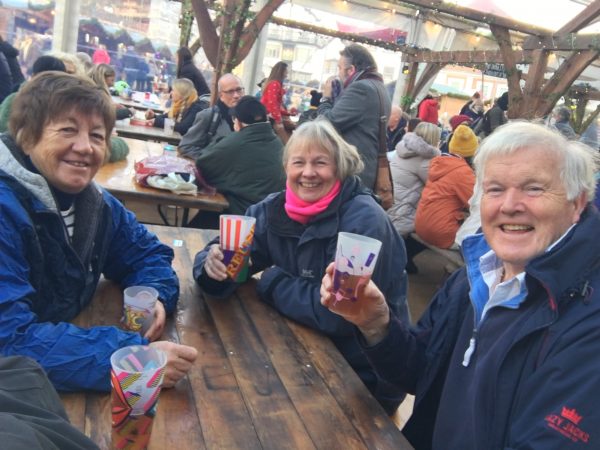 Thursday 9th December
The following morning, alas we had to say our goodbyes but said we'd return and they agreed they would visit us in Spain🤞🤞 this can happen. We left mid-morning and headed straight back to Portsmouth, tonight we are dining out with Tom and Kathleen as they were unable to join us for the festivities in Crick the previous weekend.
Back in our temporary home, again we re-arranged the contents of our cases. We have one big case and two carry-on's and if we plan it right, we don't need to take the "big 'un" out of the car whilst visiting.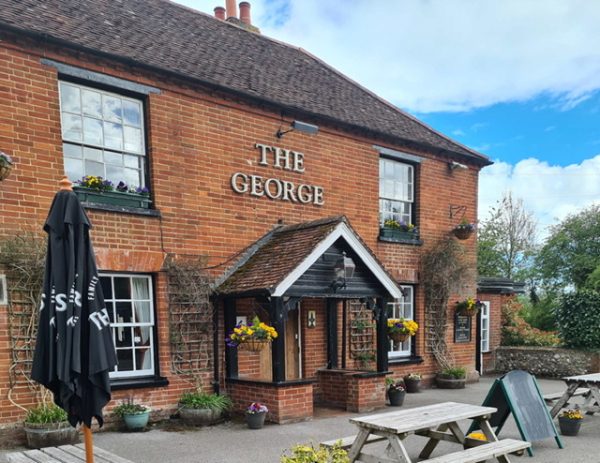 With this exercise completed we collected Tom and Kathleen and headed to the "The George" at Finchdean, a A pub restaurant for a meal. We were quite surprised how empty this very popular place was, but as there was a choir practicing in the conservatory, talking at table was difficult; perhaps the word had got out and folk kept a away!!!!!
After a pleasant evening we repatriated Tom and Kathleen to their abode and headed back to our temporary home for a good nights sleep as we have another hectic weekend approaching.
Friday 10th December
Another driving day today, and looking out of the window, the weather looks a lot better so that should be good.
Our first port of call was to visit Dougie and Jill, a very old and dear friend of Christine. Douglas was the "man" who brought back Christine's sailing confidence many years ago, though I find it hard to think she ever had any time in her life when there was any lack of confidence!!! Poor Douglas, 93-yrs old, fell down the stairs breaking his hip, not a very clever thing to do at this age. He is back home now but has to take things very easy, and with Jill also in advancing years, they have very wisely put a lift into their house. During the 2-yrs plus since we last met up, poor Dougie's hearing has also deteriorated and it was easier to write questions down. Not withstanding everything it was great to visit them and catch-up with their news.
Eventually we headed to Chelmsford where we have been invited to Lee and Sarah's wedding, the wedding that is being held a year late; well they did actually get married last year but this is the second part, wedding breakfast etc.
The good news is we can stop off at Oakham Bites for our customary bacon baguette, again!!! We never seem to tire of them and it is of course lunchtime!!! But first we have to register our car registration and pay some money into the Dartford Crossing website as this is our route to Essex. You can't pay at the booths, they have been removed; it is all about number plate recognition cameras and a fine if not paid within 24-hrs of using the crossing. Anyway after a few aborted attempts, I managed to deposit some money and register our registration number, 🤞🤞🤞🤞 it works!!!
As usual we thoroughly enjoyed our double Bacon Baguette and rejoined the M25 and headed to the crossing. Traffic was reasonable and progress was good until we caught the back of the queue for the crossing. Heading North we filter through the original 2-tunnels, always a slow process. Heading South is much easier and faster over the Queen Elizabeth Bridge.
We eventually arrived at the Travel Lodge in Chelmsford, our bed for the night. Christine wasn't happy I'd booked it as she had heard bad things about them but upon arrival things didn't seem quite so bad; perhaps she was thinking of the Holiday Inn Express!!!
We ventured out to eat later and after wandering about looking at various restaurants we settled upon an Italian where we had a very nice evening, returning back to the hotel at a reasonable time. Tomorrow could be a long day and evening!!!!